An offensive math homework assignment issued to students at Lakeland Union High School has members of the Lac du Flambeau Band of Lake Superior Chippewa in Wisconsin urging administrators to bring more cultural sensitivity to the school's curriculum, Indian Country Today Media Network reports.
Abbey Thompson, a member of the Lac du Flambeau Tribe, posted a photo of her son Noah's completed homework assignment to Facebook, attracting inflammatory responses from across the country and Canada.
"What happened after Chief Short Cake Died?" is the question posed at the top of the assignment — the answer to which was "Squaw Bury Short Cake."
Richard Vesbach, a third-year math teacher at LUHS and the one responsible for assigning the homework, has since written a number of apology letters.
Vesbach explains that he found the assignment in an outdated book of worksheets from the 1980s that had been left in the classroom when he started teaching. He says he has gotten rid of the book.
"None of that excuses what has happened and I take full responsibility for my actions," Vesbach wrote. "No one else is to blame but me. As a result, LUHS has appropriately sent me home for the day. I recommended that they not pay me."
School administrators would not comment on whether Vesbach would face further disciplinary action.
In January, a suburban Atlanta teacher resigned following an investigation over third-grade students being assigned math homework that included word problems about slavery.
One of the problems read: "Each tree has 56 oranges. If eight slaves pick them equally, then how much would each slave pick?"
Another was: "If Frederick got two beatings each day, how many beatings did he get in one week?"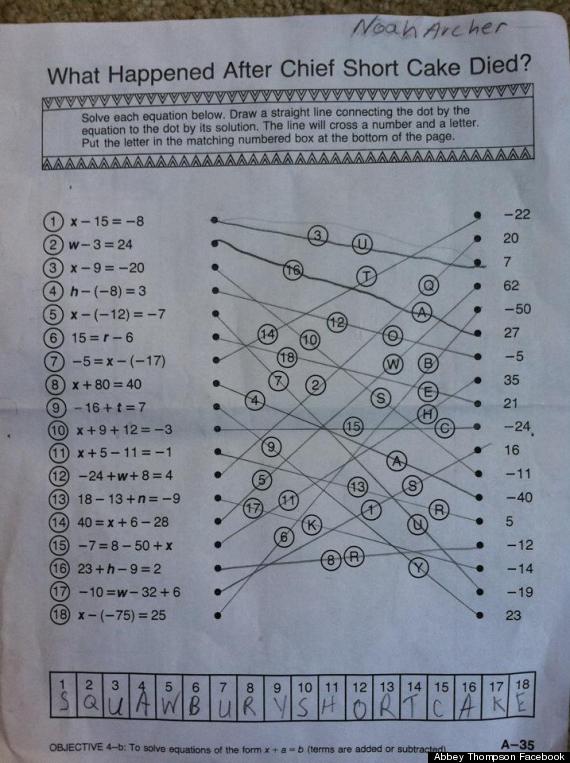 Loading Slideshow
Slavery Examples Used On Math Worksheet

In January 2012, parents of students at Beaver Ridge Elementary School in Norcross, Ga. expressed outrage over the school district's response to <a href="http://www.huffingtonpost.com/2012/01/08/examples-of-slavery-in-school-worksheet_n_1192512.html" target="_hplink">reports of using examples of slavery in math word problems.</a> The word problems in questions include references to slavery and "beatings."

More Slavery Math Problems

In March 2012, students at another Georgia school were given a math problem that referenced slavery, upsetting students and parents. Nearly 140 fourth grade students at James A. Jackson Elementary School contained an extra-credit question that read, <a href="http://www.huffingtonpost.com/2012/03/21/james-a-jackson-elementary-school-slavey-math-problems_n_1370125.html" target="_hplink">"A plantation owner had 100 slaves. If three-fifths of them are counted for representation, how many slaves will be counted?"</a>

Communism v. Capitalism Worksheet

In February 2012, Roosevelt High School in Des Moines, Iowa received criticism for a class assignment on the Cold War. Based on a worksheet handed out in a social studies class, many questioned whether the lesson promoted communism over capitalism, <a href="http://www.huffingtonpost.com/2012/02/05/roosevelt-high-school-und_n_1255842.html" target="_hplink">calling it "communist indoctrination."</a>

Morbid, Traumatizing Math Problems

A Washington, D.C. teacher was fired from Center City Public School's Trinidad campus in March 2012 for <a href="http://www.huffingtonpost.com/2012/03/05/teacher-fired-for-giving-_n_1322173.html" target="_hplink">sending home violent, morbid and traumatizing math problems to third graders.</a> Questions included story lines about baking humans in ovens and a child waking up screaming after thousands of fire ants made a nest in a human brain.

Perceived Racist Vocab Quiz

A teacher was suspended and handed disciplinary action in March 2012 for a question she wrote on a vocabulary quiz that some argued was racist. When district officials reviewed the test in context, however, <a href="http://www.huffingtonpost.com/2012/03/20/lakeshore-schools-rescind_n_1367588.html" target="_hplink">the charges against her were rescinded.</a>

'Degrading,' 'Offensive' Class Photo

Sawgrass Elementary School in Sunrise, Fla. made the news in April 2012 when a second grade student was included in a class photo despite not having turned in a parental consent form. Instead of retaking the photo, the photographer resolved to <a href="http://www.huffingtonpost.com/2012/04/05/parents-upset-over-degrading-school-photo_n_1406159.html?ref=education" target="_hplink">paste a brown-colored smiley face over the boy's face.</a>

'African American Attire' = 'Animal Print'?

A letter sent home with students at Western Union Elementary School in North Carolina didn't sit well with parents in March 2012. <a href="http://www.huffingtonpost.com/2012/03/21/western-union-elementary-african-american-attire_n_1370984.html" target="_hplink">The note asked students to wear "African American attire" or animal print for a Black History Month event,</a> calling into question educators' choice of words and cultural sensitivity.

Superintendent In KKK Robe

In April 2012, flyers with an image of Atlanta Public Schools Superintendent Erroll Davis in a Ku Klux Klan robe sparked controversy in the community. The bill was in response to a contentious school redistricting plan that <a href="http://www.huffingtonpost.com/2012/04/07/atlanta-public-schools-re_n_1410029.html" target="_hplink">would have closed several schools</a> in a number of Atlanta's black neighborhoods.