Stars without makeup is about as rare of a sighting as celebrities on the subway (ahem, Jay Z). Well, except for that time when Tyra Banks and Cindy Crawford went bare-faced. Oh, and that time Kate Moss did it.
Ok, so maybe celebrities are human too. The latest one to go au naturale for all to see? Brooke Shields. The 47-year-old stepped out in New York on Sunday after starring in a matinee performance of "The Exonerated." Guess she didn't want all of that stage makeup to clog her pores...
Fortunately for the former face of Calvin Klein, she doesn't seem to need any makeup to look stunning (and we're honestly thrilled to see her gorgeous complexion again after that spray tan disaster last month). Plus, we suspect she might have been looking to stay under the radar after an alleged photo of her smoking marijuana surfaced last week. So, by comparison, a photo sans makeup is really no biggie, right?
Check out the photo of Brooke Shields without makeup and tell us what you think. Doesn't she still look amazing?
PHOTO: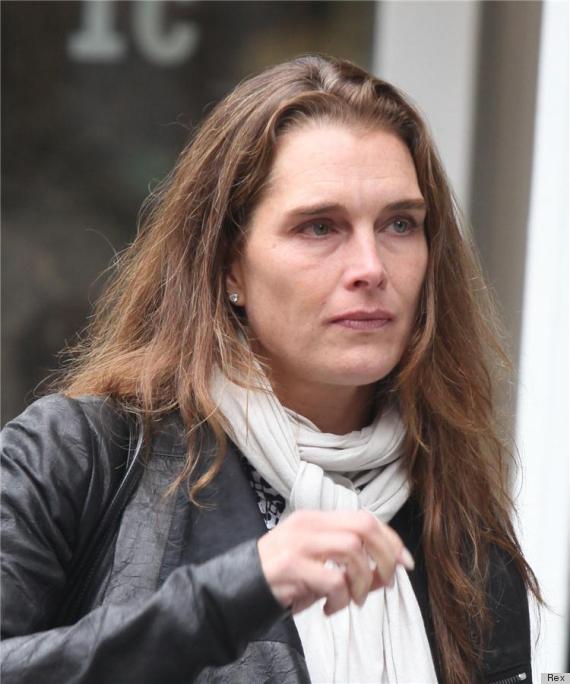 See more stars without makeup!
Loading Slideshow
Demi Lovato

Britney Spears

Krysten Ritter

Claire Danes

Kate Moss

Rachel Hunter

Katy Perry

Jessica Stam

Selma Blair

Rita Ora

Fergie

Tilda Swinton

Paris Hilton

Rosie Huntington-Whiteley

June 2011

Mila Kunis

April 2012

Brooke Shields

October 2012

Brooke Shields

August 2011

Jessica Simpson

Cameron Diaz

August 2011

Jessy Schram

Britney Spears

September 2011

Sarah Jessica Parker

October 2011

Ellen Pompeo

July 2011

Ellen Pompeo

January 2012

Kate Hudson

August 2011

Ciara

August 2011

Minka Kelly

April 2011

Kate Moss

September 2011

Kate Moss

September 2012

Kate Moss

September 2012

Zoe Saldana

September 2011

Liv Tyler

September 2011

Janice Dickenson

Liv Tyler

November 2011

Busy Phillips

Halle Berry

September 2011

Jennifer Love Hewitt

October 2011

Jennifer Love Hewitt

April 2012

Elle Fanning

October 2011

LeAnn Rimes

LeAnn Rimes

October 2012

Salma Hayek

October 2011

Uma Thurman

October 2011

Marion Cotillard

November 2011

Hilary Duff

October 2011

Maria Bello

November 2011

Lala Vazquez

November 2011

Kim Kardashian

November 2011

Snooki

October 2012

Goldie Hawn

October 2012

Amber Valletta

March 2013
Want more? Be sure to check out HuffPost Style on Twitter, Facebook, Tumblr and Pinterest.