Obama, Romney Bond Over Adele's James Bond Theme (VIDEO)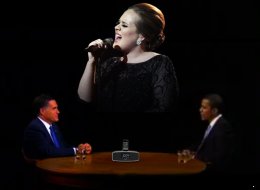 Without a doubt, this year's presidential election has been a bruising campaign for both Barack Obama and Mitt Romney. But despite the most polarized political climate in decades, partisan gridlock gripping Congress and untold millions spent on ads attacking both sides of every issue, we've found the one thing that can bring the two men vying for the presidency together: Adele.
With the release of Adele's new James Bond theme, Obama and Romney have finally found some common ground. Watch above as the these music lovers sit down for a listening party and deep discussion of the pop icon's latest hit.