PHILADELPHIA -- "Jackass" star Bam Margera says he condemns animal abuse and didn't mean any harm by a photo posted online showing him holding his pit bull puppy with a toy gun pointed to its head.
Margera, who is from suburban Philadelphia, says it was a joke.
Chester County SPCA officials, however, say it wasn't funny, even for a shock comedian like Margera. SPCA spokesman Rich Britton says Margera "missed the mark on this one."
___
Margera tweeted: "Penny pooped in my bed. Not too fond of that. If it happens again, Penny goes Bye Byes!"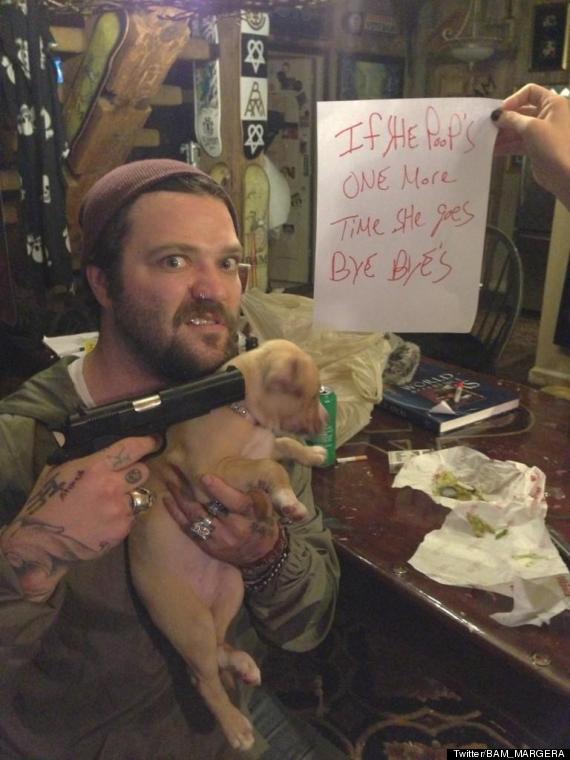 Loading Slideshow
NEW YORK, NY - JANUARY 30: Gibbs, a Golden Retriever puppy poses for pictures as the American Kennel Club Announces Most Popular Dogs in the U.S. on January 30, 2013 in New York City. (Photo by Gary Gershoff/Getty Images for the American Kennel Club)

A view of a puppy at the North Shore Animal League America's Tour For Life Pet Adoption Event on April 26, 2012 in New York, United States. (Photo by Cindy Ord/Getty Images)

A Samoyed puppy waits with its owner in a park as Beijing enjoys a pollution free spring day on April 18, 2013. The breed which is originally from Siberia were used to herd reindeer and pull sleds and were able to survive the harsh winters with their thick coats. AFP PHOTO/Mark RALSTON

Two Beagle puppies play as the American Kennel Club officials announce their annual list of the most popular dog breeds in the U.S January 27, 2010 in New York. (DON EMMERT/AFP/Getty Images)

Puppies watch on at a police dog training base September 16, 2005 in Beijing, China. The dogs are trained by a police squad to learn identifying, catching, tracking and other skills. According to the Ministry of Public Security, there is an estimate of over 10,000 working police dogs in China. These dogs are divided into 30 kinds according to international conventions and are widely used in police work, rescue and military missions. (Photo by China Photos/Getty Images)

A view of a puppy at the North Shore Animal League America's Tour For Life Pet Adoption Event on April 26, 2012 in New York, United States. (Photo by Cindy Ord/Getty Images)

A view of a puppy at the North Shore Animal League America's Tour For Life Pet Adoption Event on April 26, 2012 in New York, United States. (Photo by Cindy Ord/Getty Images)

NEW YORK, NY - JANUARY 30: Dominique, a Bulldog puppy poses for pictures as the American Kennel Club Announces Most Popular Dogs in the U.S. on January 30, 2013 in New York City. (Photo by Gary Gershoff/Getty Images for the American Kennel Club)

A wolf plays with a one-month-old puppy in its enclosure of Berlin's Zoo on May 31, 2013 in Berlin. AFP PHOTO / JOHANNES EISELE

Puppies just born by a sniffer dog sleep at a police dog training base September 16, 2005 in Beijing, China. The dogs are trained by a police squad to learn identifying, catching, tracking and other skills. According to the Ministry of Public Security, there is an estimate of over 10,000 working police dogs in China. These dogs are divided into 30 kinds according to international conventions and are widely used in police work, rescue and military missions. (Photo by China Photos/Getty Images)

A Mastiff puppy rests during the XVIIIth International Dog exhibition on November 8, 2009 in Prague. (MICHAL CIZEK/AFP/Getty Images)

A three-day-old Labradoodle puppy is shown to the press at the Uri Bekman's 'World of Dogs' kennel in Pardesia, 30 kms north of Tel Aviv 07 December 2005. (YOAV LEMMER/AFP/Getty Images)

Three-day-old Labradoodle puppies nap at the Uri Bekman's 'World of Dogs' kennel in Pardesia, 30 kms north of Tel Aviv 07 December 2005. (YOAV LEMMER/AFP/Getty Images)

A seven week old Daschund cross puppy waits to be re-homed at the Cheshire Dogs Home on January 4, 2010 in Warrington, England. (Photo by Christopher Furlong/Getty Images)

Three-year-old Galia suckles her first litter of six puppies on June 4, 2009 at the Barry Foundation Great St. Bernard breeding kennels in Martigny, Western Switzerland. (FABRICE COFFRINI/AFP/Getty Images)

Two-week-old puppies play on June 4, 2009 at the Barry Foundation Great St. Bernard breeding kennels in Martigny, Western Switzerland. (FABRICE COFFRINI/AFP/Getty Images)

Two-week-old Saint Bernard puppies play at the Barry Foundation breeding kennels in Martigny on June 4, 2009. The Saint Bernard dog was once the ubiquitous companion of monks at the monastery tucked 2,500m above sea level, guiding them through the Alps or helping them to rescue stranded or lost travellers in the snowy mountains. However, there are no longer any such dogs living permanently at the monastery these days. In fact, the monks decided five years ago to part ways with their pedigree breeding programme, as the work became too much for the four monks living permanently at the monastery to handle. The breeding kennels faced the risk of being shut permanently if not for a group of Swiss bankers and animal-lovers who set up the Barry Foundation to buy the breeding programme. (FABRICE COFFRINI/AFP/Getty Images)

Two puppies play as American Kennel Club officials announce their annual list of the most popular dog breeds in the U.S January 27, 2010 in New York. (DON EMMERT/AFP/Getty Images)

A volunteer holds up a puppy that was born after its mother has been rescued from a truck, in an animal hospital in Beijing, China, Tuesday, April 19, 2011. Chinese animal lovers mobilized by online calls for help blockaded a truck of hundreds of dogs being shipped off for food in a rare, permitted display of social action amid a broad crackdown on most kinds of activism. (AP Photo)

Nine Rhodesian Ridgeback puppies from a litter of 17 look out of their box in Nauen, 50 kilometers outside Berlin on Monday, Dec. 20, 2010. On Sept 28, and 29, 4 year old Ridgeback Etana had 17 puppies. All of them survived. (AP Photo/Markus Schreiber)

Seven Rhodesian Ridgeback puppies from a litter of 17 look out of their box in Nauen, 50 kilometers outside Berlin on Monday, Dec. 20, 2010. On Sept 28, and 29, the 4 years old Ridgeback Etana had 17 puppies. All of them survived. (AP Photo/Markus Schreiber)

A puppy is transported in a child's push chair, on a snowy street downtown Bucharest, Romania, Friday, Dec. 17, 2010. (AP Photo/Vadim Ghirda)

A seven week old Border Collie puppy rests after frolicking with its sibblings in their garden as outdoors temperatures dropped below minus 10 degrees celsius in the village of Bodice on December 16, 2010. (JOE KLAMAR/AFP/Getty Images)

A seven-week old Border Collie puppy rests after a play with its siblings in their garden as outdoors temperatures dropped below minus 10 degrees celsius in the village of Bodice on December 16, 2010. (JOE KLAMAR/AFP/Getty Images)

Six-month old Chihuahua puppies, Ellie, left, and Gulliver, right, nuzzle together at the Massachusetts Society for the Prevention of Cruelty to Animals, in Methuen, Mass. Wednesday, June 15, 2011. The already adopted puppies, born without front legs, were fitted with wheels made by Eddie's Wheels of Shelburne, Mass. and are training to walk and run with them. (AP Photo/Elise Amendola)

Puppies run at a playground in the K9 school and hospital of the Middle East Kennel Cub at Nahr al-Kalb area, north of Beirut, on October 27, 2010. The Club, which is the largest in the Middle East, has more than 400 dogs and clients bring their pets to be trained, bred and hospitalized. (JOSEPH EID/AFP/Getty Images)

In this handout image provided by Pucchin Dog's, 'Love-Kun', a 3-day old chihuahua puppy with heart-shaped markings is presented to the media with his brothers at Pucchin Dog's on August 6, 2009 in Odate, Akita prefecture, Japan. The new puppy is the brother of 2-year old chihuahua 'Heart-Kun' who was also born with a perfect heart-shaped marking on his back from the same parents. (Photo by Pucchin Dog's via Getty Images)

This photo provided by the Chicago Zoological Society shows 10 African wild dog puppies, six males and four females, huddling with their mother, Kim, at Brookfield Zoo in Broofield, Ill. (AP Photo/Chicago Zoological Society, Jim Schulz)

In this Thursday, May 19, 2011, photo, Bonnie, a basset hound, nurses her puppies at an animal rescue facility in South Knox County, Tenn. Bonnie and Clyde, the father of her puppies, are being cared for by At Risk Intervention animal rescue, after being saved from flood waters in Arkansas. (AP Photo/The Knoxville News Sentinel, Paul Efird)

Two adopted stray dogs play at an animal shelter on December 15, 2006 in the outskirts of Xian of Shaanxi Province, China. The animal shelter, established by Chinese animal lover Dai Shuqing, is located at an abandoned warehouse which houses some 100 dogs and costs over 2,000 yuan (about US $255) per month. (Photo by China Photos/Getty Images)

Golden Retriever puppies with their handlers as the American Kennel Club officials announce their annual list of the most popular dog breeds in the U.S January 27, 2010 in New York. (DON EMMERT/AFP/Getty Images)

Susan Thomson holds a three-week-old Chihuahua puppy named Tom Thumb on April 7, 2009 in Renton, Scotland. An unofficial measurement taken by the owner makes Tom Thumb approximately 6 inches long. (Photo by Jeff J Mitchell/Getty Images)

A dog suckles her puppies on February 16, 2009 at Halikisla village of Kars, eastern Turkey near the border with Armenia. (MUSTAFA OZER/AFP/Getty Images)

A six month old Weimaraner puppy guards his master during Slovakia's national canine all breeds competition in Banska Bystrica on 6 May 2007. (JOE KLAMAR/AFP/Getty Images)

Portuguese Podengo puppies are displayed for the media during the launch of the Crufts Dog Show Febuary 24, 2004 in London, England. (Photo by Scott Barbour/Getty Images)