Vincent Van Gogh once gave artists the following advice: "What is done in love is done well." Over the years, it seems like the art world took his words to heart, as a number of great artists -- from Alfred Stieglitz and Georgia O'Keeffe to Christo and Jeanne-Claude -- have coupled together both in the studio and in the bedroom.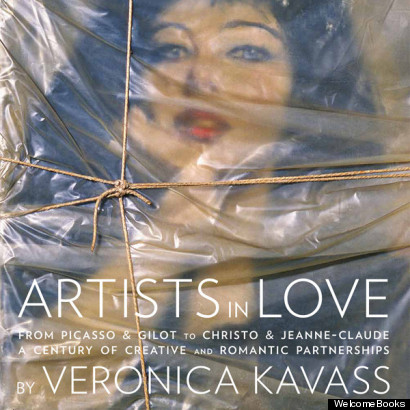 A new book titled "Artists in Love" celebrates the romantic side of art, detailing some of the most famous couples in creative history. It's a survey of passion throughout the 20th and 21st centuries, and it outlines the lovers and spouses whose collaborative relationships sparked some of the period's greatest works of painting, photography and sculpture.
Written by curator Veronica Kavass, the anthology of love includes essays describing both the volatile and short-lived partnerships as well as the enduring, life-long bonds of artists across the ages. Taken together, the text reveals the archetypal pairings of talented art makers and the difficulties encountered when one star burns brighter than the other.
Scroll down for a peek at some of our favorite couples. Let us know what you think of the art world's most famous lovers in the comments section. We're curious to know your favorite pairings.
Wassily Kandinsky (German, 1866-1944) & Gabriele Münter (Russian and German, 1877-1962) began their relationship in 1902 but were never married. Both artists met in Munich, with Münter establishing herself as an important member of the city's emerging avante-garde, and Kandinsky earning a reputation for creating some of the first purely abstract works of art.

Alfred Stieglitz and Georgia O'Keeffe met in 1916 when Stieglitz, then 23 years older than O'Keeffe was married to another woman. The two artists quickly fell in love though, marrying in 1924.

Frida Kahlo and Diego Rivera had an infamously torrid relationship, involving two marriages, one divorce, and several extra-marital affairs. Throughout their life together, they were known to live in separate quarters, though Rivera wrote in his autobiography that the day Kahlo died was the most tragic moment of his life.

Lee Miller is the famous assistant, lover and muse of surrealist great Man Ray. Though she began as an apprentice to the photographer, she later developed her own career, becoming an active member of the surrealist movement in her own right.

Both Willem and Elaine de Kooning were influential abstract expressionist artists in the United States. They me in 1938 and married in 1943, remaining together until Elaine's death in 1989.

Charles Ormond Eames, Jr and Bernice Alexandra "Ray" (née Kaiser) Eames were American designers most famous for their collaborative furniture and architectural designs. They met at the Cranbrook Academy of Art in 1940 and were married the next year.

Lee Krasner and Jackson Pollock, both influential abstract expressionists, met in 1942 and married in 1945. Pollock became more popular in mainstream consciousness though, which prompted Krasner to battle with issues of artistic identity, sometimes signing her work as only L.K. to avoid the immediate association of being Pollock's wife.

Dorothea Tanning and Max Ernst famously fell in love when the latter visited the former's studio, initiating a game of chess and what would later become a enduring marriage that lasted until Ernst's death in 1976.

When Pablo Picasso was 63 years old he began a relationship with a young art student named Francoise Gilot, then 40 years his junior. However, the relationship did not end well. Gilot divorced her then husband, Luc Simon, with the plans of marrying Picasso, the father of her children Claude and Paloma. However, Picasso married Jacqueline Roque instead, with whom he remained until the end of his life.

Jasper Johns and Robert Rauschenberg were lovers for 6 years starting in 1955. Both artists were painters and printmakers who became influential members of the contemporary art scene in New York, alongside the likes of Merce Cunningham and John Cage.

Bulgarian-born Christo and Moroccan-born Jeanne-Claude met in 1958 and married in 1962, becoming partners in their relationship as well as work until Jeanne-Claude's death in 2009. They are most known for their environmental works, many of which are large-scale installations constructed in famous outdoor settings.

Marina Abramovic and Ulay met in Amsterdam in 1976, instantly becoming lovers and performance art partners. Their relationship lasted for a decade, ending with their symbolic last project - a dramatic walk down the Great Wall of China, in which the artists began at opposite ends, eventually meeting in the middle after 90 days to say their farewells.
"Artists in Love: From Picasso & Gilot to Christo & Jeanne-Claude, A Century of Creative and Romantic Partnerships" by Veronica Kavass is available through welcomebooks.