Christina Aguilera has come a long way since her days of genie-ing in a bottle and getting "Dirrty." After her teen pop sensation career wound down a bit, she faded from the spotlight, taking her crop tops with her.
But since taking her plush gig as a judge on NBC's "The Voice," the 31-year-old singer and mom has been riding a new publicity wave. She's even back to her previous "sexy pop star" antics, posing naked on her new album cover and wearing an assortment of tight outfits. Her latest stop? The American Music Awards nominations press conference on Tuesday, where she debuted an outfit that we have to pause and talk about.
Yowza. That's a lot of look, including several of Christina's signature favorite things:
The extremely tight bodycon purple dress.
The bold diamond necklace.
The multiple rings.
The sparkly shoes.
The deep spray tan, which kind of resembles metallic pantyhose?
All in all, we think there's some room for improvement. If we may, we'd like to offer Aguilera one teeny, tiny, hesitant suggestion: how about dressing more like Joan Hollaway, i.e., Christina Hendricks' character on "Mad Men"? You'd look smashing in those figure-flattering yet modest retro dresses and pin-up style blouses.
Is it time for Christina to change up her look? See what we mean below, and tell us what you think in the comments.
PHOTOS: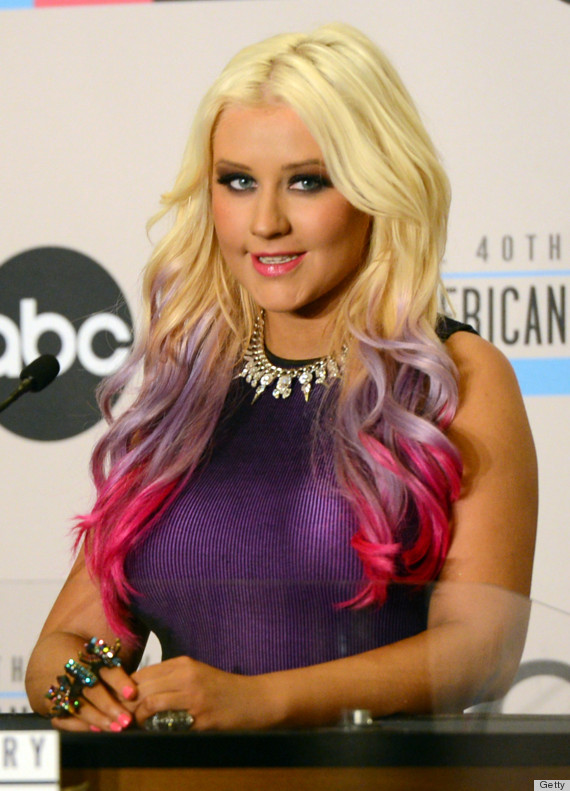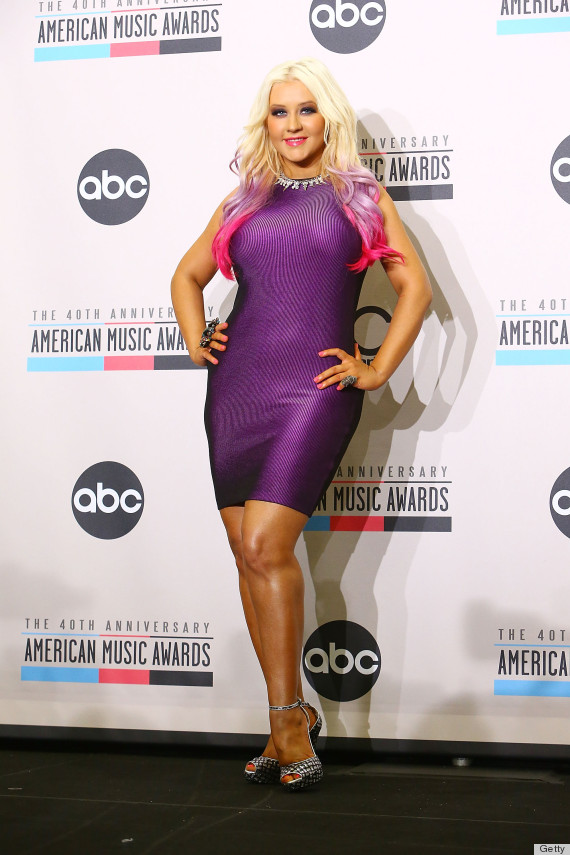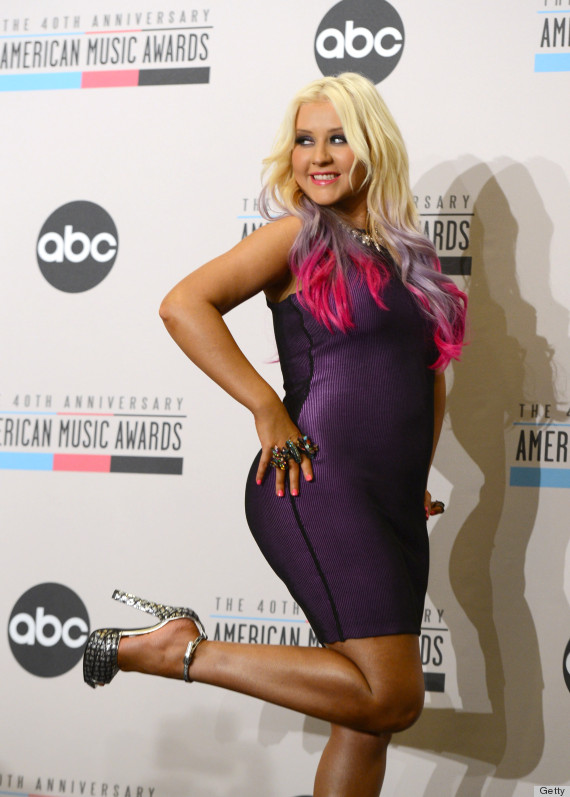 Loading Slideshow
September 1998

Getty

September 1999

FilmMagic

November 1999

WireImage

December 1999

Getty

February 2000

Getty

April 2000

AFP

September 2000

Getty

November 2000

AFP

February 2001

Getty

April 2001

Getty

May 2001

Getty

June 2001

Getty

September 2001

WireImage

February 2002

WireImage

August 2002

WireImage

November 2002

Getty

April 2003

Getty

May 2003

WireImage

August 2003

WireImage

February 2004

Getty

March 2004

Getty

June 2004

Getty

July 2005

FilmMagic

February 2006

WireImage

September 2006

Getty

January 2007

Getty

February 2007

Getty

September 2008

WireImage

November 2009

WireImage

December 2009

WireImage

January 2010

Getty

June 2010

Getty

September 2010

Getty

November 2010

Getty

December 2010

Getty

January 2011

Getty

May 2011

Getty

July 2011

Getty

October 2011

Getty

November 2011

Getty

January 2012

(Getty photo)

January 2012

(Getty photo)

March 2012

(Getty photo)

April 2012

(Getty photo)
Want more? Be sure to check out HuffPost Style on Twitter, Facebook, Tumblr, Pinterest and Instagram at @HuffPostStyle.