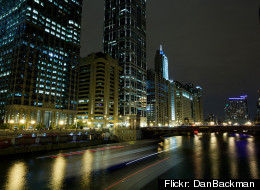 One of Chicago's worst-kept secrets is that it is home to any number of allegedly haunted spots.
Given Chicagoans' reputation for food enthusiasm, it stands to reason that whispers, screams and cold spots have been reported in many restaurants in the area, ranging from neighborhood dives to acclaimed wine bars.
While pop-up, Halloween-themed amusement parks and "haunted" houses proliferate the Chicago scene this time of year, why not skip the hoopla and try your hand at witnessing the "real" thing -- all while knocking back a beer and chowing on some grub?
Scroll down to check out some of the Chicago area's rumored-to-be haunted eateries. Did we miss one? Let us know below.
10 'Haunted' Chicago Restaurants
Another Edgewater mainstay, St. Andrew's former owner Frank Giff died behind the bar at the age of 59 several decades ago and is said to haunt the bar. Cold spots have been reported by some patrons, which some say is a sign of paranormal activity, and women have also reported being touched by invisible hands.

Chicago's oldest wine bar has a second floor that, according to staff, is haunted. According to the Chicago Bar Project, "employees have heard footsteps and a male apparition has been seen in what once served as a brothel many years ago in this 120 year-old building."

The House of Blues in Chicago has reportedly been the sight of some strange occurrences. According to local folklore, a young girl died in the hotel and haunts its rooms. If the rumors are true, you'd have to think the girl would get hungry at some point and venture down to the complex's Crossroads restaurant.

The downtown Hooters has long been rumored to be haunted. Staff members at the restaurant have said its basement has been the site of many strange sights, sounds and other activity -- and perhaps with good reason. According to the Chicago Tribune, the restaurant's basement was previously used as a morgue that housed victims of the Eastland cruise crash on the Chicago River, which killed 844 people in 1915. The restaurant is also reportedly near the site of a late 19th Century bodysnatching operation.

Mary, the former owner of this popular North Side hangout, has never left the bar that she ran for 25 years, according to the Chicago Bar Project. She is said to make her presence known on the floors directly above the bar. This lounge serves up some very delicious bar food and an excellent Bloody Mary, incidentally.

When it was known as That Steak Joynt, this Old Town restaurant was reportedly the site of some otherwise unexplainable activity, according to a Ghost Research Society investigation.

According to HauntedHouses.com, this Irish bar and grill has reportedly been the site of many sightings of apparitions and photographs have confirmed some unexplained lights and shadows.

According to the Shadowlands website, a very tall male apparition patron has made occasional appearances at this restaurant and there are also reports of objects flying through the air.

This hotel, built in 1893, is considered by many paranormal enthusiasts to be, in addition to Chicago's most haunted hotel, among the most haunted hotels in the country. According to a Yahoo! feature, staff has reported startling activity throughout the hotel, including in the Florentine banquet room. Looking to check it out but avoid plunking down the cash for a full night's stay? The hotel boasts a number of restaurants inside, including the Gazebo Restaurant, Rafael Steak House (pictured) and its Congress Lounge.

This Elgin hot dog and burger stand is known for their tasty cheesy fries and reports from employees of seeing orbs of light and experiencing ovens and lights turning off on their own accord, according to Shadowlands. The original building was torn down and no activity has been reported in the new spot -- but you never know.