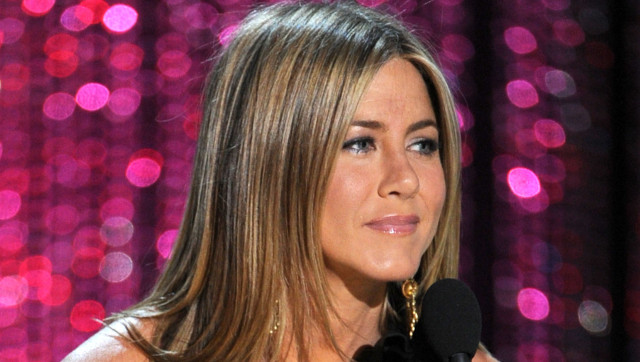 Getty
When it comes to famous hair, Jennifer Aniston ranks pretty darn high. So the actress is spinning those famous blonde locks into gold with a new deal with Living Proof, a high-end haircare company.
Women's Wear Daily reported on Wednesday that Aniston has signed on as "spokesperson and product creator" for the brand. The Wall Street Journal also reports that Aniston will become an investor in the company.
Living Proof is a science-minded company founded by medical and biotech scientists that aims to "invent and patent new molecules that completely change how hair and skin behave." We never pegged Jen as a science geek, but Aniston told the Wall Street Journal, "You want to be part of something that's exciting and authentic... You can't get more interesting than these scientists."
She also knows a thing or two about hair. The former "Friends" star shilled for L'Oréal shampoo and hairspray in the '90s, right on the heels of her famous "Rachel" haircut (you know, the one she described to Allure as "that damn Rachel, which was not my best look. How do I say this? I think it was the ugliest haircut I've ever seen...").
More recently Jen had her hair mussed Ellen DeGeneres in a promo spot for "The Ellen DeGeneres Show"... and has spent many an interview touching, patting and playing with her now long, straight tresses (see the highlight reel below).
Expect to see a lot more where that came from in several months -- Aniston will begin shooting an ad campaign for Living Proof this November. For more info on her new collaboration, head to WSJ.com.
See Jennifer's legendary hair transformation:
The Many Hairstyles Of Jen Aniston
Want more? Be sure to check out HuffPost Style on Twitter, Facebook, Tumblr, Pinterest and Instagram at @HuffPostStyle.
YOU MAY LIKE
CONVERSATIONS
FOLLOW HUFFPOST