A New Jersey business owner is refusing to remove anti-Obama images from his storefront that depict the president as a witch doctor, the Asbury Park Press reports.
Bill Skuby, the owner of Skuby & Co. Lifestyle Clothing in Spring Lake, told reporters the window display is his way of protesting Obamacare, and it's staying put even as locals call it racist.
"If you think that's racist, what about all the stuff that he's done," Skuby said to MyFox New York Tuesday. "I put that in because the witch doctor to me represents Obamacare, and I think it's witchcraft."
The photo in Skuby's storefront shows Obama's face superimposed on a witch doctor's body. Below it, the word "Obamacare" is spelled with a Soviet hammer and sickle symbol in the place of the "C."
Since the display went up last Thursday, it has sparked outrage among locals. "Lots of children here go downtown to display their costumes [on Halloween]," a Spring Lake resident told the Livingston Daily. "That means all of the local children are going downtown and seeing their president displayed that way. That's really shameful."
"I don't think it's the right thing to do," a nearby business owner, who is a registered Democrat, said in an interview with the paper. "But he has the right to do it."
Unfortunately, racist attacks on Obama are all too common. Critics have called the president's family history and citizenship into question throughout his time in office. The attacks have continued leading up to November's election. Speaking at a rally in August, Republican presidential candidate Mitt Romney quipped that "no one's ever asked to see my birth certificate."
Other politically-controversial pieces of art have appeared on small businesses during the presidential race. In Tampa this past summer, when the Republican National Convention was in town, city workers ripped down anti-Romney signs outside a small cafe that were posted by the cafe's owners.
Substantively speaking, the majority of small business owners oppose Obamacare, reports have shown. Two-thirds of people who own 50 to 100-person companies said in a survey by Delloite that the new health care law is a "step in the wrong direction."
Part of why some business owners disapprove of the new law may be because it won't only affect how they pay employees, but also their own health coverage -- or lack thereof. According to data released last month by the Kaiser Family Foundation, one in four small business owners don't have health insurance and will face fines next year if they don't purchase coverage.
Other reports show small business owners are evenly split on whether they support Obamacare. A poll that surveyed 800 small business owners in June, conducted by Small Business Majority, found that half of respondents were supportive of the new law.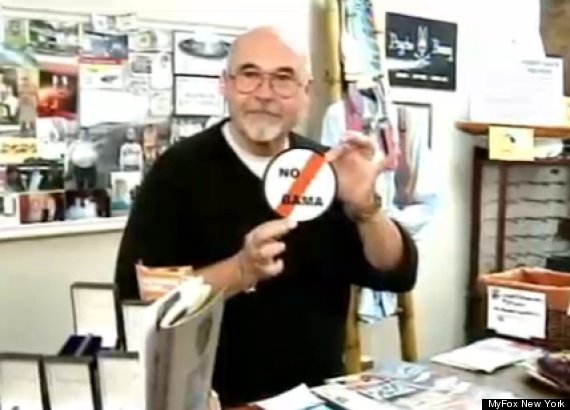 Loading Slideshow
Romney Staff at Iowa Cafe: "Stuff Got Broke"

A campaign stop by Mitt Romney and his staffers at an Iowa cafe left Dianne Bauer, owner of Main Street Cafe, fuming: She <a href="http://www.huffingtonpost.com/2012/06/14/romney-leaves-mess-at-local-cafe_n_1597257.html" target="_hplink">complained</a> about damaged property, Secret Service blocking bathroom access and Romney not introducing himself to the cafe's staff. "Stuff got broke," Bauer said.

Obama vs. Ohio Deli Owner

While most small businesses like free advertising, Debra Krause-McDonnell, the owner of Krause's grocery store in Cincinnati <a href="http://www.huffingtonpost.com/2012/08/13/debra-krause-mcdonnell_n_1773149.html?utm_hp_ref=small-business" target="_hplink">had a bone to pick with President Obama after his ad featured her storefront without her consent</a>.

Romney Can't Identify a Donut

In <a href="http://www.buzzfeed.com/mckaycoppins/mitt-romney-struggles-to-identify-a-donut" target="_hplink">video obtained by BuzzFeed</a>, Romney attempts to identify a donut but after a few stammers says "Can you see that one of those chocolate, um, uh, chocolate goodies finds its way to our ride?"

Hermain Cain and the Dead Small Business Rabbit

With several <a href="http://www.huffingtonpost.com/2011/10/30/herman-cain-smoking-ad-bob-schieffer_n_1066039.html" target="_hplink">strange advertisements</a> during his campaign, it seems fitting that former Republican presidential hopeful Herman Cain would continue the trend after his campaign's suspension. <a href="http://www.huffingtonpost.com/2012/03/26/herman-cain-new-ad_n_1379583.html" target="_hplink">The "Rabbit" ad</a> for Cain's <a href="http://SickOfStimulus.com" target="_hplink">SickOfStimulus.com</a> features a young girl placing a rabbit into a catapult while saying "This is small business under the current tax code." The rabbit is then launched from the catapult and "killed" in mid-air by a man holding a rifle. Another Cain ad used a <a href="http://www.youtube.com/watch?v=YYN-Awrq3og&context=C4830a86ADvjVQa1PpcFN1bXIVcqsE-PGGTXrjsiOg2M7br15eYTI=" target="_hplink">flopping, out-of-water goldfish</a> to represent the economy after the stimulus.

John Kerry's Cheesesteak Order

Pat's King Of Steaks in Philadelphia is famous along with rival Geno's Steaks for strict ordering rules, complete with commandments on their window that read "If you make a mistake, don't panic, just go to the back of the line and start over." John Kerry should have paid closer attention. During a July 2009 visit, <a href="http://www.philly.com/philly/restaurants/Photo_oop_Kerry_eats_a_cheesesteak_hoagie__with_Swiss.html" target="_hplink">Kerry ordered Swiss cheese on his cheesesteak</a> which isn't an option at Pat's, where cheez whiz, Provolone and American are offered. Pat's claimed that if Kerry were elected, Swiss would be added to the menu. We know how that worked out.

Newt Gingrich Stiffs Small Businesses

After a debt laden campaign, some <a href="http://www.huffingtonpost.com/2012/04/11/gingrich-campaign-vendors-paid_n_1416084.html" target="_hplink">small businesses are still waiting for payment</a> from former Republican candidate and Speaker of the House Newt Gingrich. These debts include $7,439.62 of printed campaign materials from Las Vegas Color Graphics, $5,000 for signs from Florida's Insite Political and $24,000 for ad productions from Florida's Noiseworks.

Gary Bauer's Botched Pancake Flip

During a campaign stop in New Hampshire in 2000, Republican presidential candidate Gary Bauer participated in the Bisquick Pancake-Flipping Contest. As Bauer tracked his high flying pancake after the flip, he managed to take a tumble off the stage, causing the crowd to gasp.

Palin and the Turkey

(Interview at 2:50) In November 2008 Sarah Palin visited Triple D farm near her hometown of Wasilla, Alaska to <a href="http://voices.washingtonpost.com/44/2008/11/sarah-palin-pardons-a-turkey.html" target="_hplink">grant the traditional Thanksgiving pardon to one turkey</a>. Shortly after the pardon however, Palin took questions from reporters with a farmer in the background clearly slaughtering other turkeys and birds. CORRECTION: An earlier version of this slideshow described the device being used behind Palin as a "grinder" for slaughtering poultry. That was incorrect.

Romney's Lemonade Gaffe

While celebrating July 4 in New Hampshire, Romney took a break to guzzle lemonade. When asked how it tasted <a href="http://www.huffingtonpost.com/2012/07/05/romneys-lemonade-gaffe-what-was-he-thinking_n_1652138.html" target="_hplink">Romney replied</a> "Lemon. Wet. Good."

Romney and "CookieGate"

Business surged for Pennsylvania's Bethel Bakery after Romney joked about its cookies: "I'm not sure about these cookies," Romney told a woman at the table. "They don't look like you made them. No, no. They came from the 7-11 bakery, or whatever." <a href="http://www.huffingtonpost.com/2012/04/24/cookiegate-romney-cookie_n_1449848.html" target="_hplink">"CookieGate"</a> was great publicity for Bethel, in business since 1955.
New York News | NYC Breaking News