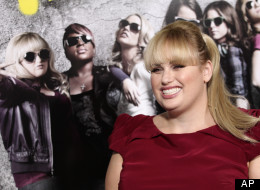 While 2012 has been The Year of Channing Tatum, 2013 looks like it may belong to Rebel Wilson. According to Deadline.com, the Australian-born actress and comedian has just sold an untitled comedy to Universal Pictures. No word on the plot, but Wilson will star in the film, as well as write and produce.
Wilson burst onto the scene with a breakout role in "Bridesmaids," and soon booked parts in "Bachelorette," "What to Expect When You're Expecting," and "Ice Age: Continental Drift." This month she gives a scene-stealing performance in Jason Moore's "Pitch Perfect" -- often improvising the movie's most memorable lines.
Other upcoming work for Wilson includes a spot in Michael Bay's "Pain & Gain" and Chris Colfer's "Struck By Lightning." She also wrote and is starring in pilot on ABC called "Super Fun Night." Wilson also fancies herself an rap star, rhyming under the moniker "Rebelicious." During the press rounds for "Pitch Perfect," she even appeared with Ellen DeGeneres and helped the talk show host rap "Shoop."
For more on Wilson's new deal with Universal, head over to Deadline.com.
[via Deadline.com]
Maria Bamford's unique, off-kilter stand-up, which features dimensions of characters rarely seen in a comedy club, has earned her a rightful place as one of the patron saints of comedy today.

As one of the longest-running correspondents on "The Daily Show," Samantha Bee remains one of the most consistently sharp and funny performers that give the show its unique edge. She also put out a book last year, "I Know I Am, But What Are You?"

You might know her best from "The View" and "The Joy Behar Show," but Behar started out as a standup 30 years ago, quickly becoming a fixture in the New York comedy scene.

New York standup and storyteller, Sara Benincasa, became a YouTube sensation for her Sarah Palin impressions during the 2008 elections.

Actress, comedian, and provocateur Sandra Bernhard is a bona fide comedy rock star. And if you aren't following her twitter feed, you aren't really on twitter. Check out @sandrabernhard

Leah Bonnema is a New York City comedian and actress, as well as a self-described "classy broad and loud mouth." If she keeps making us laugh, she can be as loud as she wants.

Desiree Burch is a classically trained actress, as well as a writer and standup comedian. We'd call her a triple threat, but she's so talented there are probably a few more threats than that involved.

The adorably wicked Michele Buteau has been delighting audiences all over the country for years. She appeared on seasons 5 and 6 of NBC's "Last Comic Standing" and has performed at Bonnaroo, Bumbershoot and more.

It's hard to keep track of Margaret Cho's job these days: whether she's doing stand-up, one-woman shows, dancing with the stars, performing burlesque or more recently recording pop music, the San Francisco icon is always charming and envelope-pushing.

The diva of VH1's "Best Week Ever," Michelle Collins has been making the rounds on talk shows and awards shows alike for the last few years. She recently won LOGO's NewNowNext Award for "Breakout Comic," and in 2009, Michelle was crowned ECNY's Best Female Comedian in New York and was featured as a "Comedian to Watch" in YRB Magazine.

Although relatively new on the comedy scene, Whitney Cummings' hilarious stand-up specials, celebrity roasts and talk show spots have made her a comedian to look out for.

Not only does Ellen's enviable career include a successful sitcom, a beloved talk show, an Oscar hosting gig and not to mention countless masterful stand-up specials, but she also gets to go home to Portia de Rossi. Best life ever.

You know you've accomplished something special when people stop you on the street and ask you to curse them out. Susie Essman's years on "Curb Your Enthusiasm" made her a household name, but her biting standup is what has made her a favorite amongst her comedy peers.

Negin Farsad is a one-woman force: comedian, writer, actor, director, and producer. She got her start while getting her masters in race relations at Columbia University by day, and doing comedy at night.

New York City favorite, Rachel Feinstein, recently appeared in her first "Comedy Central Presents" special. She's the only comedian we've seen who can go from embodying her grandmother in one breath and a predatory guy on the street in the next and be equally convincing at both.

The "30 Rock" creator/star's legacy cannot be overstated: Fey was also the first female head writer for "Saturday Night Live."

A favorite on both coasts, actor and comedian Erin Foley has appeared in numerous roles on big screens and small, most notably as the furious fact checker in Cameron Crowe's "Almost Famous."

Nominated this year for an ECNY Award for Best Female Standup, Marina Franklin can be scene in "The Awkward Comedy Show" film, which premiered on Comedy Central.

Comedian, writer and actor Jena Friedman has had her work featured in New York Magazine, Glamour and more, and she will appear this year at SXSW, Boston Women In Comedy Festival and the Glasgow International Comedy Festival.

In addition to being one of the pioneers of the "alternative comedy" scene in the '90s and starring in shows like "The Larry Sanders Show" and "The Ben Stiller Show," Garofalo distinct, biting voice is also seen in movies like "Reality Bites" and as a champion of many left-wing causes.

Garfunkel and Oates, the musical collaboration between actress/singer-songwriters Kate Micucci and Riki Lindhome, will shoot an HBO pilot soon. The comedy folk duet's dizzying lyrical cleverness has impressed millions with their songs such as "Pregnant Women Are Smug," "Sex with Ducks" and "This Party Took a Turn for the Douche."

Helen Hong has been featured in the New York Underground Comedy Festival and has been a repeat finalist in New York's Funniest Standup competition.

Another ECNY nominee for Best Female Standup, Adrienne Iapalucci is poised to become one of the next big thing's in comedy. She was featured last year at the Montreal Just For Laughs Festival in the highly competitive "New Faces" showcase.

Former "MadTV" cast member, Anjelah Johnson seems to have been touring with her standup non-stop for the last few years, much to the delight of audiences all over the country.

Nobody can deny that one of the best parts of the last seasons of "The Office" is the sweetly naive receptionist Erin. Kemper has cool cred, too -- she's a UCB Theatre regular and is listed as a contributing writer to The Onion. Up next? Starring in Tina Fey's new sitcom, "Unbreakable Kimmy Schmidt".

Karen Kilgariff may be best known for days on "Mr. Show," but if you haven't seen her perform live, you're missing something truly special. Her dry wit, funny songs, and lovely voice make her one of our favorite people to see.

Laurie Kilmartin is a staff writer for "Conan" and has been featured at Montreal, Aspen and Edinburgh comedy festivals.

LA Comedian, writer and actress Jen Kirkman has written for "Perfect Couples" on NBC, and E!'s "Chelsea Lately." She was also the narrator of HBO's "Drunk History" which received the Jury Prize for "Best Short Film" at the Sundance Film Festival in 2010.

Julie Klausner is a comedian, writer and actress who released her first book, "I Don't Care About Your Band" just last year. Her writing has been featured in New York Times, New York Magazine.com, and Salon.

Jessi Klein has written for "Saturday Night Live," "Michael & Michael Have Issues," and "Jimmy Kimmel Live." She was also recently featured in her own half hour "Comedy Central Presents."

Natasha Leggero is well-known from sitting on the judges panel of last season's "Last Comic Standing," but Leggero's stand-up and character performances in everything from "Reno 911!" to "The Sarah Silverman Program" are the stuff of genius. (Her podcast with partner Duncan Trussell, The Lavender Hour, is worth a listen as well.)

After winning Last Comic Standing, Kathleen Madigan has been a fixture on late night television and comedy clubs all over the country.

Brilliant stand-up comedian, Bonnie McFarlane is not only one of the most consistently fun people to see perform live, she also recently released her directorial debut "Women Aren't Funny."

If you're like us and you continue to be impressed by the sharp writing on "Late Night with Jimmy Fallon," you can thank Morgan Murphy. But Murphy's well-crafted and self-deprecating stand-up comedy is truly where she shines.

Currently a staff writer for "Saturday Night Live" Christine Nangle is one of the rising stars of the New York comedy scene.

Tig Notaro is one of those stand-up comics who can't quite be categorized, but whose palpably dry act never fails to send audiences into scores of laughter. If you're in Los Angeles, her monthly show "Tig Notaro and Friends" at Largo is a can't-miss.

Kelly Oxford was introduced to a large audience in the most auspicious of mediums: Twitter. Her tweets proved definitively that sometimes, a Canadian stay-at-home mom can pack more sarcastic wit into 140 characters than Hollywood can fit in a $140 million movie.

You probably were a fan of Chelsea Peretti without knowing it, thanks to her early ventures of the New York City Rejection Line and the satirical site Black People Love Us. But Peretti has only continued to grow in popularity, writing for "The Sarah Silverman Program," appearing on "Louie," performing stand-up in sold out shows around the country and being named one of Variety's "Ten Comics to Watch."

Representing a disaffected yet undeniably likable generation is Aubrey Plaza, best known for her scene-stealing performances as a snarky comedian in "Funny People," a snarky barista in "Scott Pilgrim Vs. the World" and a snarky intern in "Parks and Recreation."

Just when we thought that the "Saturday Night Live" performer and Upright Citizens Brigade co-founder had left more than her mark on comedy, she goes and stars in "Parks and Recreation," one of the funniest shows on television, as Leslie Knope, one of the best TV characters in recent memory.

Caroline Rhea has had a lot of success on television, particularly with hit series "Sabrina the Teenage Witch" but she's always come back to her first love, standup.

Why Joan Rivers? Because she was funnier and worked harder than comedians half her age, maybe? If you haven't seen the brilliant documentary "Joan Rivers: A Piece of Work," do yourself a favor and witness this comedic force in action.

Andrea Rosen is a NYC comedy fixture, as well as a very recognizable face from her numerous commercial and television roles. Her wacky stories and playful demeanor make her a standout whenever she takes the stage.

Schaal has stalked Flight of the Concords on HBO, lent her unique voice to an Oscar-winning Pixar movie, provided sharp social critiques on "The Daily Show," and even wrote a shockingly funny about sex with her partner. And it seems this is only the beginning of the Kristen Schaal empire of aborableness.

Sara Schaefer is a comedian, writer and performer who is currently the Editor of Jimmy Fallon's two-time Emmy-winning blog. She's also nominated this year for an ECNY Award for Best Female Standup.

After being a finalist on "Last Comic Standing," Amy Schumer has been performing relentlessly, delighting audiences large and small with her playfully dark wit.

Livia Scott has been called a "character chameleon extraordinaire," and we agree. The actress, comedian and writer got her start in NYC as a member of all-female sketch group Meat, but has sense launched a formidable solo career.

If you've never watched "Strangers With Candy," stop reading this slideshow right now and get to it (it's on Instant Netflix). Sedaris has also been a craftsperson, movie actress and, like her brother Dave, fantastically entertaining author.

Silverman has been performing stand-up comedy since she was a teenager, eventually starring in her own stand-up concert movie ("Jesus Is Magic") and TV show ("The Sarah Silverman Program").

Former "Saturday Night Live" cast member, Jenny Slate, is a comedian and actress and one of the superstars of the alternative comedy scene in NYC.

Her standup specials are instant classics, she was a riot on "Curb Your Enthusiasm" and "Entertainment Weekly" called her one of the 25 Funniest People in America." Need we say more?

You might have scene Brooke teaching Mikey how to get started in standup on "American Chopper." We hope Mikey knows how lucky he was to have one of the best up-and-coming standups in NYC as his own personal tutor.

Winstead did the world a favor by co-creating "The Daily Show," and as a bonus, has continued to tirelessly write and perform politically charged comedy in too many venues to count.

Maysoon Zayid has described herself as "a Palestinian Muslim virgin with cerebral palsy, from New Jersey, who is an actress, comedian and activist." She forgot to mention extraordinarily funny.