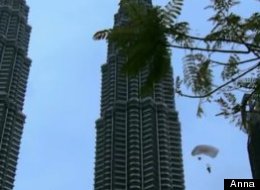 The world will have to wait for Felix Baumgartner's historic jump from the edge of space, after the Austrian skydiver was forced to postpone the stunt for the second straight day due to gusty wind conditions.
The jump, now scheduled for Sunday, could skyrocket Baumgartner straight into the record books. He stands to achieve the highest freefall above Earth and the fastest speed attained by a human. He could also become the first person to break the sound barrier without an airplane.
Baumgartner is no stranger to historic feats, as evidenced by this compilation of his past jumps. In 1999, he recorded the highest jump off a building when he dove off of the Petronas Towers in Kuala Lampur -- then the tallest buildings in the world at 1,483 feet. He also set the record for the lowest BASE jump ever, catapulting off of Rio de Janeiro's Christ the Redeemer statue, and in 2003, he became the first person to skydive across the English Channel.
WATCH VIDEO ABOVE