On September 16, just hours after 26-year-old actress Amanda Bynes was stopped by police and cited for driving on a suspended license (her 6th incident of reckless driving in five months), fellow former child-star-turned-road-menace Lindsay Lohan decided she'd seen enough.
"Why did I get put in jail and a nickelodeon star has had NO punishment(s) so far?" Lohan complained to her 4.3 million fans via Twitter.
Bynes and Lohan are products of the two largest child-star factories in America. Bynes made her name on Nickelodeon, getting her start on the variety show "All That," eventually earning top billing on her own series, "The Amanda Show," which ran from 1999 to 2002. Lohan is a Disney creation, with film credits ranging from 1998's "The Parent Trap" to 2005's "Herbie: Fully Reloaded."
By now, however, both actresses are better known for their run-ins with the law. Lohan has faced a range of charges over the years, including DUI, misdemeanor possession and grand theft, while Bynes has racked up two DUIs and two hit-and-runs during her more recent downward spiral. But they're hardly the only veterans of the two childrens' entertainment empires to mess up in public: Miley Cyrus (Disney) was caught smoking salvia, Jamie Lynn Spears (Nickelodeon) got pregnant at 16, Shia LaBeouf (Disney) and Ryan Rottman (Nickelodeon) were charged with drunk driving, while Demi Lovato (Disney) and Matthew Underwood (Nickelodeon) have struggled with drugs.
In an effort to ward off future generations of trainwrecks, Disney and Nickelodeon have both instituted orientation programs designed to prepare young performers for the vicissitudes of fame. Disney launched its program, Talent 101, only recently in 2007, shortly after a nude photo of High School Musical actress Vanessa Hudgens hit the internet. Modeled in part on the NBA's Rookie Transition Program, the course requires incoming talent, as well as their parents and siblings, to listen to guidance from various department heads.
"The decision to begin an orientation program, Talent 101, coincided with the emergence of social media and was in response to an increase in requests from young actors and their parents to help them navigate the experience of suddenly being in the global public sphere," Disney rep Patti McTeague told The Huffington Post.
Nickelodeon, whose representatives declined to comment for this article, has for the past decade required its stars to undergo a similar course to learn the ropes, on and off set. A 2007 Entertainment Weekly article characterizes that program as a "boot camp" that teaches kids to be media-savvy, and also imparts technical knowledge (what exactly is a key grip, anyway?) and professional expectations (perhaps Lohan never learned the meaning of "call time").
As child stars are thrust into the spotlight — often treated like brands complete with record deals, TV movies and myriad other franchises — these programs have become a necessity. Many are unprepared for the immense pressure of these demands, ones even adults struggle to handle with grace.
"As a teenager in the public eye, I try my hardest to do things right, be a good role model and gain respect as a young artist who has something to bring to the industry, says "iCarly" star Nathan Kress. "But because of the complete lack of privacy in the personal life of a teen actor (or any well-known person, for that matter), it's very hard knowing that you're under a microscope at all times. I have to be constantly aware of the fact that anything I'm doing could be captured on camera and blasted across the Internet at any moment, so I have to be careful of what I'm doing -- meaning even what I appear to be doing!"
Kress participated in Nickelodeon's orientation program when he first joined the series in 2007, and later attended a meeting about online safety, but says most of the network's guidelines were principles to which he already adhered.
"My dad's a cop, so I had to mind my p's and q's way before 'iCarly'!" he says. But, he adds, "It mostly prepared me for things that I didn't think about having to deal with before 'iCarly' became popular, such as fan interaction."

Debby Ryan, who is poised to be Disney's next Selena Gomez, has also managed to stay grounded.
"When you go into a Disney show you are typically anywhere from 10 to 16, and that's when you are finding yourself," says Ryan. "That's when you are so influenced by your friends, by what you are watching, and when you are part of the [young Hollywood] community... you kind of have this added pressure of not only fulfilling that standard, but being that standard."
And while Ryan appears to have a handle on her grueling schedule — which includes the beginnings of a music career and clothing line — many others aren't as well-adjusted.
A 2011 study published in the journal of Child Development found that teenagers who work 20-plus hours per week have a higher incidence of drug and alcohol use. The study underscores a sentiment expressed by former Mickey Mouse Club member Paul Petersen, who founded the child-actor support group A Minor Consideration: "Fame is a dangerous commodity for a young person. It distorts the entire maturation process. You are subjected to forces that are almost incomprehensible to people who have never been 'famous.'"
Disney both acknowledges that they play a role in its performers' welfare, and denies liability. "We give them all of the tools they might need, but the network is not responsible for raising their children," Gary Marsh, the president of Disney Channels Worldwide told The Hollywood Reporter in June.
But Petersen says that when networks are pushing their actors to become multi-million dollar franchises, they do have a responsibility to help them adjust to the inevitable pitfalls of fame.
"Whenever a child grows up in an environment when they are the income earner, you have the world kind of turned on its head," he says.
Petersen — whose group has been called to sets to perform interventions with children struggling emotionally — welcomes the arrival of programs like Talent 101, but he says what young stars really need is support from those who have been there.
"Outsiders can't help these kids — there is so much resistance from a young performer to listen to anyone else other than someone who has been through it themselves," he says.
As for Bynes, Petersen observes: "We are watching what amounts to a cry for help. And the kind of help that's required is not another movie role, or a spread in a magazine."
Ultimately, he says, "The solution is often to take a break."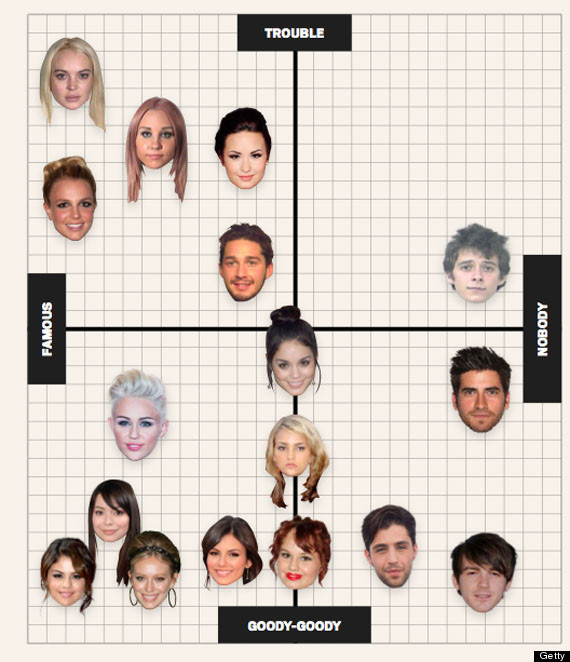 | | Net worth: | Twitter followers: | Known for: |
| --- | --- | --- | --- |
| Selena Gomez | $5.5 million | 12.7 million | Disney darling/Justin Bieber's girlfriend |
| Britney Spears | $100 million | 20.6 million | Reigning pop princess/trainwreck |
| Miranda Cosgrove | $7 million | 2.6 million | "iCarly" |
| Amanda Bynes | $4 million | 293,000 | Nickelodeon child star/danger to the streets of LA |
| Demi Lovato | $3 million | 9.4 million | Meltdown-prone Disney sweetheart turned anti-bullying advocate |
| Miley Cyrus | $54 million | 9.1 million | "Hannah Montana"/suggestive Vanity Fair cover/salvia debacle |
| Shia LaBeouf | $25 million | N/A | "Transformers"/bad temper/DUIs |
| Lindsay Lohan | $1.4 million | 4.3 million | Disney remake queen, turned jailbird |
| Hilary Duff | $26 million | 1.6 million | "Lizzie McGuire" |
| Victoria Justice | $8 million | 3 million | "Victorious"/"Zoey 101" |
| Debby Ryan | $925,000 | 1.5 million | "Jessie"/"Sweet Life on Deck" |
| Jamie Lynn Spears | $5 million | 400,000 | "Zoey 101"/Teenage pregnancy |
| Vanessa Hudgens | $5 million | 738,000 | "High School Musical"/nude photo scandal |
| Josh Peck | $2.5 million | 200,000 | "Drake & Josh"/"All That" |
| Matthew Underwood | N/A | N/A | "Zoey 101"/pot possession |
| Ryan Rottman | N/A | 68,000 | Gigantic"/DUI |
| Drake Bell | $2.7 million | 1 million | "All That"/"Drake & Josh" |
This story originally appeared in Huffington, in the iTunes App store.
Loading Slideshow
Orlando Brown

"That's So Raven" star Orlando Brown was <a href="http://www.huffingtonpost.com/2011/08/14/orlando-brown-dui_n_926430.html" target="_hplink">arrested in August 2011</a> and charged with a DUI. Cops pulled over the former Disney star for driving without a license plate. When they went in for a closer look, Brown smelled of alcohol and when given a breathalyzer test, he blew over the 0.08 BAC limit. <a href="http://www.tmz.com/2011/10/24/orlando-brown-plea-deal/" target="_hplink">Brown has struck a plea deal</a> that will keep him out of jail. The 23-year-old actor pled no contest and was given 36 months probation, ordered to pay a $390 fine, sentenced to a single day in jail, ordered to attend alcohol education classes and must attend 10 Alcoholics Anonymous meetings.

Mitchel Musso

Former "Hannah Montana" star Mitchel Musso was <a href="http://www.huffingtonpost.com/2011/10/17/disney-star-mitchel-musso-dui_n_1015660.html#s117183&title=Kimora_Lee_Simmons" target="_hplink">arrested on October 16, 2011 and charged with two counts of drunk driving</a>. The 20-year-old actor who currently stars on Disney's "Pair of Kings" and lends his voice to the Disney cartoon series "Phineas and Ferb" was pulled over after he failed to slow down for police officers who were directing traffic. When given a breathalyzer test Musso blew well above the 0.08 percent BAC limit. If convicted on both counts Musso faces a maximum of six months in jail and a $1,000 fine. <a href="http://www.tmz.com/2011/10/22/mitchel-musso-charged-dui-drunk-driving-burbank-jail/#.TqWnlpxSkv5" target="_hplink">But as TMZ notes</a>, first-time DUI offenders in LA County aren't sentenced to jail time unless there are aggravating circumstances, which in this case there are not. The actor is due in court November 11.

Christina Aguilera

Former mouseketeer, Christina Aguilera was <a href="http://www.huffingtonpost.com/2011/03/01/christina-aguilera-arrested_n_829592.html" target="_hplink">arrested for public intoxication</a> in May 2011. The singer's boyfriend Matthew Rutler was pulled over by police who saw the car "burn rubber" and fishtail onto a street. The couple smelled of alcohol and Rutler failed his breathalyzer test, blowing 0.09 BAC. While Christina was a passenger, cops said she appeared "too drunk to care for herself and had no driver to take her home." She was arrested on suspicion of being drunk in public, so police could hold her at the station to sober up. Although she was arrested, cops said she wouldn't be prosecuted because she has no criminal intent, but the misdemeanor arrest remains on her record. <blockquote><strong>CORRECTION</strong>: This slide previously stated an incorrect BAC level for Rutler. We regret the error.</blockquote>

Lindsay Lohan

Lindsay Lohan has the distinct honor of being arrested more times than any other Disney star. The actress who starred in the remake of Disney's classic "The Parent Trap" and the Lovebug reboot "Herbie: Fully Loaded," was <a href="http://www.eonline.com/news/marc_malkin/breaking_lindsay_lohan_dui/59246" target="_hplink">first arrested May 26, 2007 on suspicion of driving under the influence</a> after her car struck a curb in Los Angeles. Police also reported they found a substance they believed to be cocaine at the scene. Two days later Lohan checked herself into what would be her second stint in rehab and during her stay was accused of being drunk when she crashed into a parked van in October 2005, alleges a lawsuit against her. On July 24, 2007, less than two-weeks after she left her 45-day stay at Promises, Lohan was <a href="http://www.people.com/people/article/0,,20047886_20047878,00.html" target="_hplink">pulled over by police and arrested on five counts</a>, including driving under the influence of alcohol, driving on a suspended license and possession of narcotics. She heads back to rehab hours after the arrest. On August 23, the actress was charged with seven misdemeanor counts for her two DUI arrests. With a plea deal it is agreed that Lindsay will spend one day in jail, serve 10 days of community service and complete a drug-treatment program. She was also given 36 months of probation and had to complete an 18-month alcohol education program. In addition she also had to finish a three-day county coroner program that requires she talk to victims of drunk drivers and visit a morgue. After showing up late to a probationary hearing to review her cases on October 16, 2009, Lohan lands herself another year of probation tacked on to the initial 36 months, because she failed to complete the alcohol education classes. A warrant was issued for Lindsay's arrest and is ordered to post $200,000 bail after her SCRAM alcohol-monitoring ankle bracelet went off in June 2010. The next month she was <a href="http://www.huffingtonpost.com/2010/07/06/lindsay-lohan-jail-sentence-_n_636632.html" target="_hplink">sentenced to 90 days in jail and 90 days in rehab for violating her probation. </a> Lohan serves only 14 days in jail and begins her court-ordered 90 day rehab program, which she only serves 23 days of after doctors said she had done everything required of her. After <a href="http://www.huffingtonpost.com/2010/06/03/lindsay-lohan-caught-in-c_n_599398.html" target="_hplink"> failing a drug test</a> in September 2010, a judge revoked her probation, denied her bail and sent Lindsay back to prison. Lohan's lawyers appealed the decision and had it overturned -- Lohan was released after posting $300,000 bail that day. Later that month <a href="http://www.huffingtonpost.com/2010/10/01/lindsay-lohan-in-rehab-ex_n_746893.html" target="_hplink">she checks into the Betty Ford Center</a> for substance abuse rehab. In October a judge orders Lohan to stay in rehab until January for violating her probation. Just three weeks out of rehab Lohan is accused of walking out of a jewelry store with a <a href="http://www.huffingtonpost.com/2011/02/02/lindsay-lohan-jewelery-th_n_817597.html" target="_hplink">necklace and was later charged with felony grand theft</a>. In April 2011, Lohan spends five hours in custody before posting a <a href="http://www.huffingtonpost.com/2011/04/23/lindsay-lohan-quickly-released-from-jail_n_852834.html" target="_hplink">$75,000 bond </a>after she was <a href="http://www.huffingtonpost.com/2011/04/22/lindsay-lohan-back-to-jail-120-days_n_852802.html" target="_hplink">sentenced to 120 days in jail</a> for violating her DUI probation by being charged with the necklace theft. <a href="http://www.huffingtonpost.com/2010/05/20/lindsay-lohan-arrest-warr_n_583498.html" target="_hplink">In May, Lohan is sentenced to 120 days</a> for stealing the necklace, which she will serve at home, and only <a href="http://www.huffingtonpost.com/2011/06/29/lindsay-lohan-free-after-house-arrest_n_887063.html" target="_hplink">serves 35 days of house arrest</a>. She also got 480 hours of community service. On October 19, 2011 Lohan's <a href="http://www.huffingtonpost.com/mobileweb/2011/10/19/lindsay-lohan-probation-revoked_n_1020009.html" target="_hplink">probation was revoked</a> after she was kicked out of the community service program at an L.A. women's shelter. Lohan posted $100,000 bail and the judge set a hearing for November 2, to see if Lohan will serve jail time. Then on October 20, Lohan was <a href="http://www.huffingtonpost.com/2011/10/20/lindsay-lohan-late-to-community-service_n_1022447.html" target="_hplink">late to morgue duty</a> and turned away. The next <a href="http://www.huffingtonpost.com/2011/10/21/lindsay-lohan-reports-to-morgue_n_1024250.html" target="_hplink">day she shows up early and tries to apologize</a> by buying the morgue staff lunch at In N' Out burger.

Shia LaBeouf

Former "Even Stevens" star, Shia LaBeouf, was arrested at a Chicago Walgreens after he appeared drunk and refused to leave the store in November 2007. The "Transformers" actor was hit with a misdemeanor criminal trespassing charge. Those charges were later dropped by Walgreens who decided they weren't interested in pursing the case. In March 2008, a warrant was issued for the actor's arrest after he didn't show up to a hearing in relation to a ticket he received for unlawful smoking in Burbank, California. When the actor's lawyer showed up the next day to plead not guilty the warrant was recalled, and the charges later dismissed after the actor paid a $500 fine. In July 2008, Shia ended up in the hospital after he crashed his car and injured his hand. Although police determined LaBeouf was <a href="http://www.huffingtonpost.com/2008/07/29/shia-labeouf-was-not-at-f_n_115675.html" target="_hplink">not at fault</a> for the accident, he was still <a href="http://www.huffingtonpost.com/2008/07/27/shia-labeouf-dui-arrest-a_n_115205.html" target="_hplink">charged with a DUI</a> and his license suspended for a year. In February 2011, the actor found himself in handcuffs after he got in an altercation with another bar patron and got punched in the face. Lucky for Shia no charges were filed. <a href="http://www.tmz.com/2011/10/17/shia-laboeuf-fight-video-vancouver-the-company-you-keep/#.TqW9dJxSkv4" target="_hplink">Most recently in October 2011</a>, the actor was involved in another bar fight in Vancouver, Canada. In video footage, the actor is repeatedly punched in the head by another bar guest. No charges were filed at this time.

Britney Spears

Former member of the "Mickey Mouse Club" Britney Spears was arrested and hospitalized in January 2008 after <a href="http://www.huffingtonpost.com/2008/01/11/britney-naked-pillpopping_n_81145.html" target="_hplink">she barricaded herself in a bathroom with her son Jayden and refused to come out.</a> The singer had refused to return her two sons to their father Kevin Federline after a court-monitored visit. Police were called and Britney was said to be babbling and incoherent, arguing with officers in a way that made no sense. After a three-hour standoff Britney was arrested, strapped to a gurney and taken to Cedars-Sinai Medical Center, where she was held for 72-hours for psychiatric for treatment and evaluation. No criminal charges were filed, but the singer <a href="http://www.huffingtonpost.com/2010/11/24/custody-battle-britney-sp_n_788110.html" target="_hplink">lost custody</a> of her sons Jayden and Sean Preston following the incident.