You may not be the church-goin' type, but even so, you kind of have to love this one house of worship's bold Halloween display. It's got everything: nerd appeal, a cool font, and a not-too-subtle message.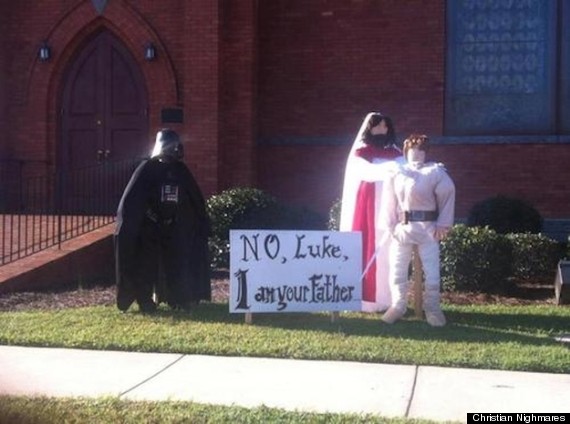 Also on HuffPost:
Loading Slideshow
McKayla Maroney

Pull your hair back into a high ponytail, throw on some warm-up clothes, make your own (silver) medal and just be unimpressed with everyone's costumes all night.

PSY

You already know the dance.

Replacement Refs

Just carry around a yellow flag. Don't worry about reading the rulebook.

Single Kristen Stewart

Whether you believe she's a "trampire" or not, it would be super ideal to just not have to wash your hair from now until Halloween.

Honey Boo Boo

Drink some go go juice at the beginning of the night and you'll be good to go.

Texts From Hillary Clinton

All you need are a great pair of sunglasses, a blackberry and Air Force One.

Clint Eastwood

Just ramble on for 12 minutes talking to various inanimate objects.

Clint Eastwood's Chair

This could also be called the "Invisible Obama" costume.

Jimmy Fallon's Tebowie

Don some Ziggy Stardust makeup, a football jersey and some glittery shoulder pads and you'll be Fallon, Bowie and Tebow all wrapped into one.

Courtney Stodden

After all, Halloween is the number one time of the year to dress like... this.

Kony 2012

Make a lot of broad statements to show how much you care. Also, maybe don't buy the t-shirt.

Paul Ryan Gosling

Sure, this one's a little conceptual, but you can pull it off. We suggest Paul Ryan mask, Drive jacket & printing out a bunch of tweets to hand to the "girls."

Botched Fresco Jesus

One <a href="http://www.reddit.com/r/MakeupAddiction/comments/yraqk/am_i_doing_it_right/">Redditor</a> actually perfected this costume. The trick is getting the blurry/crooked smile just right.

David 8

The glowing Earth and angelic face are the linchpins of this look.

Patricia Krentcil, "The Tanning Mom"

You'd better stock up on bronzer now.

Bane

We all know you've been practicing the voice.

Jeremy Lin

You may not have the jumpshot, but rocking the jersey should be pretty straightforward.

All Of "The Avengers" In One Costume

If they can put all of them in one movie, the least you can do is sew all of them together for your costume.

iPhone 5

Just don't use Apple Maps to give anyone party directions.

Ermahgerd Girl

Pigtails, 90s clothes, Goosebumps books... HERPER HERLERERN!

Reformed Britney Spears

Just generally have your life together and a steady job. Also, look as good as you did in 1998.

Spinning Lana Del Rey

The upside is you get to look glamorous. The downside is you'll get dizzy.

The 47%

You can probably just go as yourself for this one.

Louis C. K.

If you're already balding and have a goatee than this one's a snap: Just throw on a black T-shirt and jeans, give your hair a red tint and sheepishly accept awards all night.

Sh*t Girls Say

Guys, dressing in drag this year will be as topical as ever.

Overly Attached Girlfriend

This one is less about having the perfect outfit than it is about perfecting the wide-eyed stare and creepy grin.

Hot Cheetos And Takis

The perfect excuse to wear your normal clothes and snack all night.

Ridiculously Photogenic Guy

Step one: buy a purple T-shirt. Step two: look amazing in it, even while jogging.

Miguel Bloombito

Bonus: One time where your elementary knowledge of Spanish will come in handy.