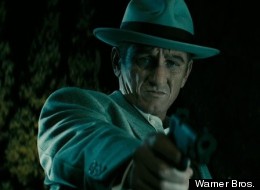 Ryan Gosling and Josh Brolin lead the title team in "Gangster Squad," but one look at the film's newest trailer reveals the real star of this show: Sean Penn as Mickey Cohen.
Caked in makeup, Penn plays the infamous Los Angeles gangster in Ruben Fleischer's film with a brio that recalls Robert De Niro's work in "The Untouchables." Some choice Penn dialogue: "You're talking to God, so you might as well swear to me." "I'm the future." "Kill their families! Their kids!" "Any cop not for sale is like a dog with rabies. You just got to put him down." (OK?) "Los Angeles is my destiny!" "You're going to be begging for a bullet before it's over." And so on.
"Gangster Squad" was set for release on Sept. 7, but Warner Bros. delayed the film until Jan. 11, 2013 to allow Fleischer time to reshoot a key sequence in the film following the murders of 12 people during a July shooting at a movie theater in Aurora, Colo. (The scene in question showed four armed men shooting up a movie theater.)
Watch the new trailer above and head over to Apple to check it out in HD.
A Brief History Of Jay-Z & Kanye West In Movie Trailers
"We get down, if the play calls for it, bud." Say what you will about Michael Mann's overwrought, ultra-stylized "Miami Vice" ("Drive" before "Drive"?), but its Jay-Z-fueled trailer was just about perfect.

You can't prove that "American Gangster" -- an R-rated, two-and-a-half hour drama -- opened with $43 million solely because Universal used "Heart of the City" in the trailer, but you can't not prove it either. Just sayin'.

As if you needed another reminder (groan) that "The Hangover Part II" was just a pale retread of "The Hangover," the marketing campaign used Jay-Z's "Reminder" to score many of the spots and trailers. At least the song is good.

Nothing says "edgy" conflict like "99 Problems." In addition to this early spot for "This Means War," the song also pops up in "Taking of Pelham 1 2 3" and "Tower Heist."

Not as tied to "The Social Network" as that chorale version of "Creep" that was used to expertly in the first trailers, Kanye West's "Power" had its own affect on the Facebook movie. After all, even nerds look cool when Kanye is blasting. (Also used in "Limitless.")

The song might be all New York, but the movie was not. "Sex and the City 2" sent Carrie, Samantha, Miranda and Charlotte to Abu Dhabi. Obviously.

"In the immortal words of Jay-Z." Yep, see you at the theater this summer!

An inspirational sports drama that relied on its score and some period appropriate '80s and '90s music, the television spots for "The Fighter" trotted out "Run This Town." The results? Kinda awesome, actually.

Even the Borat-y jokes in the trailer for "The Dictator" look better with Jay-Z blaring on the soundtrack. Well played, Paramount marketing team!

For the Denzel Washington-Ryan Reynolds action flick (out Friday), Universal used the "Watch the Throne" hit "No Church in the Wild." How much money this will add to the coffers remains to be seen, but the guess here is a lot. Remember "American Gangster"?

Gosling + Stone + Hova + this line: "I was just hoping to take you to bed." You're in.

You crazy for this one, Baz Luhrmann!

Warner Bros. has a thing for using anachronistic Jay-Z music cues in its trailers. "42" follows "Gangster Squad" and "The Great Gatsby" in this studio trend, not that anyone is complaining. This one is all swagger.

No one man should have all that power, especially when that man is Russell Crowe.