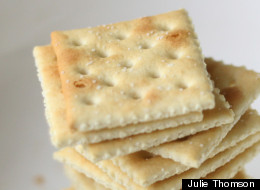 A staple in most pantries, saltines have often been thought of as a cure for nausea. But they've got one more trick up their plastic sleeves: saltine crackers are commonly used to make one of Peru's most popular spicy sauce known as Huancaína sauce.
Huancaína sauce is normally served over boiled potatoes, then topped with hard boiled eggs and olives. (This is called Papas a la Huancaina and can be enjoyed at almost all Peruvian restaurants.) The sauce, despite its creamy and rich consistency, is sneakily spicy. Before you know it, your whole mouth is on fire -- in a good way -- which is why it's served on mild-flavored potatoes.
Peru, which is known for its potatoes, is also home to a number of uniquely flavored peppers. The aji amarillo pepper, which gives the huancaína sauce all its flavor, is pretty hot. It's been compared to a scotch bonnet, but with more fruit and slightly less fire. If you can't find aji amarillo in your produce section (which is unlikely) some grocery stores carry them frozen (which is second best) or marinated in jars. You can also buy aji amarillo paste online.
To make the sauce, you simply blend saltines, queso fresco, aji amarillo, milk and garlic. See how it's done in this homemade video and get the recipe here.
Want to read more from HuffPost Taste? Follow us on Twitter, Facebook, Pinterest and Tumblr.
Get more Latin American recipes here.
Get the Feijoada recipe by Pepper Lynn Feijoada is a slowly cooked stew made with beans, pork and beef.

Get the Cod Fritters recipe by Dulce Delight Cod fritters are made with cod fish and often times with cilantro, garlic and onions. They're often times served as an appetizer or snack.

Get the Chicharrón en Salsa Verde by Sweet Life Cicharrones are fried pork rinds that are often served as a snack.

Get the Tamales de Pipían recipe by My Colombian Recipes Tamales are made with a corn-based dough, filled with meats, cheeses or vegetables and steamed in a banana leaf.

Get the Croquetas de Jamón recipe by Hungry Sofia Croquetas are a fritter often filled with ham, cheese and other meats. They're served as a snack or appetizer.

Get the Ginger & Rocoto Ceviche recipe by Global Table Adventure Ceviche is a seafood dish made with fresh raw fish that's marinated in citrus juice and spices. In Peru, it's often served with sweet potato.

Get the Papa A La Huancaína recipe by Peru Delights Papa A La Huancaína is a Peruvian salad that's made with boiled potatoes and topped with a spicy Huancaína sauce. The sauce is made with cheese, milk and aji amarillo -- a traditional Peruvian pepper.

Get the Cheese Bread recipe by Dulce Delight Cheese bread, also known as pão de queijo in Brazil, is a popular snack and breakfast item.

Get the Yuca Frita con Salsa a la Huancaína recipe by Hungry Sofia Yuca is a root vegetable that is commonly found at the dinner table. Here, they're cooked like french fries and topped with a spicy sauce.

Get the Arroz con Pollo recipe by Global Table Adventure Arroz con pollo is a traditional dish that can be found all over Latin America with many variations. It's essentially made with rice, chicken and spices.

Get the Arepa with Shredded Chicken and Avocado recipe by My Colombian Recipes Arepas are a cross between a pancake and a pita. They're made with a corn base and are stuffed or topped with savory ingredients.

Get the Grilled Churrasco Steak with Cilantro Chimichurri recipe by A Chica Bakes and The Latin Kitchen Churrasco is a grilled steak, often times flank or stip, that is topped with a chimichurri sauce. Chimichurri is a sauce often made with parsley and spices.

Get the Ropa Vieja recipe by Nibbles & Feasts Ropa Vieja, which literally translates to old clothes, is a dish made of shredded meat in a tomato based sauce.

Get the Huevos a la Mexicana recipe by Sweet Life In Mexico, you can normally get your eggs with a side of beans and fresh tortilla.

Get the Pernil recipe by A Chica Bakes and The Latin Kitchen Pernil is a dish of roast pork leg.

Get the Alfajores recipe by Pass The Sushi Alfajores are a very popular cookie in Latin America made with a tender corn flour cookie and filled with a milk-based caramel known as dulce de leche.

Get the Midnight Mocha Rum Cake recipe by Global Table Adventure This dark chocolate and coffee-flavored cake is spiked with rum to keep it moist.

Get the Brigadeiro recipe by Dulce Delight Brigadeiro is a simple candy made of condensed milk, butter and cocoa powder. It's easy to make and often served at children's birthday parties.

Get the Flan de Coco recipe by Hungry Sofia

Get the Tres Leches Cake recipe by Farmette Tres Leches Cake is a sponge cake soaked in evaporated milk, condensed milk and whole milk.