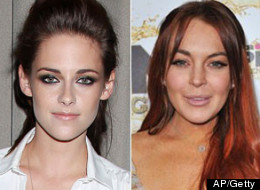 Celebrity news can be pretty unbelievable at times, and it's often difficult to decipher rumors from the truth. In between the public admissions of affairs, eating disorders and other issues, come ridiculous headlines and stories -- some of which are true, some are versions of the truth, and some of them have lawyers sending cease-and-desist letters off in a fury.
This week we're confused as to why anyone would think sweet, little Taylor Swift would cheat on her Kennedy boyfriend, and we really doubt Kristen Stewart's self-esteem took a nose dive -- she still seems pretty pleased with herself.
Regardless of where these tidbits may fall, they produce some pretty hilarious headlines. Check out our roundup of some of the silliest, most laughable stories out there this week:
Niall Horan: "I Was ATTACKED by a Squirrel" And you lived to tell about it!

Rupert Sanders: Jerk Who Hurt Kristen Stewart's Self-Esteem — Source Uh, she still seems pretty smug and happy with her total lack of interest in anything she's doing.

Did Taylor Swift Cheat On Conor Kennedy With Patrick Schwarzenegger? Taylor Swift is far too precious to two-time anyone.

Courtney Stodden Calls Much-Older Husband 'Dad' She actually does call him "Dad," and that's just wrong and ridiculous, and kind of nauseating.

Justin Bieber Is Related To Ryan Gosling, Avril Lavigne & Celine Dion! We're pretty sure if you go back far enough we're ALL related.

Lindsay Lohan: I'm Voting for Mitt Romney It's so amusing that she thinks we care what she thinks.

Johnny Depp Not Dead, Still Alive and Hot As Ever After Drowning Hoax Not dead, still hot. Important.

MICHAEL LOHAN: Dina is SCREWING With Lindsay's Head Tell us something we don't know?

Twitter User Claims to Have Incriminating Justin Bieber Footage From Stolen Laptop Nope, it was a stupid publicity stunt. We're not impressed.

Danny DeVito Cheated On Wife With Movie Extra: 'Promised To Make Her A Star,' Claims Source We're going to say this probably didn't happen for many reasons.