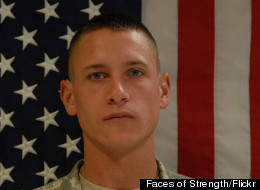 Though he served on the frontlines in Iraq, Sgt. Jacob Perkins was named "Soldier of the Year" for a valiant act he offered up far away from the battlefield. He saved a number of passengers from a burning bus on the New York State Thruway last summer.
While driving home to Missouri from his Fort Drum, NY base in July 2011, Perkins stopped short when he saw a New York-bound tour bus engulfed in flames, according to ABC. As soon as he heard the words, "they're still in there," the 29-year-old raced into the inferno and pulled off as many people as he could, the Fort Drum Public Affairs Office reports.
For his selfless service, Perkins will receive the "Soldier of the Year" award next month, Syracuse.com reports.
"When his life was on the line, he chose to do what most other normal human beings wouldn't do," Mark Milley, Commanding General, Fort Drum said at an awards event. "He ran into the back of a burning bus and saved people even though he stood a better than 50-50 shot of dying himself."
The Canadian tour bus, carrying 53 passengers, had crashed into a tractor trailer and the driver of the tractor-trailer died. While 30 passengers from the tour bus were injured, no one on the tour bus was killed, thanks to Perkins' actions, according to ABC.
Though Perkins has been awarded numerous awards for his bravery, he's reluctant to accept the term, "hero."
"I did a good deed," Perkins said at an awards ceremony. "Soldiers do it everyday. It's just what we do."
Photo: Faces of Strength/Flickr
CORRECTION: This post originally featured a photo that was not of Perkins. HuffPost regrets the error.
Click through the slideshow below to read even more inspiring hero stories.
SLIDESHOW:
After a bus driver responsible for 15 middle-school children suffered a medical emergency and lost consciousness, Jeremy Wuitschick grabbed control of the steering wheel and guided the vehicle to safety, KOMO News reports. Read the full story here.

When Patricia Drauch found her 14-month-old son, Stanley, floating in the pool in the backyard, her worst fears were relieved, News 8 reports. The family dog, Bear, was balancing the little boy on his back to help keep his head above water. Read the full story here.

When Amanat Singh, 9, and her brother, Abhay Singh, 11, realized the popping sounds they heard outside of their Wisconsin temple belonged to a gun, not fireworks, they quickly raced inside to warn the worshippers, allowing some enough time to take cover, ABC News reports. Read the full story here.

When Cynthia Almendarez's baby nephew was having trouble breathing, the 10-year-old calmly called 911 and translated the dispatcher's life-saving CPR instructions into Spanish so that her mother could save the 2-year-old's life, NBC reports. Read the full story here.

After a car plunged down a 10-foot embankment and flipped over, as many as 10 bystanders jumped into the icy Utah river to help save three children, the Associated Press reports. Read the full story here.