This week we learned that a pregnant 66 foot bronze statue will enrage the neighbors, symmetrical faces can be seriously creepy and art stars are just like us.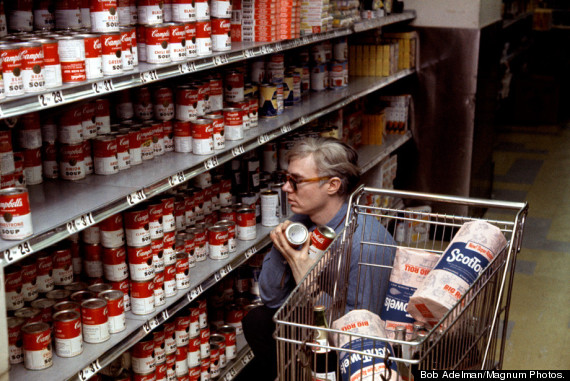 They grocery shop, the clean up after dinner, they shave. Us Weekly did not invent the desire to see famous people doing everyday things. For decades great photographers have been capturing the way "stars are just like us!" with far more interesting results than what we see on the pages of tabloids. Magnum's archive teems with images of iconic celebrities doing endearingly everyday things.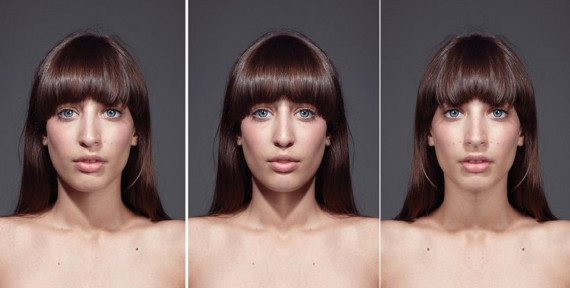 From flowers to architecture, it is oft been said that there is pleasing beauty in symmetrical design. Research has also shown that when it comes to human faces, symmetrical ones -- like that of Florence Colgate, dubbed "Britain's Most Beautiful Face" -- tend to be considered "more beautiful." Fascinated with this idea, photographer and researcher Julian Wolkenstein has spearheaded two related artistic projects in recent years that have sought to explore the ideas of symmetry and beauty and to challenge our perceptions of each.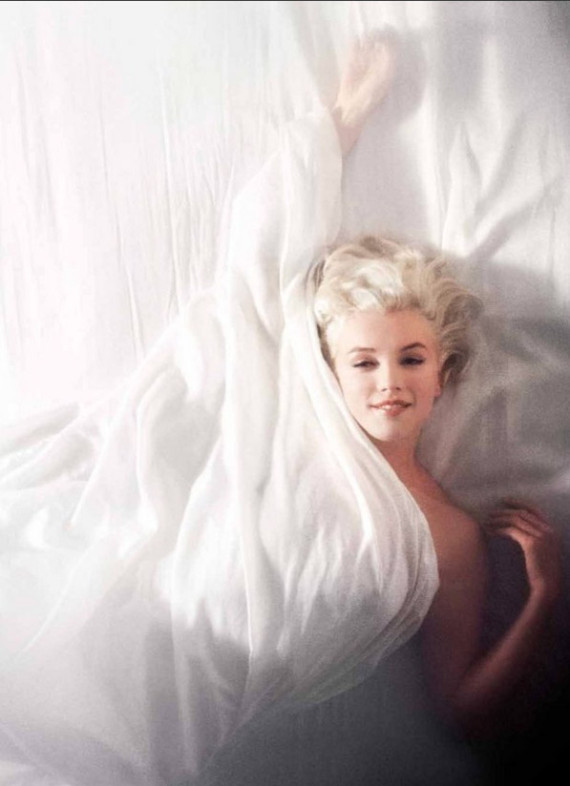 On November 17, 1961, 27-year old photographer Douglas Kirkland got to spend one evening alone with the greatest sex symbol of his, or any following, era. The hours he spent with 35-year old Marilyn Monroe, only months before her death, have since become immortalized in Kirkland's series for Look magazine. Monroe plays simultaneously with Kirkland and the camera, wiped clean of red lipstick, wearing only rumpled white silk sheets.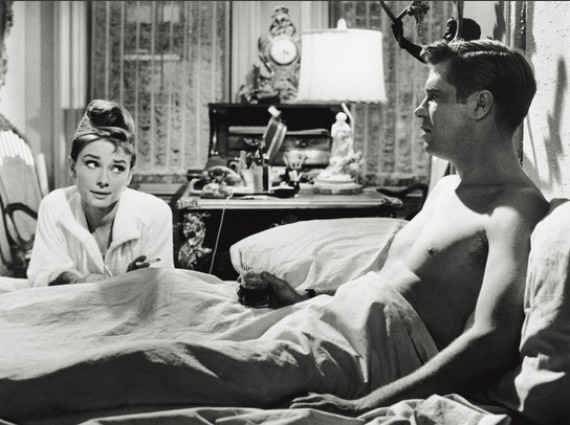 The Tony Award winning playwright Richard Greenberg (Take Me Out, The Violet Hour) has adapted Truman Capote's revered 1958 novella "Breakfast at Tiffany's" for the stage. The play, which will have its world premiere at Broadway's Shubert Theater this February, will star Emilia Clarke from "Game of Thrones" as Holly Golightly, a young socialite in New York. This role was famously played by Audrey Hepburn, so we're curious how this young actress will take to the role.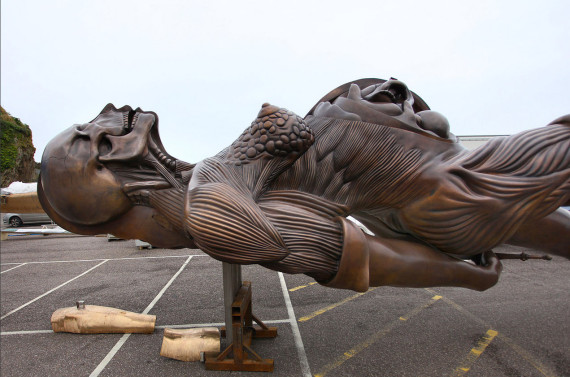 Damien Hirst refers to 'Verity' as a "modern-day allegory for truth and justice." Those who have to look at it, like Northam resident Gwyneth Barnes, call the 66-foot bronze statue of a half-exposed pregnant woman "soft porn masqueraded as art." After two years of planning and production, the controversial sculpture has finally arrived in Devon, and the once quaint beach town will never be the same.
And one for good luck...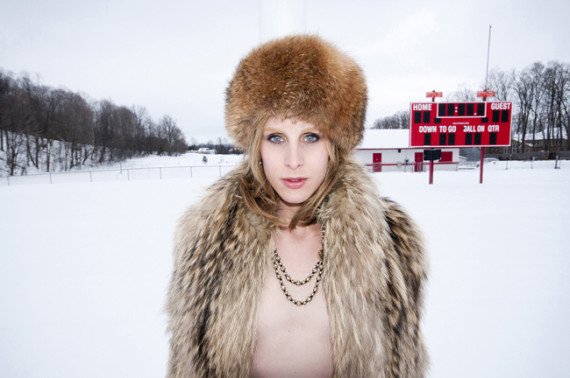 October is LGBT History Month, and we're celebrating with our party hats on. Especially since today (was) National Coming Out Day! What better way to energize the festivities than with a rundown of our favorite creative people who are loud and proud? (Well, some aren't very loud...)
The artists below all have three things in common: they're alive, they're gay, and they inspire us on a regular basis. Other than that, anything goes. Camille Paglia remains a contentious icon, while Del LaGrace Volcano continues to shake up gender binaries in a new exhibition. And what list could be complete without Frank Ocean? It's his year, finally. Check them out:
"The Good Wife"s Alan Cumming is an unlikely insider, an actor with classical roots whose exuberant talents for singing, dancing and hamming it up make him likable enough for prime time without losing him the throne at Manhattan society parties. Cumming's most recent show of talent -- a one-man "Macbeth" run that had him playing every one of the play's characters, including Lady Macbeth -- showed he's capable of putting his multiple personalities to good use on a single stage.

Last month, gender-variant photographer Del LaGrace Volcano returned to the U.S. for his/her first ever American show, a pointed decision considering how outre Volcano's work is. In an interview with the Huffington Post, the iconoclastic photographer was positive about the changing U.S. art scene: "While not always unproblematic, there seems to be a much greater willingness to see and engage with lives outside the norm."

The gay Ethiopian Midwesterner (and now New Yorker) is known for her expansive, layered paintings. One of the artists participating in fundraising for President Obama, Mehretu isn't shy about getting political with her art. In an interview with BOMB Magazine, Mehretu called her raison d'etre "our current situation, whether it be political, historical or social, and how it informs me and my context and my past."

Artist Susan Mikula may be less known than her partner, Rachel Maddow, but her work capturing lonely stretches of Gulf Coast beachfronts showed her to be as interested in the American story as her TV pundit girlfriend. Talking to the Advocate, Mikula cited Julian Schnabel, Joan Mitchell, Cy Twombley, and Gerhardt Richter among her influences.

Singer/songwriter Stephin Merritt has funneled clever, hummable songs to the world through his band The Magnetic Fields for decades. He's also been challenging concepts of gender in his lyrics for as long, a trick that played heavily in last year's "Andrew In Drag," Merritt's song about a bro who falls in love with his best friend.

Artist Ojay Morgan created the character Zebra Katz as part of his senior thesis, according to the New York Times. That Morgan, as Katz, went on to create the hippest song of 2012 isn't something he could possibly have planned in his thesis pitch. "Ima Read," a hip hop meditation on black culture, has taken on a life of its own, and we can only expect there's more to come from its out and proud mastermind.

A performance artist and body builder who played Lady Gaga's prison boo in "Telephone," Heather Cassils uses her body as her canvas. Cassil's conceptual pieces are statements on gender, identity and appearance that depend on her willingness to transform herself. In a recent issue of Huffington., she told us about her current project, "Cuts: A Traditional Sculpture," involving 23 weeks of a strict weightlifting regime, steroids, and a diet fit for a 190 pound male athlete. That's commitment.

The British artist Antony Hegarty is a triple threat: composer, singer and visual artist. His affinity for synth pop as well as his ethereal voice has made him a new favorite of the NPR crowd. Johnson is also a savvy cross-pollinator of his interests, enlisting Marina Abramovic to star in his devastating music video for "Cut The World," and pulling off a high profile MOMA concert commission earlier this year.

Earlier this summer, the curmudgeonly intellectual Camille Paglia told a Huffington Post blogger that she doesn't get along with other lesbians. "They don't like me, and I don't like them," she said, after discussing details of her 14 year relationship with the artist Alison Maddex. Whether you fall in the anti-Paglia camp or not, it's hard to deny that the cultural commenter is still compelling -- if increasingly absurd -- in her 60s. As she tours for her latest book, "Glittering Images: A Journey Through Art From Egypt to Star Wars," the writer and historian hasn't been shy about floating assertions about George Lucas' artistic pre-eminence, as well as the too-tall galleries at the Metropolitan Museum of Art.

The photographer and editor has made a career of snapping friends and strangers in slick, Terry Richardson-esque muted jewel tones, while helming two significant trans publications, Translady Fanzine and Original Plumbing. In an interview with the Queerist about OP, Mac called it only "natural" for him to want to "create a space for other trans artists and [to create] events catering to people who appreciate queer art."

Laurie Lipton's eerie black and white pencil drawings are her signature trademark. The encyclopedic, gothic creations inspire comparisons to M. C. Escher, but Lipton's conscious influences (the photographer Diane Arbus) trend away from the illusionists, and toward style.

Zanele Muholi is a South African photographer whose work has focused primarily on the black female body and its historical representation in documentary film. She has also worked as a community relations officer for the Forum for the Empowerment of Women (FEW), a black lesbian organisation based in Gauteng, and as a photographer and reporter for Behind the Mask, an online magazine on lesbian and gay issues in Africa.

As an openly gay video-artist born in Trinidad, the work of Richard Fung investigates a broad spectrum of issues ranging from homophobia and AIDS to colonialism, immigration and Asian identity. He's also published a number of essays and teaches in the Integrated Media program at the Ontario College of Art and Design in Toronto, where he now resides.

Mickalene Thomas is a New York-based artist known for her ornate paintings decorated with rhinestones, enamel and acrylic. Her work has been praised for representing a female perspective of same-sex desires as well as various moments of African-American culture. IMAGE: MICKALENE THOMAS, Sleep: Deux Femmes Noires, 2011 mixed media collage, 23.75 x 31.25 inches (paper)

K8 Hardy is a multimedia artist whose photographs, performance pieces and sculptures explore issues of class, race and gender. In her photos, she often places herself as the subject of her own work, responding to the traditional practice of male artists objectifying female models. She is also a founding member of the queer feminist journal and artist collective LTTR, and some of her work is permanently housed at the Whitney Museum of American Art.

Ellsworth Kelly has been an ardent explorer of color spectrums and panel paintings, dabbling in painting, printmaking and sculpting. Comparing Kelly to contemporary Jasper Johns, the Chelsea art dealer Matthew Marks who now represents Kelly told The New York Times, "To a great extent Jasper is a literary artist. His work is coded with secret messages. Ellsworth is purely a visual artist. With Ellsworth there is no message, just an experience."

Brian Kenny's art - typified by his deconstruction of American flags - explores his multiple roles as an American citizen, a supporter of the Occupy Movement, and a gay man. As he told the Huffington Post, "I'm proud to be an American and my Russian boyfriend just recently became an American citizen, but we both find it ridiculous that even after eight years together we still don't have access to collective rights as a couple that heterosexual people have in marriage. And, like many Occupy supporters, I feel discontent with the current political and economic system that allows for so much corruption and social injustice."

Vaginal Davis is an Amerian performing artist associated with a number of conceptual art bands and the formation of the Queercore Zine Movement. In Davis' performances, she portrays a range of characters that draw from her own relationships as well as fictional imaginations.

David Hockney is considered by many to be one of the most famous living painters in Britain, praised for his playful, pop-primitivist works. He combines cubism with a cartoonish flare to create art that has remained popular for over 30 years. IMAGE: Winter Timber, 2009 , Oil on fifteen canvases , 274.3 x 609.6 cm (each 91.4 x 121.9 cm), Private collection, © David Hockney, Photo credit: Jonathan Wilkinson.

Adi Nes is a gay Israeli artist whose work, including his latest -- "The Village," explores concepts of masculinity and power. He has been praised by Richard Goldstein at the Village voice for his unique vision, who stated, "No young artist has so vividly captured the hidden cost of victory, the fine line between power and fragility, the interplay of arrogance and despair that shapes wartime identity."

Zackary Drucker is a transgender performance artist whose participatory pieces confront perceptions of gender and sexuality. The artist, who uses a female pronoun, has said that she envisions her work to be "a platform to exorcize my struggle with self-acceptance." IMAGE: Zackary Drucker and Amos Mac, "Distance is where the heart is, Home is where you hang your heart," #13, 2011, digital pigment print, 36 x 54 in, Courtesy of Luis De Jesus, Los Angeles.

Annie Leibovitz is one of the most famous American portrait photographers and has captured an array of popular culture in the United States and beyond, including her infamous work for The Rolling Stones.

Genesis Breyer P-Orridge and Lady Jaye Breyer P-Orridge made up the single pandrogynous entity, Breyer P-Orridge. In contrast to transvestism or transgender, their concept of pandrogeny eliminated ideas of genders entirely, focusing on the union of opposites. In pursuit of this union, the two performance artists/musicians underwent a series of identical body modifications in order to transcend the binary world of gender. The ongoing experimentation spurred several mixed-media exhibitions including "Painful But Fabulous."

Jasper Johns, the famous painter of flags, maps and targets, formed a creative community in the 1950s with fellow artists Robert Rauschenberg, Merce Cunningham and John Cage. The work of Rauschenberg and Jasper in particular challenged the machismo of abstract expressionism.

Laurie Toby Edison began as a visual artist who focused on jewelry and sculpture, and has since moved to photography as well. She became involved with the feminist movement when she was in her 30s, guiding her work with the "Women En Large" project and "Familiar Men," reflections on the nude in art.

Gilbert & George is the dapper collaborative duo responsible for the large scale photo works, "The Pictures." The artists' work has been both praised and criticized for its subversive and provocative content, as it explores themes of religion, sexuality, race and urban life.

Catherine Opie is a lesbian artist whose photography examines American identity through iconic images and redefinitions of landscapes. She has investigated members of the LGBT community, surfers and football players though her documentary photography projects.

Isaac Julien is an installation artist and filmmaker who rose to cult fame with his 1989 documentary Looking for Langston. Much of his work addresses black and gay identity as he attempts to break down disciplinary barriers by incorporating dance, photography, painting and sculpture in film.

Even if you've never heard a note sung by the young prodigy Frank Ocean, you might have noticed when he made the decision to come out. The thoughtfully worded post by the hip hop star is credited with ushering a new era for the genre.
Happy weekending art lovers!