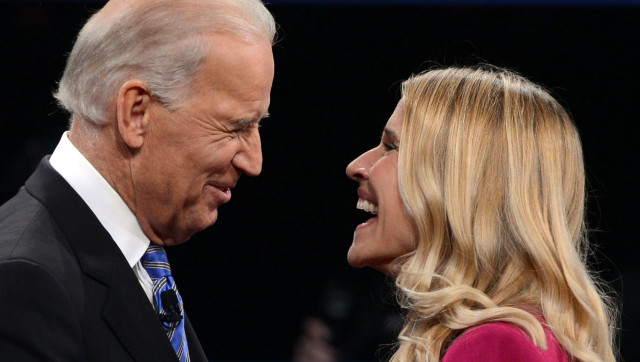 Getty
The tone of Thursday night's vice-presidential debate was buoyant and some might even say relaxed -- Vice President Joe Biden and Rep. Paul Ryan (R-Wis.) sat at tables rather than stand at formal lecterns and Biden seemed to chuckle and guffaw through the whole thing. (Said one senator watching, "He had his Red Bull. He certainly had his caffeine.")
That bright mood extended to the fashions, as Janna Ryan and Jill Biden stepped up their color game. Jill Biden, or SLOTUS as she's known around these parts, wore a dress we think we've seen her in before: a long-sleeved, deep purple dress with an off-center v-neck and ruched sides. She channeled Michelle Obama by adding a brooch at the neckline and wore her blonde hair with its signature flip.
Janna Ryan, whose fashion sense we're less familiar with, is establishing a pattern: bright solid colors and a mid-level price point. Her berry suit was likely this Anne Klein sheath-and-jacket combo, currently on sale at Macy's for $159.99. It was conservative, vaguely stylish and screamed "Political wife!" with its boxy shape and knee length. A fine choice.
Of course what Janna was wearing on her body seemed less important than the smile she wore on her face when embracing Joe Biden. Standing on stage after the debate as the two families congratulated each other, Janna and Joe actually had a moment: Joe smiled that charming smile, Janna tossed that blonde hair, they locked eyes and hands... honestly we're shocked it didn't actually end like this.
Check out Joe and Janna's lovey-dovey exchange, plus the style of each prospective SLOTUS, below. Who won the fashion contest?
Janna Ryan vs. Jill Biden
Want more? Be sure to check out HuffPost Style on Twitter, Facebook, Tumblr, Pinterest and Instagram at @HuffPostStyle.
FOLLOW HUFFPOST