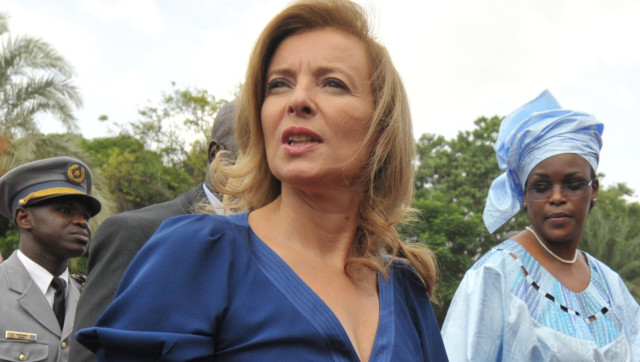 Getty
Valerie Trierweiler's love life has not exactly been private domain since she became France's first unmarried "first lady" (hence the quotation marks). In fact, President François Hollande prefers to refer to her as his "companion." But, according to a new biography, it looks like the president wasn't Ms. Trierweiler's only companion.
The release of La Frondeuese (translation: The Troublemaker), a biography of the journalist-turned-presidential companion, has sparked controversy over its claims that Ms. Trierweiler's dalliances weren't limited to President Hollande and her former husband (and fellow journalist) Denis Trierweiler. The book's co-authors Alix Bouilhaget and Christophe Jakubyszyn claim that there was a third man involved: right-wing French politician Patrick Devedjian. Quel scandal!
According to the biography, Ms. Trierweiler and Mr. Devedjian's affair lasted several years and ended only when Devedjian wouldn't leave his wife of 30 years for her. During this time, Valerie was also seeing Hollande and living with her husband, the book alleges. Both Ms.Trierweiler and Mr. Devedjian have announced that they will be taking legal action against the book's authors, citing defamation and invasion of privacy.
Much of the talk surrounding the scandal outside of France has centered on the surprisingly low-impact it's had on those involved, especially since they're essentially all political figures. According to The Telegraph, the country responded to the controversial news with a resounding, "Et alors?"
"One interesting aspect is the effect this scandal has had on all their careers. It seems there will be few or no consequences. Everyone hates Miss Trierweiler already. Her nicknames include 'First B––––' and 'The Rottweiler.' She is officially France's least popular first lady ever; so no change there. The two men remain so far unscathed."
In defense of the book, co-author Jakubyszyn told The Telegraph, "We are casting no moral judgments, nor are the French. We live in a modern society and who would cast the first stone in this type of situation?" In fact, the authors claim the biography is meant to be an "honest investigation" that underlines "the overbearing closeness between politicians and political journalists that is very widespread in France. Valerie Trierweiler is symbolic of that generation of political journalist." (Valerie was a political journalist for Paris Match at the time that these alleged affairs took place.)
What do you make of La Frondeuse's claims about Valerie Trierweiler? Is she really the "least popular first lady" France has ever had?
See photos of Trierweiler and her famous sense of style below!
Valerie Trierweiler's Style
Want more? Be sure to check out HuffPost Style on Twitter, Facebook, Tumblr, Pinterest and Instagram at @HuffPostStyle.
YOU MAY LIKE
CONVERSATIONS
FOLLOW HUFFPOST