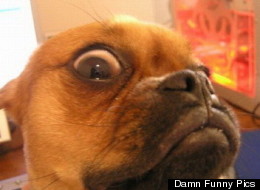 Who knows what pets do when we're away at work or school, but one thing is for sure: when you're home, they're watching you. They see everything.
If pets could talk, they'd probably just discuss the weird things we do when no one's watching (luckily, they can only tweet so far). Still, it's pretty funny when you catch them in the act.
Check out 42 pictures of pets sneaking, creeping and generally lurking around the house watching your every move below.
"Do you have a sec?"

"Sup?"

"WTF"

"Seriously? Another episode of 'Law & Order'?"

A convenient peephole for people watching.

"Um, a little privacy?"

Just contemplating life.

"Perfect."

"Occupied!"

"I get more use out of this yoga mat than you!"

"I found the remote."

"You're terrible at packing."

"Do I smell bacon?"

"When was the last time you vacuumed?"

You know you're not going to the gym.

Watch your step.

"Sorry, it's not hot or made of tin."

Judging you from afar.

Cat tails must be in season.

"Why, hello there."

"Playing X-Box again I see."

He's eyeing that hot dog.

Plotting your demise.

"We need to talk about this carpeting."

Getting away from it all.

No cheezburgers in here.

He's going to give you even more sass if you pick up that Dave Barry book.

You can't get this on Netflix.

"Sorry, am I interrupting?"

Insert "Home Improvement" joke here.

"I know what you're doing."

"Taking the tour, I see."

Watch out for this guy.

"At least he stopped playing."

"I see you."

"You're leaving me again, aren't you."

"Please forgive me?"

"I'm channeling a koala bear."

Camouflage complete.

"Are you not going to invite me to dinner?"

"This wall smells great."

Watching your every move.