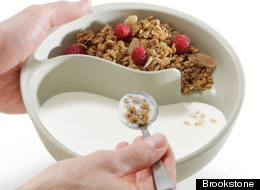 Leave it to Brookstone, the makers of the much needed Motion Activated Treat Dispenser and Bed Fan, to bring us a solution to our most pressing issues in food: soggy cereal. While there are some people who actually enjoy what happens to cereal when it sits in milk, most of us cereal eaters prefer a little crunch with our breakfast.
With Brookstone's Obol, the never soggy cereal bowl, you never have to deal with mush for cereal again. Their solution is a cereal bowl with two compartments. One side holds the milk; the other side holds dry cereal. A ramp between the two compartments lets you can add dry cereal to your awaiting bowl of milk -- ensuring that every bite is just as you like it.
And while this might just add clutter to your already bursting-at-the-seams kitchen cabinets with all those other seemingly good-idea kitchen gadgets, Brookstone reassures us that we can use this bowl for other food items as well: soup and crackers, milk and cookies, chips and salsa. They even say : Its uses are as unlimited as your imagination! (That line is our favorite part of this product.)
So, if soggy cereal is the hair found in your breakfast-joint scrambled eggs, the Obol cereal bowl is the hair net you wish line cooks would wear. Get yours today!
Want to read more from HuffPost Taste? Follow us on Twitter, Facebook, Pinterest and Tumblr.
You've seen the future of kitchen gadgets, now look at the past.
Kitchen Tools Of Yesteryear
Back when you had plenty of space for completely unnecessary kitchen gadgets -- and before there were clocks -- you could boil your eggs in this contraption equipped with an hour glass timer. Found on Etsy store SnapshotVintage.

Back in the day the kitchen was a scary place. This meat tenderizer would have kept us out of it for sure. Found at the Etsy shop vintagewall.

We wish we had an ice cream sandwich maker in our kitchen. This is one vintage kitchen item we wish had stood the test of time. Found on Rudy Lane.

Being a home cook used to make you look like a serial killer -- especially if you had a Bakelit set which came with a frozen food saw, cake knife and cheese slicer. Found at Etsy shop DsTrove.

In the 1950s people must have served their meals with a lot of condiments, hence the need for a fold-away condiment buffet serving tray. Found on the Etsy store reveriecollectibles.

This kitchen set made it seem as though all home-cooked meals should be served with ornate vegetable garnishes. Found on the Etsy Shop VickiesBeachHouse.

You can still buy these aluminum ice trays, but would you?

The kitchen chopper was meant to chop faster than a knife, because three blades are better than one. But it just doesn't look that safe. Found on Etsy shop ViewridgeVintage.

This vintage gadget made it easy to make shaved ice. Found on This Next.

This pot strainer looks like more of a nuisance than a help. Found on Etsy shop myredhouse337.