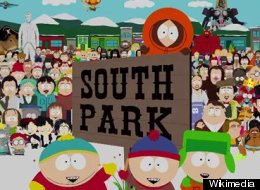 Lollipops are meant to remain wholesome.
This according to Exavier Wardlaw, creator of the children's show "The Lollipop Forest," who slapped Matt Stone and Trey Parker of "South Park" with a lawsuit claiming the show ripped off his lollipop character and defiled it.
TMZ obtained the details of the copyright infringement lawsuit against "South Park" filed by Wardlaw. The lawsuit alleges that the "South Park" character Lollipop King is a hack version of Wardlaw's "Lollipop Forest" character Big Bad Lollipop. Wardlaw claims that his wholesome show was defiled when his character was exposed to "unwholesome language and sexual innuendo."
Three episodes of "South Park" from 2007, entitled "Imaginationland," featured Lollipop King and showed the candy being choked by a Storm Trooper, witnessing a suicide bombing and watching Kyle and Cartman engage in oral sex, TMZ notes. Still, "Imaginationland" scored an Emmy in 2008 for Outstanding Animated Program for a show one hour or more.
Wardlaw was seemingly unimpressed.
"The 'South Park' television show and its producers, directors and writers disregarded the public copyright notice and appropriated 'The Lollipop Forest' for financial gain, without permission or attribution of authorship or compensation for use," the "South Park" lawsuit reads, according to The Wrap. "The 'South Park' television broadcast diminished/tarnished the value of 'The Lollipop Forest' as a wholesome family show by association within the context of unwholesome language and sexual innuendo."
Wardlaw wants all references to "The Lollipop Forest" and the characters derived from it to be removed from the three episodes.
This is not the first time "South Park" has faced legal woes.
Last July, Viacom and Comedy Central were sued by Brownmark Films over claims an episode of "South Park" ripped off the copyrighted music video for "What What (In The Butt)" by singer Samwell, according to The Hollywood Reporter. Brownmark claimed the re-creation was a copyright infringement, but a Wisconsin federal judge said it qualified under "fair use."
Writer Art Buchwald sued Paramount Pictures, claiming that they stole his idea for 'Coming to America.' Buchwald won the lawsuit.

The movie's screenwriter, Benedict Fitzgerald, sued Mel Gibson over not paying him enough money for the film. They settled out of court.

Another movie that spawned a ton of legal trouble: writer/star Sacha Baron Cohen was sued for defamation as well as using footage of people without their permission.

What hasn't 'The Hangover, Part II' been sued for at this point? First the filmmakers were hit with a lawsuit alleging that they copied Mike Tyson's face tattoo without permission. That was dropped, but then they were sued again by a stunt man who suffered injuries on set. (That lawsuit is still pending.) A man also sued the filmmakers, claiming that they stole his life story and used it for 'Hangover, Part II.' Yeesh.

The family of a Louisiana store clerk, who was shot by a young couple on a crime spree, sued Oliver Stone, claiming this movie inspired the crimes. The lawsuit was eventually dropped.