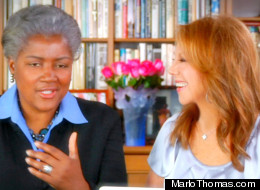 What is the secret weapon of Donna Brazile, Vice-Chair of the Democratic National Committee? Donna revealed her life philosophy, and the important lesson that her grandmother taught her when she joined me on Mondays With Marlo.


And for more on Donna Brazile's illustrious career, see her political journey to Vice-Chair of the DNC:
Political Analyst Donna Brazile
At the ripe age of just nine, Donna Brazile started her career in politics working to elect a city council candidate who had made the promise to build a playground in her neighborhood. Ever since then, Donna's political career hasn't been stopped. Here she is in 2012, speaking at the Every Woman Counts campaign encouraging women to speak out on issues, vote and run for office.

Between 1976 and 2000, Donna participated in every Democratic presidential campaign. And, in 2000, she was chosen to be the campaign manager for the presidential hopeful Al Gore. Here, Vice President Al Gore introduces Donna at a ribbon-cutting ceremony for his campaign headquarters in Nashville, TN.

Although she'd worked for numerous presidential campaigns before, when Vice President Al Gore appointed Donna to be the campaign manager of his 2000 presidential run, Donna became the first African-American woman to manage a major presidential campaign.

After Al Gore's campaign Donna stepped away from managing presidential campaigns, but she certainly didn't take a break from politics. After the post-election recount of votes in Florida during the 2000 presidential election, Donna was appointed to the Democratic National Committee's Voting Rights Institute.

During the 2008 presidential election Donna was made a superdelegate and the Democratic National Convention due to all her hard work for Bill Clinton and Al Gore. Today, Donna serves as the Vice Chairwoman of the Democratic National Committee, a position she's held since 2009.

When she's not tirelessly working on presidential campaigns or with the Democratic National Committee, Donna shares her political insights with a number of television programs. Here, Donna talks hot topics with Larry Hackett, Kirstie Alley and George Stephanopoulos on Good Morning America in 2010.

Donna gets ready to for a conversation about the Oct. 3rd, 2012 presidential debate on the ABC News program, "This Week." Just look at that powerhouse roundtable Donna is sitting at.

Donna jots down notes during the presidential debate between Governor Mitt Romney and President Barack Obama. Following the debate she and the rest of the show's roundtable analyzed the issues raised by the candidates.

Throughout her career Donna has been making strides for women in politics, and it's no surprise how many people have taken notice of her work. In 2009, "Oprah Magazine" chose Donna as one of its 20 remarkable visionaries for the magazine's first ever "O Power List." She was also named one of the top fifty women in America by "Essence" magazine.

Donna poses for a picture with journalist Chris Wallace and his wife Lorraine Smothers at the White House Correspondents' dinner and cocktail party at the St. Regis Hotel in 2011.
Add Marlo On Facebook:
Follow Marlo on Twitter:

Weekly Newsletter

Sign up to receive my email newsletter each week - It will keep you up-to-date on upcoming articles, Mondays with Marlo guests, videos, and more!

Sign up here