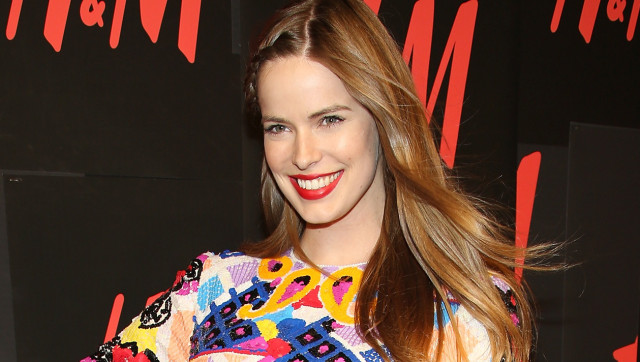 It's common knowledge that not everyone in the fashion industry has a good grip on what makes a healthy body image. That's why it's so refreshing to see a successful model like Robyn Lawley break through traditional size barriers and speak out in favor of fuller frames.
In case you're not familiar with the 23-year-old Australian model: at 6 feet 2 inches and a size 12, Robyn is technically categorized as "plus-size" in the industry, but she managed to snag a high-profile contract as the first "plus-size" face of Ralph Lauren last month. The Aussie has also graced major covers, including Elle France, Vogue Italia and Glamour. Most recently, she stunned in a swimsuit photo shoot for Cosmopolitan Australia that went viral.
Because of her unconventional success, it seems that Robyn's become an accidental advocate for healthy frames in the fashion world (she even politely declined to tell "Good Morning America" her weight when they asked -- you go, girl!). In a recent interview with RadarOnline.com, Robyn explained the pressure to be thin and the negativity associated with it:
"I think because of the perceptions of Hollywood and the media, women get really targeted in a negative way. It is horrible to be called names, and it happens here all the time. There is always a fear that you are not going to make it, so women force themselves down into a size that does not really match their body... I just don't get it, that heroin-chic look isn't my cup of tea. It isn't for a lot of people out of the fashion world. That starvation look isn't for everybody, why not have someone who is a little bit bigger?"
Preach, sister. While the industry is cracking down on the prevalence of unhealthy models with efforts like Vogue's Health Initiative, it's definitely been an uphill battle. Multiple Vogue issues have already broken the agreement since May, and prominent fashion designers like Marc Jacobs continue to hire underage models (while Karl Lagerfeld claims that the problem with too-skinny models simply doesn't exist).

What do you think of Robyn Lawley's first-hand observations about the lack of healthy body images in the industry? Is the "heroin-chic look" your cup of tea?
Click over to RadarOnline.com for Robyn's full interview.
See some of Robyn Lawley's covers and photo shoots!
PHOTO GALLERY
BEFORE YOU GO
All Things Robyn Lawley
PHOTO GALLERY
All Things Robyn Lawley
Want more? Be sure to check out HuffPost Style on Twitter, Facebook, Tumblr, Pinterest and Instagram at @HuffPostStyle.