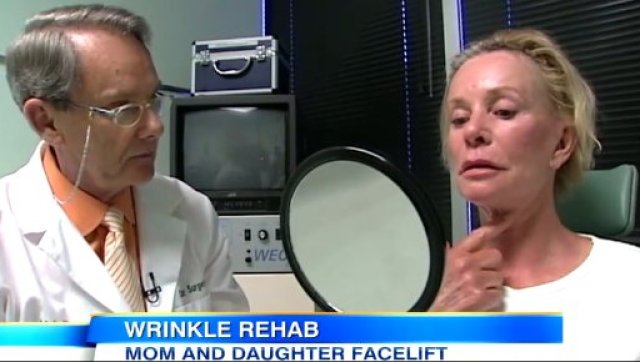 Some moms and daughters bond over power-walking, others by watching certain beloved TV shows. (This author bonds with her mother by jointly stalking people on Facebook.)
Then there are mother-daughter pairs who undergo plastic surgery together, using the experience to bolster one another and come out feeling great at the same time. "Good Morning America" found a mother and daughter who could attest to the experience: 65-year-old Lynda and 38-year-old Stefanie, who went in for a neck tuck and cheek fillers (Lynda) and a breast lift and a tummy tuck (Stefanie).
Sound wild? It's not as rare as you'd think. In 2005, the American Academy of Facial, Plastic and Reconstructive Surgery reported a significant rise in the number of people getting surgery with a partner and we've seen it happen before our very eyes on "The Real Housewives Of Orange County." Heck, it's the first thing we think of when we think of Joan and Melissa Rivers duo.
Lynda and Stefanie's surgeon, Dr. Peter Fodor of Los Angeles, said he's a fan of joint surgery. "I love it... the patients who start with a supportive relationship, they really help each other and I welcome that."
Which does sound kind of nice. In any event, it seems preferable to the voucher system, in which a mother gifted her 7-year-old daughter about $11,000 worth of plastic surgery vouchers as a birthday present.
PHOTO GALLERIES
When Cosmetic Surgery Goes Wrong
Want more? Be sure to check out HuffPost Style on Twitter, Facebook, Tumblr, Pinterest and Instagram at @HuffPostStyle.