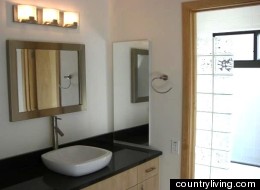 When it comes to maintaining a home, one's work is never done.
Whether it's a simple bathroom or kitchen remodeling, a backyard project, a much-needed bedroom makeover, or an ambitious expansion to your home, it seems that everyone is working for the weekend these days.
It only makes sense, then, that we've partnered with WoodCrafters, a leader in international manufacturing of home furnishing products, to call on our readers for a bit of show-and-tell. Got a project you're particularly proud of? We want to see it. Show off your weekend renovation projects—big or small, old or new—and tell us about it. How long did it take? How much work went into it?
Check out some of these before-and-after photo success stories, as well as some inspiration direct from WoodCrafters, and be sure to vote on your favorite furnishings and finished projects!
Bath and Beyond: Share Your DIY Weekend Renovation Projects (SLIDESHOW)
A completely new color scheme and overhaul of appliances. Sleek and shiny is a surefire way to modernize and make cooking in the kitchen anything but a bore or chore.

Stone patterns can class up anything from an otherwise kitschy kitchen to a banal bathroom. This Stone Effects™ vanity top includes a pre-attached white rectangular bowl and offers a 2-1/2 in. backsplash to protect the wall and back of your cabinet against splashes and spills. This top is protected with Diamond Shield, a best in class coating that prevents from stains and offers resistance to bacteria, mold and mildew.

Wallpaper: 'nuff said. If there was ever a testimony to how radical a restroom could be turned on its head, this screams it (as does the old wallpaper, which is beyond loud). This new color scheme simplifies the palette to simple browns and greens while maintaining the sink, toilet, and even mirror with a few simple improvements.

To keep within the classic, white look: This remolded washroom goes for a simple aesthetic with a clean look low on hassle. The Del Mar vanity combo boasts a Euro-style composite top that is easy to clean and maintain. Additional storage is made available through coordinating linen tower, wall and medicine cabinets.

We're not sure what this room was before renovation (a space with a stove?), but it sure looks more like a kitchen now. A double-basin with high-rise faucet complements an added countertop with 2-deck real estate and an above-sink cabinet for extra storage. The green pea flooring and wall tiling don't hurt, either.

Sure, there was plenty of space for a backyard barbecue, but not much in the way of accommodating guests. This makeover lends to a more inviting aesthetic, paving the way with a new walkway, some much-needed flora, and a beautiful gazebo with benches, tables and lighting to boot, which make for a centralized hub for entertaining and relaxing.

Hardly the same: This double basin bathroom was converted to an elegant, minimalist washroom with a single above-surface sink, new lighting, stone surface tops, and even tile flooring.

Who says a bathroom needs to be all tile and mirrors? A Stone Effects™ vanity top and a wall mirror make for an elegant way to incorporate the bathroom with the rest of the home's distinct décor, and provide the same storage for bathroom essentials--just not in plain sight.

A quieter tile pattern and a few touches of wood framing later (not to mention a gorgeous tub we wouldn't mind soaking in), and you've got an entirely new bathroom. This remodeling preserves the white and eliminates the vacant feel using a natural finish with some much-needed art and wooden accenting in the mirror's frame.