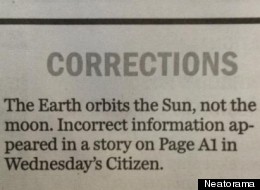 We've already shown you that we receive some pretty hilarious corrections ourselves, but those are nothing compared to the 26 LOL-worthy ones we have here.
We can't vouch for the authenticity of every picture, but parody or not, we found over two dozen funny news corrections around the web that we can only hope we don't have to rival one day.
Check out every woeful regret in print below and vote for the most ridiculous ones.
Funniest News Corrections
Alternate headline: Jumble Jumbled.

This story just got a lot less interesting.

To be fair, he did take that weekend seminar on Feng Shui.

We might see why they were confused: Twilight Sparkle doesn't really sound like the name of a "nerdy intellectual."

We thought people knew this by now.

So the fundraiser is for someone to be able to have a steak dinner.

Now we'd like to hear someone use "Serrefine" in a sentence.

This correction obviously came from Comic Book Guy.

Understandable.

Misspelling a name is one thing, but making someone older than 40? Come on.

Also, this was very important.

We feel bad for the Lieutenant, but also whoever transcribed that interview.

On a related note: does anyone ever actually use the word "Supine?"

We're not sure this correction warrants such an exciting headline.

They regret that their previous regrets were regrettable.

If you're an actor, though, it's probably best if you know both.

Both equally rude crimes.

Talk about an innocent bystander.

George's wife called in the correction.

Whichever way you print it, it's still pretty funny.

What's a police blotter without a little character assassination?

Public Enemy is nothing if not politically correct.

Well that clears that up.

We can't wait to see what he has planned for next century.

The world would be a better place if the writer didn't have to correct this column.

Look, we all wish the Obama "Tiger Beat" cover was real.