WHO: Model, socialite and former star of "The City," Olivia Palermo
WHAT: The aspiring designer attended a luncheon in the city of lights earlier last week (and looked absolutely fabulous while doing it). We are in love with Miss Palermo's black and white ensemble -- this fashionista is the queen of taking classic pieces and silhouettes and turning them into fashion-forward looks. The detailing on her Tibi pencil skirt contrasted with the pattern in her top nicely and since they were in the same color palette they complemented each other. The brunette stunner added a shiny gold belt around her waist to define her trim figure and threw a black blazer over her shoulders to dress up the look. Palermo takes a fashion risk with her pink and black pumps, but does it ever pay off. Unique touches like these are what the style guru is known for.
WHERE: Johannes Huebl's other half was seen in Paris on October 16th.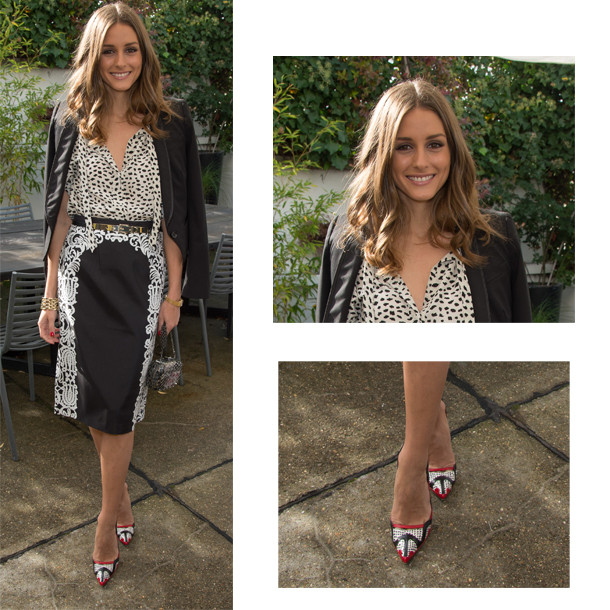 WireImage
Shop a similar look below, and check out more of our Look Of The Day picks.
Loading Slideshow
ASOS Boyfriend Blazer, $67

<a href="http://us.asos.com/countryid/2/ASOS-Boyfriend-Blazer/wo15w/?iid=1754405&MID=35719&affid=2135&WT.tsrc=Affiliate&siteID=J84DHJLQkR4-TBALCHT9uXIR4.Zgz3NLtw">ASOS.com</a>

American Apparel Printed Chiffon Sleeveless Secretary Blouse, $50

<a href="http://store.americanapparel.net/product/index.jsp?productId=rsacf311lp&c=silver">Americanapparel.net</a>

Tibi "Violette" Pencil Skirt, $295

<a href="http://www.tibi.com/shop/violette-pencil-skirt">Tibi.com</a>

J.Crew "Everly" Cap Toe T-Strap Pumps, $189

<a href="http://www.jcrew.com/womens_special_sizes/sizes512shoes/size5/PRDOVR~12095/99102803259/ENE~1+2+3+22+4294967294+20~~~20+17+4294966707~90~~~~~~~/12095.jsp?srcCode=AFFI00001&siteId=J84DHJLQkR4-%2ATa1c4lxkbiiIFV3sGvWcw">Jcrew.com</a>
Want more? Be sure to check out Stylelist on Twitter, Facebook, Tumblr and Pinterest.