Jim Nantz Mistake: CBS Announcer Calls 'Stunning' Jets Win, Even Though Patriots Won (VIDEO)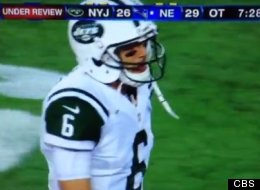 By Matt Yoder, Awful Announcing

Just about everything that could go wrong did go wrong for Jim Nantz at the end of Sunday's Jets-Patriots game. As the referee was reviewing the game's final play to seal a Patriots victory after a Mark Sanchez fumble, Nantz called the result a "stunning" victory... which is a bizarre thing to say seeing as how the Patriots were the ones favored at home. Things then made a bit more (or less) sense when after official confirmation, Nantz triumphantly proclaimed the New York Jets standing alone at the top of the AFC East.
D'oh.