WHO: "Revenge" star Ashley Madekwe
WHAT: The British actress was a sight to be seen as she posed at a studio in Hollywood last week. Madekwe shone in an embellished slouchy white tee (the casual shape contrasted nicely with all the baubles). Madekwe paired her loud top with simple black pants (leaving the focus on that sparkly top ... and her gorgeous face). The pretty lady accessorized with delicate gold jewelry and pink lipstick (nice touch). Although intricate tops like this usually work best with pulled-back hair, Ashley's tousled waves were short enough to see all the beautiful detailing.
WHERE: Mrs. Iddo Goldberg was seen in Los Angeles on October 18th.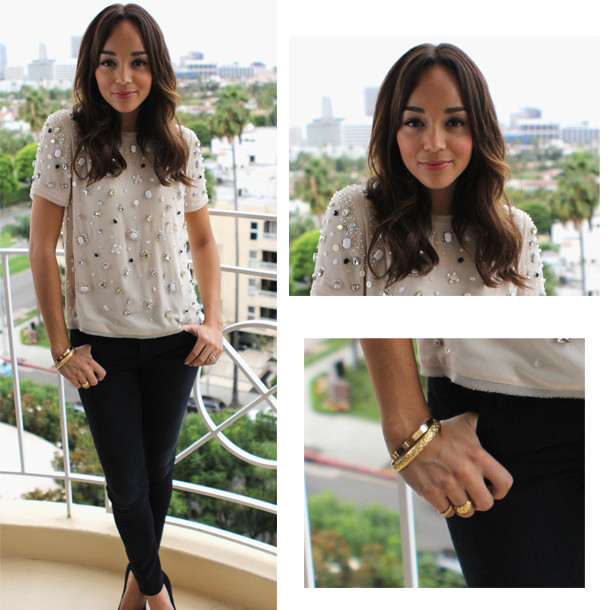 Nick Rood/Young Hollywood/Getty Images
Shop a similar look below and check out more of our Look Of The Day picks.
Loading Slideshow
Meghan Fabulous Beaded Sunnie T-Shirt, $83

<a href="http://us.asos.com/countryid/2/Meghan-Fabulous-Beaded-Sunnie-T-Shirt/xurq8/?iid=2049654&MID=35719&affid=2135&WT.tsrc=Affiliate&siteID=J84DHJLQkR4-t5yANDuuP4soGGv754QYQw">ASOS.com</a>

dELiA*s Olivia Color Jegging, $44

<a href="http://store.delias.com/product/olivia+blue+surf+low-rise+color+jegging+305903.do?siteID=J84DHJLQkR4-cFGMVKVuVTrI8Lqwll7wfg&crID=59676&crPUB=J84DHJLQkR4&crTYPE=2">Store.delias.com</a>

Kate Spade New York "Spade" Thin Hinged Bangle, $48

<a href="http://shop.nordstrom.com/s/kate-spade-new-york-spade-thin-hinged-bangle/3397970?origin=category&cm_ven=Linkshare&cm_cat=partner&cm_pla=10&cm_ite=1&siteId=J84DHJLQkR4-mMpkkDdpF0jWcsHyBTrs_Q">Nordstrom.com</a>

Revlon Super Lustrous Creme Lipstick"Berry Haute," $7

<a href="http://www.drugstore.com/revlon-super-lustrous--creme-lipstick-berry-haute/qxp247063?catid=183590">Drugstore.com</a>
Want more? Be sure to check out HuffPost Style on Twitter, Facebook, Tumblr, Pinterest and Instagram at @HuffPostStyle.