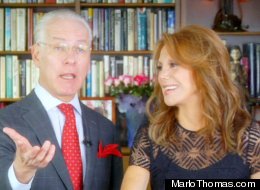 If you've ever wondered where to find a great looking suit at a reasonable price, well look not further. When Tim Gunn, fashion expert and host of the TV series "Project Runway", joined me on Mondays with Marlo he told me all about his favorite place to pick up a good suit, it's called Suit Supply and he say's they're utterly fabulous!


For more style advice and fashion tips from Tim, check out this slideshow:
Tim Gunn's Essential Fashion Tips
For many women, the capri pant is simply not a flattering shape. It cuts you off at the widest point of your calf, so it makes most women look shorter than they actually are. The cargo capri pant is the worst, because it makes you look even shorter and wider. It belongs in a utilitarian context, such as plumbing. Finally, the dropped-crotch pant makes you look like you're wearing a diaper; just don't do it! If you only dress for comfort, stay in bed.

1.The trench coat is something you can wear to the grocery store or to the opera. 2. A classic blazer is an easy way to dress up the ubiquitous T-shirt and jeans combination. 3. A simple black dress is also a must-have for any woman.

Saying, "I'm not a fashion person," isn't an excuse to look sloppy. Accept responsibility for how you're dressing. The clothes we wear send a message about how the world perceives us.

Separates will help you appear slimmer; you should choose a lighter color on top and a darker color on bottom, because of the optical illusion effect. Consider counterpoint: if you have a sleek fitting bottom, think about having a little volume on top. Also, be sure the clothes fit you.

The black leather jacket is a fashion staple for a woman's wardrobe, but there are many different styles. There's a blazer style, a riff on the classic motorcycle jacket, or the classic motorcycle style itself. Choose one that fits in with your lifestyle.

People don't know you're wearing shapewear; you just look better and your clothes fit you better, even if they're hard to put on at first. Do an Internet search for "men's shapewear," and you will find an infinite number of resources.

Layering can take us from warm to cool and cool to warm. Cashmere is very affordable today, and it doesn't pill. It has staying power in your wardrobe. A cardigan is another essential, and if you stick with neutral colors, you can wear it with many outfits.

Knee-high boots are great. If you're wearing them with a skirt: the higher the better. They're safest with a pair of pants, so you can wear any boot height.

If you have a large chest, you need a good-fitting bra, so you don't look like a blob. If you live in New York, check out Bra*Tenders. If you have a flat behind, there are underpants you can buy with padding in the rear.

To pull off a graphic tee, pair it with jeans and a blazer. This will give you a more sophisticated look.

Avoid clothes with more volume than you have. A belt will give you some proportion. Wear pants with a longer tunic top, and a slouchy belt around it.

Check out suitsupply.com. They're in New York, Chicago and Washington. The suits are great, and the sales associates know everything in the world about fit.

With skirts and dresses, a good guide to measuring length is finding garments that fall a couple of inches above the knee. Don't go any lower than the lowest point of your knee-cap. It's a sure-fire way to look dowdy.

Leggings are perfectly acceptable for women who are 50+, but watch where they end. You don't want it to look like a stocking with the foot cut off, and you don't want it to look like a long bicycle short. And don't pretend they're pants, by wearing them with a cropped top!

Start with a black or cordovan loafer. You're not going to get a lot of versatility out of dress shoes, so the loafer might ease the transition into dressier shoes.
Add Marlo On Facebook:
Follow Marlo on Twitter:

Weekly Newsletter

Sign up to receive my email newsletter each week - It will keep you up-to-date on upcoming articles, Mondays with Marlo guests, videos, and more!

Sign up here