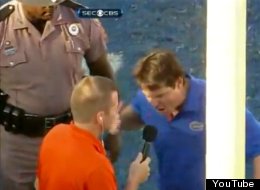 Anyone wondering how Florida Gators football coach Will Muschamp earned the nickname 'Coach Boom' should just try to ask him a question at halftime. IF you don't have a press credential and sideline access then watching this exchange between a local reporter and Muschamp should also make clear why he is considered one of college football's most interesting loud personalities.
That personality was on full display Saturday, when Muschamp let loose in a halftime interview with Gator Radio Network. After yelling at the refs over what he viewed as some questionable officiating, the Florida coach echoed his criticism of what he comically termed "adversity on the field,".
Muschamp has a history of publicly chewing out officials. Last year, he was caught on camera delivering an expletive-laden rant after what he felt was a missed punt interference call in a game against Auburn.
As the Orlando Sentinel points out, Muschamp's antics could be considered either belligerent or simply passionate, depending on your perspective. His standing in Gainesville is certainly helped by the fact that the undefeated Gators are ranked third in the country in the AP poll after their commanding 44-11 win over the then No. 9 Gamecocks.