Beyonce has shown her love and support for President Obama and First Lady Michelle Obama through emails, fundraisers, parties, open letters and video messages. This weekend she upped the ante by wearing her heart on her sleeve -- er, ears.
For a sunset dinner with hubby Jay-Z in New York, Beyonce wore gold hoop earrings with the word "Obama" spelled out: the hoop itself made the "O" with a "BAMA" charm dangling from the top. The earrings, Glamour pointed out, are by jewelry designer Erika Peña as part of her Obama Collection, which includes the baubles in both silver and gold.
The best part? The gold pair Bey wore are only $32, which probably makes them the cheapest jewelry item she owns.
Although she kept the rest of her outfit apolitical (just a low-key sweatshirt and leather leggings), she could have worn head-to-toe Obama gear. She and her mother, Tina Knowles, designed several items for Obama's Runway To Win campaign including a t-shirt for grown-ups and onesies for babies.
Also, these earrings are a possibility.
Check out Bey's political bling!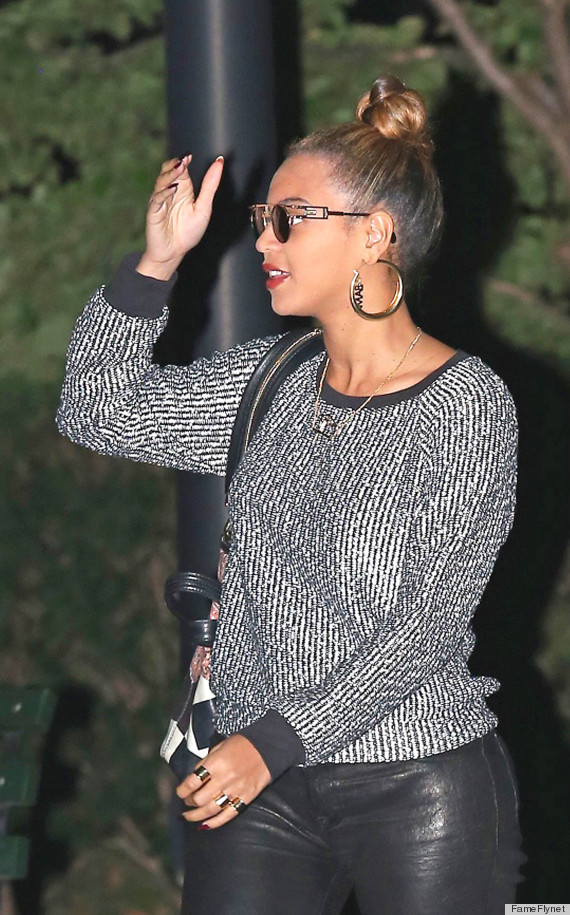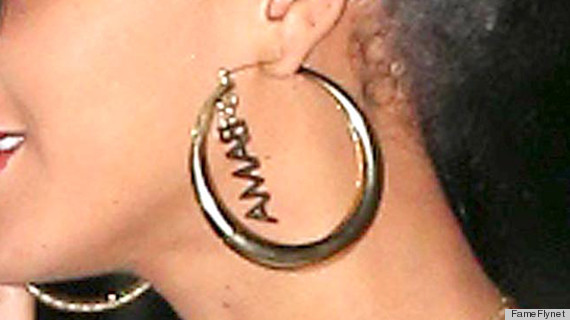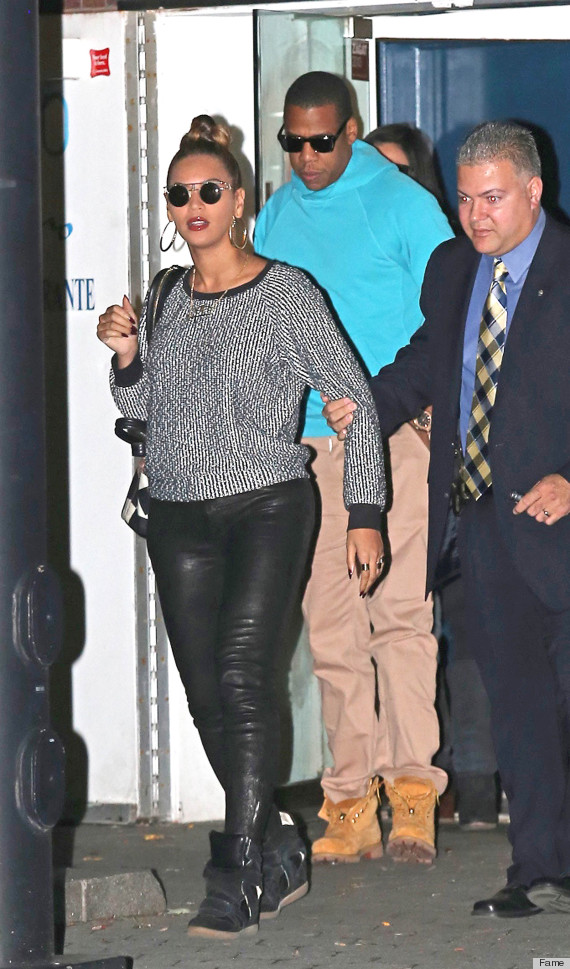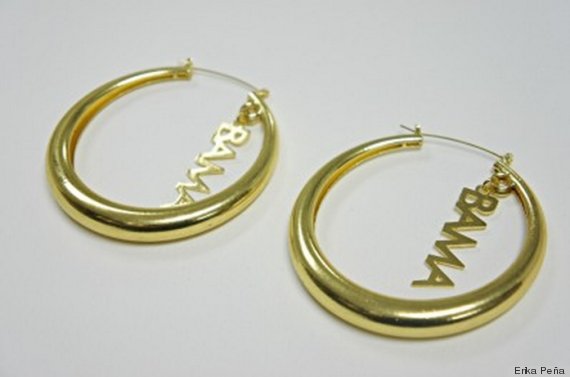 See more celebs who love Obama:
Actor George Clooney leaves after he spoke to the media March 15, 2012 at the White House in Washington, DC. Clooney had meeting with President Barack Obama to discuss the current situations in Darfur, Sudan. (Photo by Alex Wong/Getty Images)

Actor and director Tyler Perry hugs US President Barack Obama during a campaign event at Tyler Perry Studios March 16, 2012 in Atlanta, Georgia. President Obama is spending the day traveling to Chicago, Illinois and Atlanta, Georgia to attend private and public campaign events. (Photo by BRENDAN SMIALOWSKI/AFP/Getty Images)

US President Barack Obama and First Lady Michelle Obama chat with talk show host Oprah Winfrey during a taping of the Oprah Winfrey show April 27, 2011 at Harpo Studios in Chicago. (Photo by MANDEL NGAN/AFP/Getty Images)

In this handout image provided by the U.S. Navy, President Barack Obama is greeted on the court by NBA Hall of Fame basketball player Earvin 'Magic' Johnson and Michigan State University assistant coach Mike Garland. (Photo by Mass Communication Specialist 2nd Class James R. Evans/U.S. Navy via Getty Images)

Willow Smith, daughter of Will Smith and Jada Pinkett Smitt, performs during the White House Easter Egg Roll on the South Lawn of the White House on April 25, 2011 in Washington, DC. (Photo by Roger L. Wollenberg-Pool/Getty Images)

Antonio Banderas and his wife Melanie Griffith hosted a fundraising event for President Obama in October 2011. (Photo by Sean Gallup/Getty Images)

This 17-minute film released by President Obama's re-election campaign was directed by Davis Guggenheim (director of "An Inconvenient Truth") and narrated by actor Tom Hanks.

Republican presidential candidate, former Massachusetts Gov. Mitt Romney makes a campaign appearance with comedian Jeff Foxworthy at the Whistle Stop cafe March 12, 2012 in Mobile, Alabama. (Photo by Win McNamee/Getty Images)

Republican presidential candidate and former Massachusetts Gov. Mitt Romney greets musician Kid Rock during a campaign rally at the Royal Oak Theatre on February 27, 2012 in Royal Oak, Michigan. (Photo by Justin Sullivan/Getty Images)

David Mustaine of Megadeth expressed support for Rick Santorum in a February interview with Music Radar.

Kelly Clarkson tweeted about her love for Ron Paul in late 2011, but dialed it back slightly after a backlash accused her of supporting Paul's racist and homophobic publications, reports Fox News. (Photo by ROBYN BECK/AFP/Getty Images)

In December 2011, Snoop Dogg posted a picture of Ron Paul on his Facebook page with the caption "Smoke Weed Every Day," reports Reuters. (Photo by Ethan Miller/Getty Images for Keep Memory Alive)

In January, Oliver Stone told Rock Cellar Magazine that he would vote for Ron Paul over Barack Obama if Paul was named the GOP nominee because "he's the only one of anybody who's saying anything intelligent about the future of the world." (Photo by Stephen Morton/Getty Images)
Want more? Be sure to check out HuffPost Style on Twitter, Facebook, Tumblr, Pinterest and Instagram at @HuffPostStyle.