Sandwich chains are the subject of research company Market Force's latest report, which found that Panera Bread is head of the pack. Rounding out the top chains were Jason's Deli and McAlister's Deli, Firehouse Subs, Quiznos, Jimmy John's, Arby's and Subway in ascending order.
The national study surveyed more than 7,600 consumers in August, factoring in the number of locations for each chain and the favorite votes earned by each. Fourteen major national and regional sandwich and wrap chains were considered.
Of them, Subway garnered the most total votes -- a predictable feat given the chain's standing as one of the country's largest franchises. But Panera took most the favorite votes per location, perhaps thanks in part to its successful loyalty program.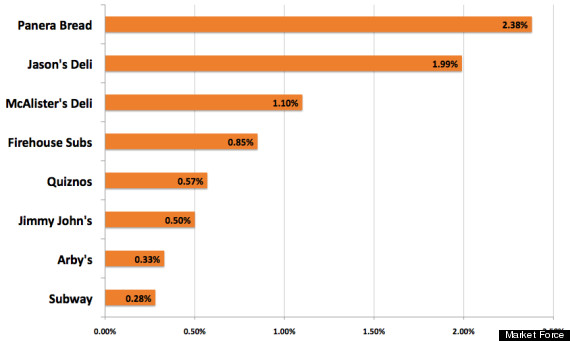 When it came to sandwich chains on a regional basis, Panera took the crown in all regions except the Midwest, where Jason's Deli came in first. Quizno's and Arby's were only recognized as favorites in the Northeast, but failed to rank in other regions.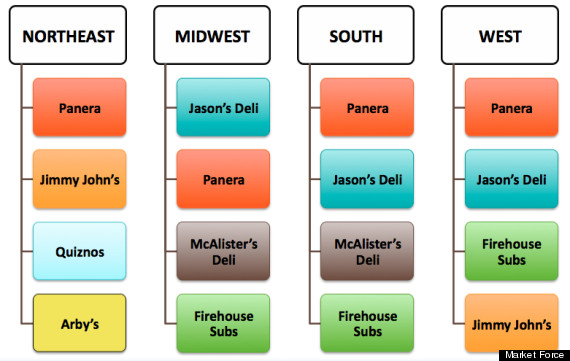 As for food quality, value and cleanliness, Jason's was deemed best in class. Jimmy John's got marks for best service, and Panera was lauded for its pleasing atmosphere.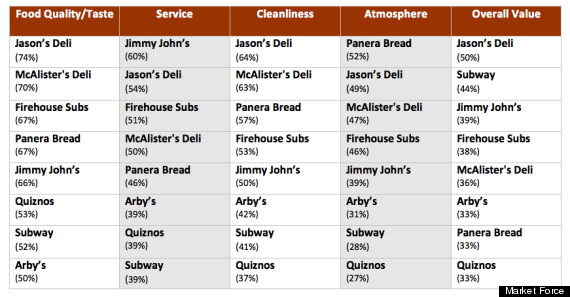 In a release, Market Force's chief marketing office Janet Eden-Harris commented on the findings:
"We're seeing a shift in the sandwich industry, where now the customer experience is just as important as the convenience factor ... Brands like Panera and Jason's Deli are differentiating in areas like atmosphere and health-conscious food, and that's drawing customers in the door and making them return visitors."
Take a look at some of Market Force's other restaurant findings in the slideshow below.
America's Favorite Chains
Despite Taco Bell's Cantina Bell menu, and the recent drop in Chipotle stock, Taco Bell was dead last in almost every survey category except for value. Chipotle came out on top for best taste quality.

Five Guys took top honors, beating out In-N-Out, Fuddruckers, A&W and Smashburger, in that order. McDonald's and Burger King appeared even lower on the list.

Ben & Jerry's was rated as favorite chain, besting Cold Stone Creamery, Culver's, Baskin-Robbins, Dairy Queen, Carvel and Haagen-Dazs. Out of these seven chains, Haagen-Dazs had the lowest perceived value.

America's favorite fast-casual pizza chains is CiCi's Pizza, according to Market Force's findings. Papa John's and Papa Murphy's came in second and third respectively, and Sbarro, Pizza Hut, Godfather's, Domino's and Little Caesars were also named as favorites.

Panera Bread won out over Jason's Deli and McAlister's Deli, Firehouse Subs, Quiznos, Jimmy John's, Arby's and Subway. Although Subway had the most favorite jokes total, it took home the fewest per location.