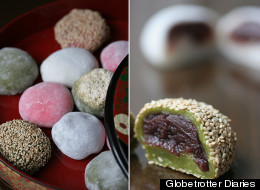 After getting super excited about a mochi kneading machine a few weeks ago, our minds have been stuck on the world of Japanese dessert recipes.
Most of us have probably had ice cream-filled mochi or a scoop of green tea ice cream, but we wanted to dig down into some more traditional and more interesting options. What we found: a lot of red beans. Japanese cuisine uses sweetened adzuki bean paste in more applications than you can imagine. Also ubiquitous, mochi: a glutinous, chewy rice cake that we have fallen completely in love with. Mochi can be a dumpling in a sweet dessert soup, baked, fried, stuffed with green tea cream -- the possibilities begin to feel endless. One last finding: Japanese desserts are some of the most beautiful, meticulously crafted sweets we've ever seen.
We are by no means experts on the subject, only excited, hungry novices. If you have a favorite Japanese dessert that we've missed, please let us know in the comments so that we can go eat it!
Want to read more from HuffPost Taste? Follow us on Twitter, Facebook, Pinterest and Tumblr.
Get the Dorayaki recipe from Just One Cookbook Dorayaki are soft, fluffy pancakes, usually stuffed with red bean paste, nutella or matcha cream.

Get the Anmitsu recipe from Green Cilantro Anmitsu is made of small cubes of agar agar (Japanese gelatin) in a brown sugar syrup. It's garnished with sweet red bean paste, mochi, ice cream, fruit -- basically whatever you can think of.

Get the Daifuku Mochi recipe from Globetrotter Diaries Mochi, the beloved glutinous rice cake can be stuffed with just about any dessert ingredient you can think of, but often it's sweet red bean paste.

Get the Vanilla Kiwi Kanten recipe from The Cookie Shop Kanten is a Japanese gelatin dessert made from agar agar. These delicate treats are almost always served with tea.

Get the Black Sesame Ice Cream recipe from Just One Cookbook Japanese ice cream flavors are always amazing, from red bean, to matcha to black sesame, they tend to be one of the less-sweet options.

Get the Japanese Cheesecake recipe from SprinkleBakes The Japanese have a special way with cheesecake. Part light-as-air sponge cake, part cheesecake, the finished product gets sprinkled with matcha powder and topped with fresh fruit.

Get the Ichigo Daifuku recipe from Notions & Notations of a Novice Cook Another variation on stuffed mochi, these are filled with red bean paste and a whole strawberry. Best cross-section ever, right?

Get the Taiyaki recipe from Mamololi Taiyaki are little fish-shaped waffles stuffed with chocolate, custard or red bean paste. You can pick up a taiyaki pan on Amazon.

Get the Sakura Jelly recipe from Hunger Hunger Sakura (cherry blossoms) are pickled, then set in a beautiful jelly, which rests on top of cherry and white chocolate mousse. We are absolutely obsessed with this dessert.

This is total Japanese comfort food -- a warm, sweet red bean soup, studded with mochi.