Jennifer Lopez has her jumpsuits, Lady Gaga has her meat, Christina Aguilera has her colorful hair and Nicki Minaj has her... pasties?
Yep, pasties are clearly becoming the signature piece of Nicki Minaj's onstage wardrobe. The singer debuted her mega flower-shaped accessories (if you can call them that?) on "The Tonight Show" in July, bouncing around stage in a sparkly nude leotard with her breasts just barely covered. Save for Lil' Kim's memorable VMAs outfit, it was the most blatant pasties-as-outerwear display we'd ever seen.
But it wasn't a fluke. This week Minaj hit the stage at the Manchester Arena in England wearing a strapless black party dress... with what look like the identical flowery pasties popping up from beneath. Like on "The Tonight Show," Minaj made no attempt to hide them -- a Janet Jackson slip-up this was not.
Which makes us wonder: are visible pasties a thing? Is this a legitimate signature that Minaj -- and anyone else, for that matter -- can incorporate into her wardrobe?
One thing's for sure: pasties are a surefire way to avoid every star's worst nightmare, the nip slip.
Below, the fashion statement in question.
PHOTOS: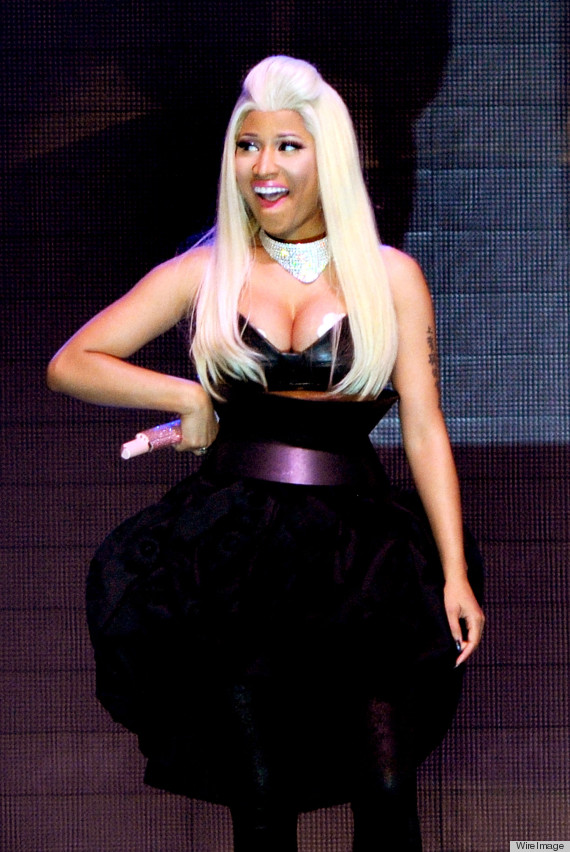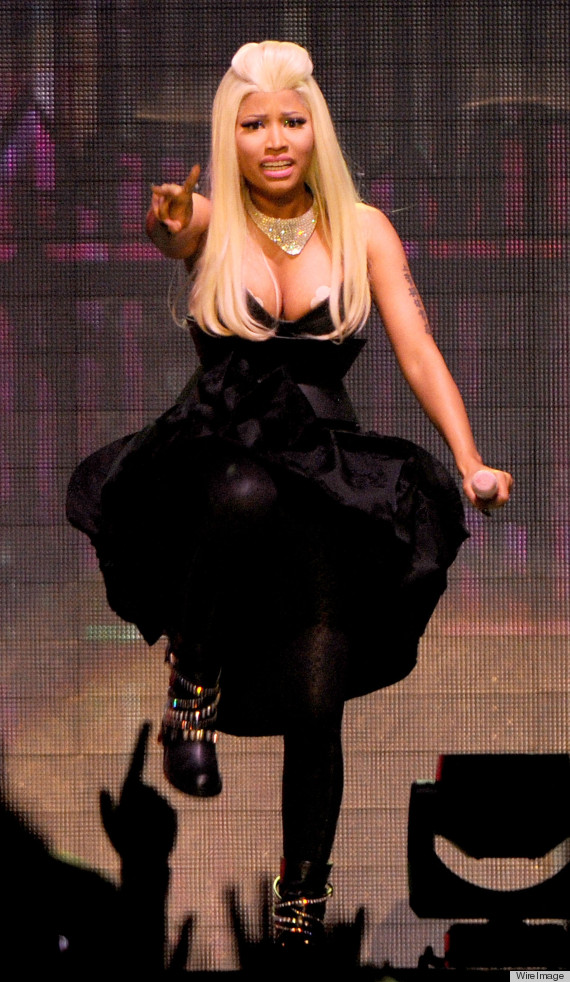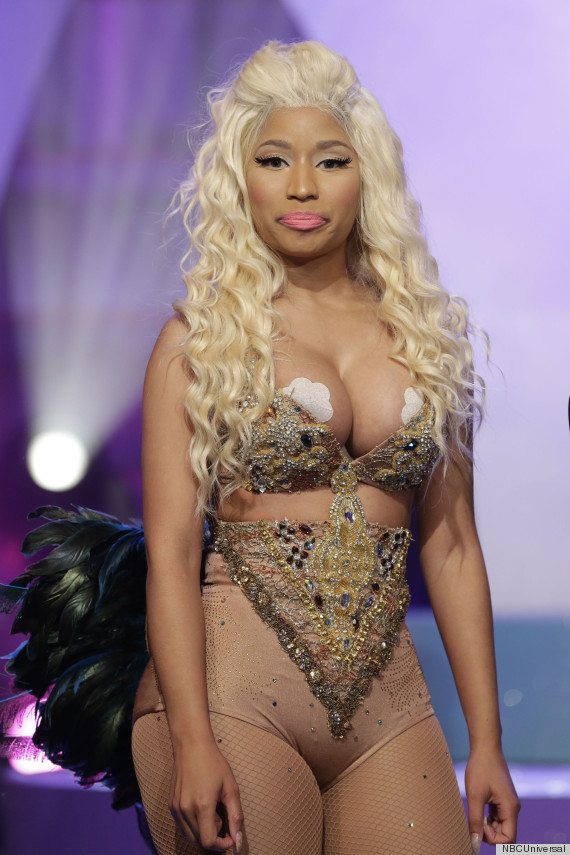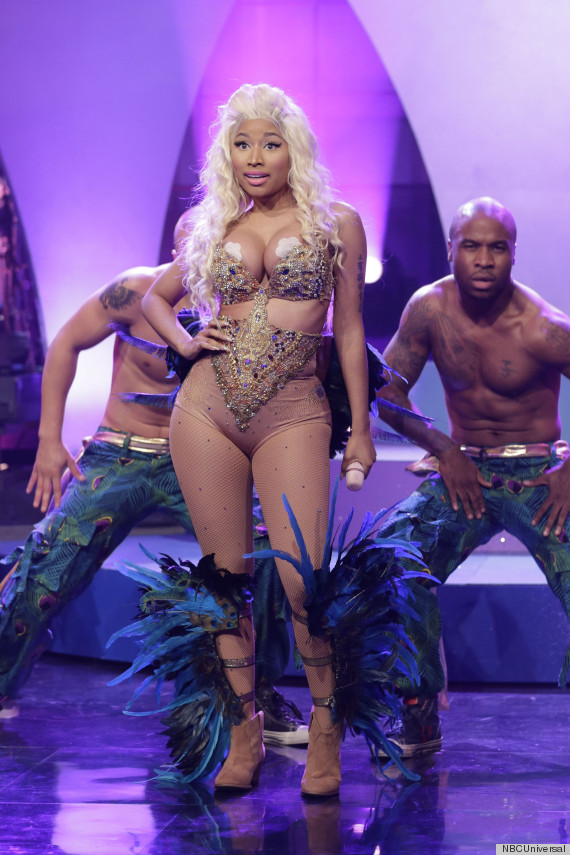 See more where that came from...
The singer made these flower-shaped pasties a part of her 2012 tour. Do you think they add a nice touch to her already extravagant costumes?

The brazen singer decided to wear some duct tape pasties when in July 2012 when she decided to announce her new album.

She wore prominent flower-shaped pasties with a lot of her costumes during tour.

The singer is known for her love of pasties, pairing them with sheer outfits or wearing them by themselves for coverage on stage. (Photo by George Pimentel/WireImage)

The most infamous pasty photo of all time... That is all. (Photo credit HENNY RAY ABRAMS/AFP/Getty Images)

Lady Gaga is never one to shy away from making serious fashion statements. She definitely did not keep it demure last Halloween when she wore these aptly-placed weed pasties.

The singer wore these interesting pasties at a press conference.

Britney opted for some black tassels coverage during her Circus tour in New Orleans. (Photo credit: WireImage)

Janet may be wearing a nipple ring -- as we all found out -- and not a pasty, but we still think she makes the list. After all, millions of people witnessed her nipple slip during the 2004 Super Bowl and billions more after since the moment has been frozen in time on the Internet. (Photo by Donald Miralle/Getty Images)

Following the 2004 Super Bowl, comedian Rob Schneider took it upon himself to reenact the half-time show incident with Jay Leno. (Photo by Paul Drinkwater/WireImage)

Rihanna rocked the pasty look twice in July 2009. Once on July 4th and again, here, on the street in New York City. Most recently, Rihanna had a heated argument about pasties over the phone in a behind-the-scenes clip for her music video "Where Have You Been." (Photo by Christopher Peterson/BuzzFoto/FilmMagic)

The adventurous singer performed acrobatic stunts with a pasty on her left boob during the 2009 MTV Video Music Awards in New York City. (Photo by Kevin Mazur/WireImage)

Wearing a sheer flowy blouse, the former "Will & Grace" star opted for some extra coverage with nude pasties. (Photo by J. Merritt/FilmMagic)

"Fish Tank" actress Kierston Wareing attended the photo call for the film at the 2009 Cannes Film Festival with two extra accessories. (Photo by Dominique Charriau/WireImage)

At the 2003 Smashbox Fashion Week in Los Angeles

Pasties hit the runway in 2002 during John Richmond's showing of his 2003 spring/summer women's collection in Milan. (Photo by Franco Origlia/Getty Images)

August 2005

October 2005

The "Gossip Girl" actress and singer pulled down her shirt and flashed her black "X" pasties while performing on stage in New York City. (The video clip is censored).
Want more? Be sure to check out HuffPost Style on Twitter, Facebook, Tumblr, Pinterest and Instagram at @HuffPostStyle.