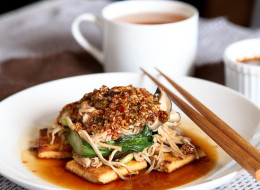 Tofu, once considered to be just a vegetarian food, is now finally gaining in popularity. People have begun to recognize that tofu recipes are a healthy and tasty protein option at anyone's dinner table -- meat eaters and vegans alike. And it's not hard to understand why, with recipes like tofu chocolate pie and tofu spring rolls to be had.
If you haven't cooked tofu before, it might be a little intimidating (or disastrous) the first time you prepare this soybean protein. That's okay -- it will get easier. Cooking tofu is not hard, it's just different. But with good tofu recipes in hand -- like the ones below -- and a quick look at this tofu cooking guide, you'll be a master in no time. Let these recipes serve as your inspiration.
Baked Tofu And Vegetable Egg Rolls

James Ransom/Food52

Joanne Chang's Hot And Sour Soup

Mark Weinberg/Food52

Light Macaroni And Cheese

Matchbox Kitchen

Sesame-Crusted Tofu with Nuoc Cham

Alexandra Cooks

Crispy Tofu And Mushroom Medley

Snixy Kitchen

Tofu-Salad Sandwiches

Stephanie Foley/Food&Wine

Scallion Ginger Noodles

Mark Weinberg/Food52

Vegan Chocolate Pie

James Ransom/Food52

Tofu, Edamame & Soju

Alexandra's Kitchen

Crispy Japanese Tofu Bites

FrancesRenHuang/Food52

Chili, Lemon And Herb Roasted Tofu

The First Mess

Tofu And Brussels Salad

That's So Vegan

Tofu Breakfast Scramble

James Ransom/Food52

Tofu Kale Dumplings

Erika/Food52

Pumpkin Potato Soup With Tofu

Pickles N Honey

Seared Tofu With Baby Asian Green Salad

New Media Publishing

Chilled Tofu With Scallions And Soy Sauce

Fifteen Spatulas

Grilled Peanut Tofu

James Ransom/Food52

Silken Tofu And Edamame Soup

Maren Caruso

Chinese Salt And Pepper Tofu Restaurant Style

Veggie Belly

Caesar Salad With Crispy Tofu Croutons

Stephanie Foley/Food&Wine

Red Curry With Tomatoes

A Beautiful Mess

Marinated Sesame Tofu

A Beautiful Mess

Watercress-And-Tofu Dumplings

Frances Janisch/Food&Wine

Spiced Chickpea Crepes With Soybean Paneer

Maren Caruso

Miso Glazed Tofu

Namely Marley

Roasted Vegetable, Tofu And Pesto Panini

New Media Publishing

Marmalade Tofu With Kale And Lemon Pearl Couscous

Vegan Yum Yum

Avo-Pesto Cucumber Salad With BBQ Tofu Cutlets

Keepin' It Kind

Tofu And Butternut Squash Curry

New Media Publishing

Caribbean Peach Slaw Salad With Crispy Tofu

TASTE

Crunchy Tofu Tacos

Con Poulos

Grilled Tofu Steaks With Piquillo Salsa Verde

Stephanie Foley/Food&Wine

Coconut Curry Soup With Tea-Smoked Tofu And Rice Noodles

Vegan Menu

Tofu Casserole

Tina Rupp/Food&Wine

Curried Tofu-And-Avocado Dip With Rosemary Pita Chips

Hallie Burton/Food&Wine
Want to read more from HuffPost Taste? Follow us on Twitter, Facebook, Pinterest and Tumblr.