A new report from the Worldwatch Institute reveals that although worldwide meat production and consumption are still on the rise, drought and disease in 2011 significantly curbed the growth of both.
Global meat production topped out at 297 million tons in 2011, an increase of .8 percent from 2010 numbers. But that's not as strong a rise as in 2010, when meat production rose 2.6 percent. Estimates for 2012 say meat production will reach 302 million tons by the end of the year, an increase of 1.7 percent from 2011.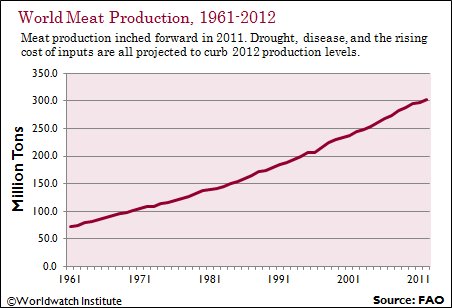 Meat consumption is also down slightly worldwide, from from 93.7 pounds (42.5 kilograms) per person in 2010 to 93.3 pounds (42.3 kilograms). However, per capita meat consumption is up 15 percent overall since 1995. Pork was the most popular meat in 2011 and accounted for 37 percent of both meat production and consumption.
Also on HuffPost:
The Countries that Eat the Most and the Least Meat
FOLLOW HUFFPOST