Behind, or in front of, or some chess move away from every great musician, is a great photographer, hunched in the shadows. In the case of the greats of the 1960s and 70s -- whether it was Joplin, Lennon, or Dylan -- that person click-clicking somewhere nearby was probably David Gahr.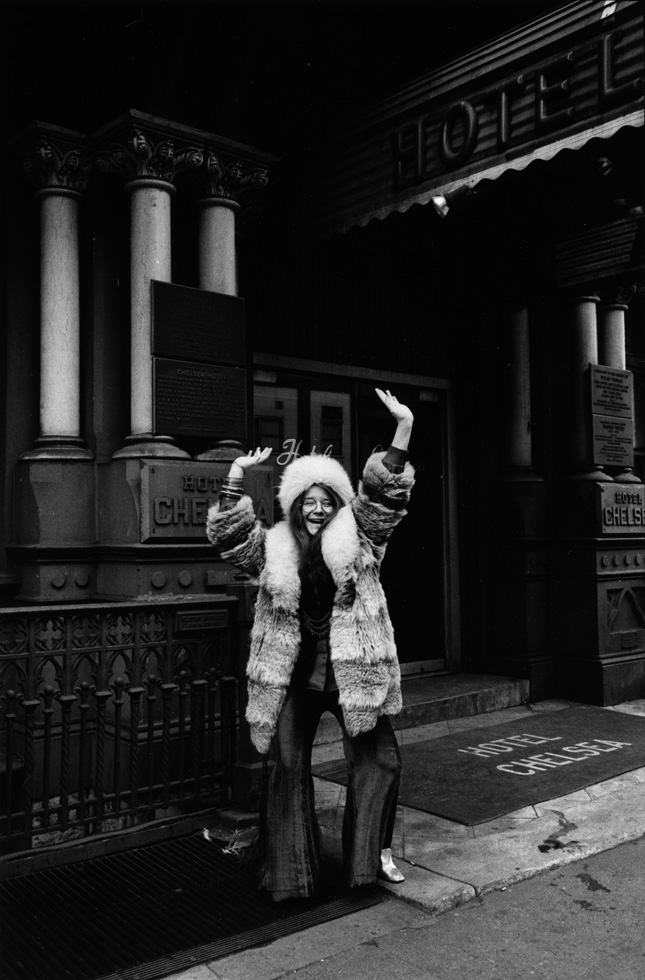 Janis Joplin in March 1969 in front of the Hotel Chelsea in New York City.
Copyright the David Gahr estate


From Oct. 26 until Nov. 11, at the Morrison Hotel Gallery in Soho, a selection of black and white prints by the late, former Time photographer will be displayed to the public for the first time in large format. The candids in "David Gahr, Legacy Of A Master Photographer" include a shot of Joni Mitchell waving from a lawn at the Newport Folk Festival in 1967, and a young Bruce Springsteen outside a New Jersey storefront, swarmed by female teenage fans.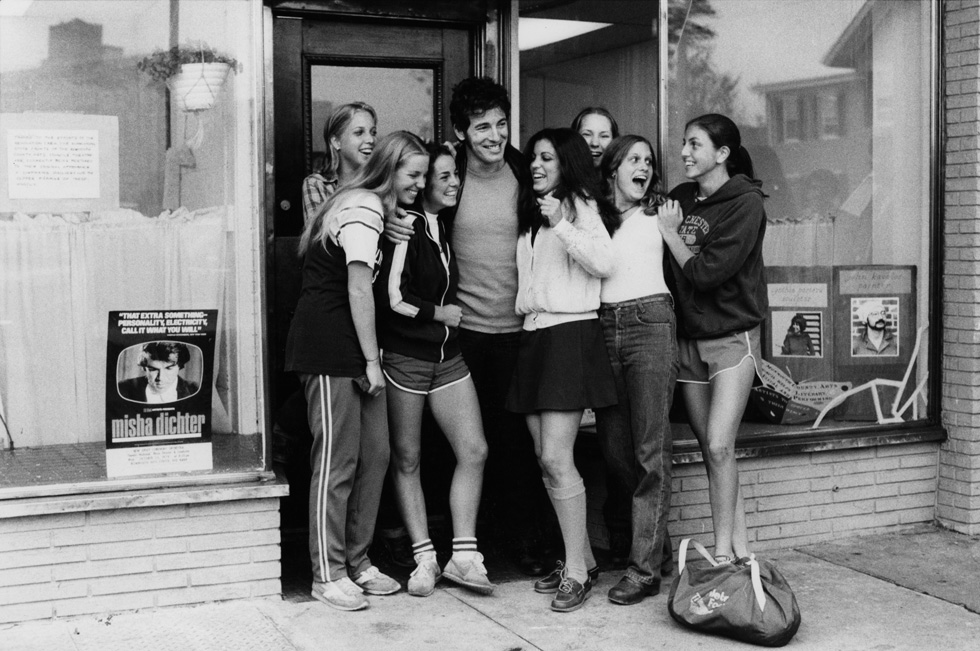 Bruce Springsteen and The Girls, Red Bank, NJ, 1979
Copyright the David Gahr Estate
Even at the Morrison, a gallery that specializes in the ephemera surrounding music legends, photographers usually cede top-billing to those in their lenses. Not so in Gahr's case. An intellectual and gifted writer, he was a bit of a legend himself: a rock star's rock photographer, who famously turned down an offer from a Columbia University doctoral program to work in a Sam Goody store, photographing the celebrities who swung through.
In 2008, after Gahr passed away at the age of 85, the New York Times attributed his popularity among his subjects -- who were often also his friends -- to "what they saw as a desire to elevate rather than merely capture them." It's hard not to do the math on the modern inversion of that balance as seen in today's tabloid industry, where stars are rarely elevated, or even merely captured, but usually caught, drawn and quartered. (Just google "Britney Spears" if you're in need of a primer).
We've posted a preview of the Morrison exhibit below, captioned with quotes by Gahr. Let us know what you think in the comments.
David Gahr's Rock & Roll Portraits
John Lennon on October 24, 1974 on New York's West Side. David Gahr on the image of John Lennon with the truckers: "One of the truck drivers leaned over and asked me – 'Wasn't he one of those 'insects'?' - 'Insects!' laughed John, he thought that was just perfect! Their acceptance of John was total, a pleasure to witness ... I don't think John had ever been so relaxed or had so much fun on a photo shoot." David Gahr, on an afternoon with John Lennon in NYC's Hell' Kitchen: "It was a grey October afternoon when I met John Lennon on the washed out corner of 11th Avenue and West 43rd Street. 'Raining – good," affirmed Lennon, wrapped in sober covert coat with dark round spectacles, cap, and 1956 hologram Elvis pin. 'I'm always done in the sun - the rain should be fine.'"

Bob Dylan and Pete Seeger on stage at Carnegie Hall, September 22, 1962 in New York City. The occasion was 'A Hootenanny At Carnegie Hall', sponsored by Sing Out! Magazine, and featured Pete Seeger, Bob Dylan, the bluegrass group The Lilly Brothers, and folk singer Peter La Farge, amongst others. Dylan's three-song set included the first public performance of "A Hard Rains A-Gonna Fall", a complex and powerful refrain pattern of the traditional British ballad "Lord Randall" published by Francis Child. David Gahr, on Pete Seeger: "Progenitor of generations of singers, mountains of songs and waves of impassioned poets and poetry." On Bob Dylan: "Numero Uno; He goes, others follow."

Johnny Cash in July 1964 at the Newport Folk Festival. This was the country music veteran's debut performance at the folk festival, and he wowed the likes of Bob Dylan. Johnny Cash and Dylan became fast friends right there, a relationship that endured throughout their careers. David Gahr: "Johnny Cash was our hero in Newport of 1964. He looked the perfect stud, a card-dealing cowboy with the face of a riverboat gambler, flipping his guitar back and forth with sure nonchalance. It was a face ravaged by strong living and we screamed in the pits like wild ones."

Bruce Springsteen and fans in October 1979 in Red Bank, New Jersey. David Gahr: "This photograph is the essence of rock and roll. Virile young man surrounded by lovely sixteen-year old girls crazy about him."

Joni Mitchell in July 1967 at the Newport Folk. This was Mitchell's debut performance at the annual folk festival. David Gahr: "The 1967 Newport Folk Festival was a vintage year for the singer/songwriter. It gave first birth to Leonard Cohen, the beautiful Joni Mitchell, and Arlo Guthrie. Two Canadians and a Coney Island rebel."

English rock super-group Blind Faith (l-r: Ric Grech, Ginger Baker, Steve Winwood, Eric Clapton) in July 1969 near Olympic Studios, where they are finalizing the recording of their first self-titled album, Blind Faith (August, 1969), in London. David Gahr: "Bob Rolentz of Atlantic Records knew I was going to London in the summer of 1969 and assigned me to photograph some of their rock and pop groups. "Listen," said Rolentz, "The Blind Faith are the key group and don't come back without them." I saved Blind Faith for last and tracked them down for days and nights until I finally cornered them together near Olympia Studios in Hammersmith. After three minutes of photographing the group - I was just warming up - their roadie or someone like that urged them to come inside and start mixing their tapes; but good, dear Ginger Baker barked at the supernumerary, "Leave the man alone, don't you see he's working?" Baker, Baker, may you sleep in peace, whatever continent you're drumming in, and may your Jensen run smoothly forever."

Bonnie Raitt was a favorite portrait subject for photographer David Gahr for over thirty years, first photographing the flame-haired blues siren and guitarist on stage with blues legend Mississippi Fred McDowell at the Philadelphia Folk Festival in 1970, and then numerous times on assignment for her record labels and in concert over the next thirty years. Here, Gahr captures a young Raitt posing in a store window on July 19, 1972 in Greenwich Village, New York City, New York.

Howlin' Wolf and his band perform in July 1966 at the Newport Folk Festival in Newport, Rhode Island. The band is (l-r) Sam Jones, Andrew McMahon, legendary guitarist Hubert Sumlin, and Howlin' Wolf. David Gahr: "The night before this photograph at the 1966 Newport Folk Festival, Howlin' Wolf, in workman's overalls, started sweeping the stage with a broom during the band's performance. I laughed so hard at the political antic and the bewildered, folkie audience, I forgot to photograph the event. So this image is merely second best."

The J. Geils Band (l-r: Danny Klein, J. Geils, Stephen Bladd, Seth Justman, Peter Wolf, Magic Dick) on June 12, 1974 in Times Square. Their young fan in the taxi is rock writer great Lisa Robinson, now Vanity Fair Magazine's music features editor.

Janis Joplin in March 1969 in front of the Hotel Chelsea in New York City. David Gahr: "Janis would like you or hate you on sight or insight. And was rarely wrong. She shrieked when I told her my assignment was for Time Magazine. 'Damn; now my old man will know I've done something. I am someone! He always reads Time. Damn, damn, good.' We miss you, Joplin, wherever you are." David Gahr on Janis Joplin: "The sound of sex. After thirty minutes on stage, she can turn an audience into an incredible shambles of pure love."
These images, as well as others, can be purchased at morrisonhotelgallery.com.