The Deluxe Comfort Girlfriend Body Pillow has been described as the "saddest, most inexplicable human being substitute you can buy." Yet, as Gizmodo notes, the price of the curvaceous cushion has risen since 2010 -- and the product has even sold out on at least one website.
The pillow, which can now be purchased on Sears.com for $11.95 (about $2 more than it cost two years ago), is also available on Amazon.
And until recently, the product was also stocked by the Deluxe Comfort website.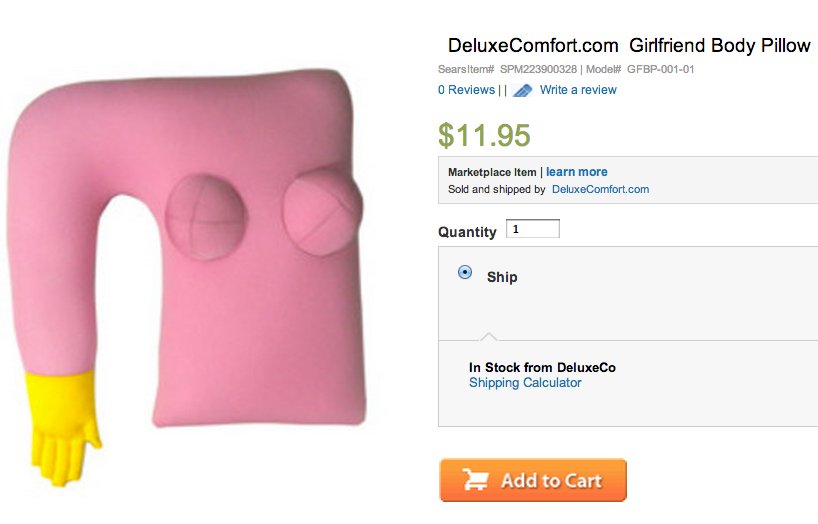 (Credit: Sears.com)
The product description for the pillow, quoted verbatim, claims that the "comfortable pillow recreates the comfort of having your beloved partner" by your side:
Thinking about the fact of sleeping alone produce a isolated feeling, especially if you are used to have a soft and comfortable arm or maybe you are enjoy a better sleep when you locate your neck in your girlfriend or wife's breast [sic]...

Whether your wife is away working or you broke up with your girlfriend, this hug pillow will maintain the comfort of your sleep.
We imagine that this man would like this cushy companion very much. According to one reviewer, the pillow is well-received by male teens.
"This was a gift for my teenage nephew," wrote one reviewer on Amazon.com. "He really likes it, the first one I got did leak some beads but the company went out of their way to fix the problem."
But before you flock online to purchase the pillow (which promises to come with a "breast-like sensation"), be warned that the buxom bed buddy is sold out on DeluxeComfort.com.
For those who'd prefer a disembodied male torso and arm pillow that will hold "you all through the night without snoring or saying a word," there's always the The Original Soft and Comfy Boyfriend Pillow to chase those lonely nights away.
The manly pillow has been given a hearty stamp of approval by at least one satisfied, cuddled customer on DeluxeComfort.com.
"I love this body pillow. The pillow is perfect to cuddle with -- you can just snuggle into it and feel like you are lying with someone. All of my friends love the Boyfriend Body Pillow too. I bought it for my sister for her birthday last year, and then she passed it on to me for my birthday. Next year I'm suppose to pass it on down the line, but don't want to give it away," writes "Gracie."
Would you buy a Boyfriend or Girlfriend pillow for you or a friend? Tell us in the comments below.
Also on HuffPost:
Loading Slideshow
Cards Against Humanity

Described as a "party game for horrible people", <a href="http://cardsagainsthumanity.com/" target="_hplink">Cards Against Humanity</a> blew by its <a href="http://www.kickstarter.com/projects/1200751084/cards-against-humanity?ref=search" target="_hplink">Kickstarter fundraising goal</a> just before the new year. A raunchier Apples to Apples, the game involves a "Card Czar" who controls the black cards, which feature questions or prompts. Players then submit white cards to create the most awkward or offensive answer, with the czar selecting the best combo, giving a point to the winner. Some potential combos include: "What are my parents hiding from me?" -Harry Potter erotica -Peanut Butter Jelly Time -Italians -Grandma

The Dipr

Straight from the "why didn't I think of that?" category is <a href="http://www.thedipr.com/" target="_hplink">the Dipr</a>, a spoon for dunking cookies in milk. Long gone are the days of parents teaching their kids proper dunking technique. Just give them a Dipr and let them go to town. The Dipr comes in five colors and costs $2.99.

Nerf Shoot to Snooze Alarm Clock

There's nothing fun about pressing the snooze button in the morning one or two (hundred) times. Until now. Shooting the side of this <a href="http://www.gadgetgrotto.com/gifts-gadgets-c112/gifts-novelty-c3/clocks-c42/nerf-shoot-to-snooze-alarm-clock-p114413?source=webgains&siteid=54264" target="_hplink">Nerf alarm clock</a> with any of the foamy projectiles in the Nerf arsenal silences the alarm. The clock costs $24, but that doesn't include the cost of buying that awesome crossbow you'll need to actually shoot Nerf bullets at it.

PowerUp Electric Paper Airplane Conversion Kit.

School just started back up and in classrooms everywhere mischievous paper artists are crafting an airplane for a few seconds of flight. <a href="http://www.thinkgeek.com/product/e9e7/#tabs" target="_hplink">PowerUp's Electric Paper Airplane Conversion Kit</a> lets users outfit their paper airplanes with a rechargeable propellor that provides 30 seconds of flight. It'll cost you $20 to really annoy your teacher.

Burritob0t

3D printing is everywhere these days. <a href="http://www.huffingtonpost.com/2012/08/08/man-3d-printer-rifle_n_1753513.html" target="_hplink">Some people are printing homemade guns</a>, while others, like NYU student Marko Manriquez, are creating things like <a href="http://www.burritob0t.com" target="_hplink">the Burritob0t</a>, a 3D printer that prepares burritos. Although popular burrito ingredients like shredded lettuce and chunky salsa can't be strained or liquified into printable ink, the Burritob0t is still an interesting look at the future of food-related inventions. There's currently not a price available for the Burritob0t, but Manriquez wants to open the device up to other developers.

English Earthworm Gin

If you don't like the taste of alcohol to begin with, then <a href="http://www.firebox.com/product/5404/English-Garden-Worm-Gin?aff=512&awc=550_1343660621_f2b6b8e8e131ef782f1ff4a4031fafe2" target="_hplink">English Garden Worm Gin</a> will be even tougher to swallow. This <a href="http://www.huffingtonpost.com/2012/07/31/english-earthworm-gin_n_1724883.html" target="_hplink">$32 gin features a worm in the bottle</a>. The creature's inclusion has been said to enhance flavor, offer an aphrodisiac and help whoever eats it get drunk more quickly.

Hug Me Jacket

Designer Si Chan's coat will keep you warm in the winter while making you feel loved. The coat features five clasped pairs of hands riding up the front in a simultaneous hug. The surreal-looking Hug Me jacket is currently in the prototype stage, but <a href="http://www.huffingtonpost.com/2012/09/05/hug-me-jacket_n_1858836.html" target="_hplink">Chan would like to have it for sale online within the year</a> for an estimated $1,270.

Lapka Organic Food Tester for iPhone

As demand grows for organic food, some more purist consumers may become wary of how organic their meals really are. To find out, Lapka created an iPhone plug-in and sensor that <a href="http://www.huffingtonpost.com/2012/08/09/lapka-iphone-sensor-tests_n_1760144.html" target="_hplink">tests the "organicity" of a user's food</a> by prodding it and searching for questionable additives. The curious eater will have to cough up <a href="http://mylapka.com/" target="_hplink">$220 for the Lapka</a>.

Postable Table

The future of the picnic table can fit in an envelope. Designers at Dutch firm <a href="http://www.studiotoer.com/buypostable" target="_hplink">Studio Toer created "Postable"</a>, a <a href="http://www.huffingtonpost.com/2012/07/10/postable-table-portable-fits-inside-envelope_n_1662020.html" target="_hplink">table assembled from 1 mm-thick sheets of stainless steel</a> and capable of folding down to fit in an envelope. Having a truly portable table will cost you, though, with the 23-inch long Postable priced at $190, the mid-size at $480 and the 70-inch table at $870.