Finding out which fast food chain is the cheapest is easy -- you just look at the prices on their menus. And there's no objective way to determine which one has the best food... de gustibus non est disputandum, after all! But what about something in between? Is it possible to find out which fast food chain offers customers the best bang for their buck?
The statisticians at YouGov BrandIndex seem to think so. They used data from their daily tracking index of consumer perception of fast food chains to make a graph of the brands that the public thinks are the highest quality and those that offer the best value to determine which quick-service chains offer the best bang for the buck.
As you can see in the chart below, three chains came out on top: Subway, Wendy's and Chipotle. These three have performed relatively well in recent years, largely because consumers see them as offering fresher food than competitors like McDonald's and Taco Bell, at roughly equivalent prices.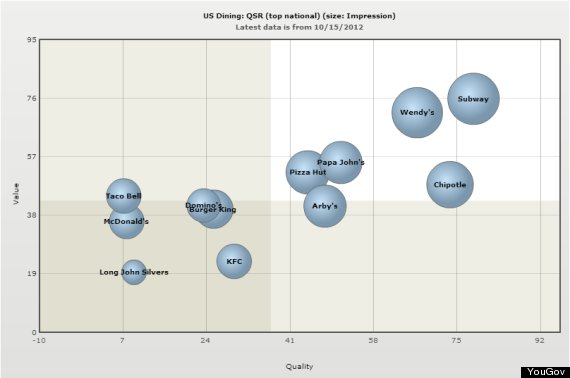 Nation's Restaurant News argues that this means those three top-performing chains are in the best position to poach customers from their more expensive rivals at "casual dining" chains. These chains certainly seem to be banking on that being the case. Both Wendy's and Chipotle have recently implemented plans to renovate their restaurants' interiors to look more upscale and modern in an attempt to get more customers to dine in rather than take out.
Related on HuffPost:
Loading Slideshow
17. Denny's

Denny's may be known for its gut bomb menu items such as the <a href="http://www.huffingtonpost.com/2011/09/01/dennys-mac-n-cheese-patty-melt_n_945390.html" target="_hplink">mac n cheese patty melt</a>, but survey participants were not so enthused with the offerings.

16. IHOP

A stack of big fluffy pancakes is not enough to persuade people to vote IHOP #1. Instead, participants voted it number 16.

15. Ruby Tuesday

Ruby Tuesday's was called out for having the healthiest menu choices, but that wasn't enough to make it a favorite chain.

14. TGI Friday's

With a somewhat similar menu to Ruby Tuesday, TGI Friday's also did not stack up so high.

13. Chili's

0.7% thought Chili's fajitas, quesadillas and other offerings were worthy of the number one spot.

12. Applebee's

Noticing a pattern here? Applebee's only fared a tad better than its competitors.

11. Golden Corral

Just edging into the top 10 is Golden Corral, perhaps not the best known chain, but definitely a player. Based on this survey, it seems as if buffets are still popular, and Golden Corral was considered the best value.

10. Longhorn Steakhouse

Longhorn Steakhouse may not be the next Peter Luger's, but it makes enough diners happy enough.

9. Red Robin

We can't help wondering if the catchy Red Robin jingle contributes to the chain's success.

8. Cracker Barrel

Cracker Barrel has almost a cult following of fans craving Southern-inspired fare.

7. Outback Steakhouse

Those bloomin' onions apparently keep bringing diners back. Oh, and the steaks.

6. Red Lobster

Endless shrimp and cheap lobster make one happy casual diner.

5. Carrabba's

Massive portions of Italian food are enough to give this chain the number 5 spot.

4. PF Chang's

PF Chang's was the only Chinese food chain to break the Top 17.

3. Olive Garden

Never-ending breadsticks and pasta bowls are perhaps enough to warrant a bronze medal.

2. Texas Roadhouse

The surprising silver medalist, Texas Roadhouse, is known for its Americana fare.

1. Cheesecake Factory

The Cheesecake Factory captured 7.3% of the vote share, which was more than double the second place finisher, Texas Roadhouse. Perhaps people are digging the new <a href="http://www.huffingtonpost.com/2011/08/01/cheesecake-factory-debuts_n_915201.html" target="_hplink">Skinnylicious menu</a>. This is the second year in a row that the Cheesecake Factory has nabbed the number one spot.