Just as Americans were beginning to feel a bit of relief at the pump, Hurricane Sandy could cause gas prices to creep back up again.
SCROLL DOWN FOR LIVE UPDATES ON THE STORM
The threat comes just as average nationwide gas prices fell below $3.60 yesterday, Bloomberg Businessweek reported. According to the AAA, prices at the pump have declined every day since Oct. 8.
Meteorologists predict Hurricane Sandy could cause $1 billion in damages, CBS News reported. The hurricane, dubbed "Frankenstorm," could also leave thousands of coastal residents without power early next week depending on the trajectory of the storm.
Also on HuffPost:
11/04/2012 12:26 AM EDT
PHOTO: A Marathon Wedding Proposal, Minus The Marathon
HuffPost's Katie Bindley reports:
Like all the competitors who trained for the 2012 NYC Marathon, Hannah Vahaba will not be running the race this year. But she also will never forget her moment at the finish line. After traveling in from Atlanta, Vahaba picked up a marriage proposal in Central Park on Saturday without having to traverse the 26.2-mile course.
"This is my fiance," said Vahaba, 31, who had tears running down her face as she stood in Central Park where the race would have ended, just moments after Martin O'Donoghue had proposed.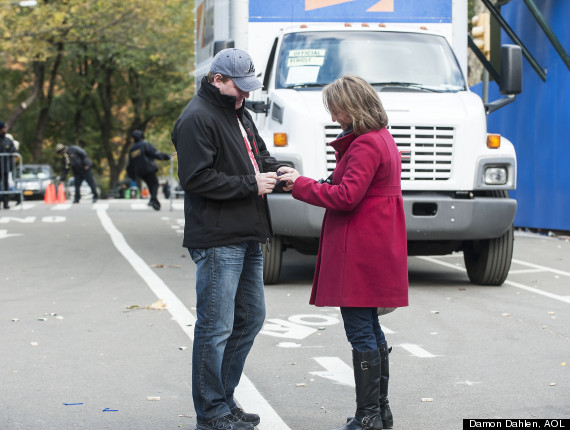 Photo by Damon Scheleur
SUBSCRIBE AND FOLLOW
Get top stories and blog posts emailed to me each day. Newsletters may offer personalized content or advertisements.
Learn more