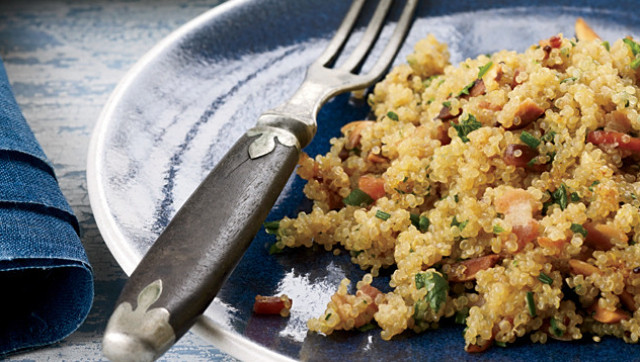 Frances Janisch
Lucky for all you bacon lovers out there, quinoa comes packed with many health benefits. It's for that reason that we at HuffPost Taste like to sneak it into our foods whenever we can. But when quinoa is presented in a salad next to bacon (arguably, our favorite ingredient to work with) there's no need for sneaking around.
This quinoa salad recipe is the perfect combination of food that tastes good and food that's good for us. With just fresh herbs, almonds, quinoa and bacon, this salad will help you refrain from wrapping all your food in bacon -- a habit we may be trying to break.
Want to read more from HuffPost Taste? Follow us on Twitter, Facebook, Pinterest and Tumblr.
Get the Bacon Quinoa with Almonds and Herbs recipe
Get more quinoa recipes.
YOU MAY LIKE
CONVERSATIONS
FOLLOW HUFFPOST