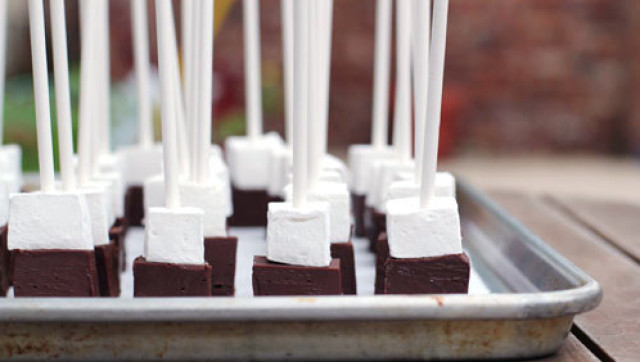 Make and Take
There are many ways to drink hot chocolate. Some like it with water, others swear by milk. There are the Swiss Miss loyalists, and those who are always trying new cocoa powder brands.
We used to fit into one of those categories, but we've found a new hot chocolate philosophy to believe in, and it doesn't involve any type of cocoa powder. It's called hot chocolate on a stick.
When a hot chocolate recipe is made with actual chocolate it's so much richer. And isn't richness what we want when we're drinking hot chocolate? With a couple of ingredients and just 10 minutes of your time, you can make a stash to last you all winter long. Blogger Make and Take brings us an easy-to-make recipe, equipped with a marshmallow on top. If you're not up for making your own hot chocolate on a stick, you can buy them too.
Get the Hot Chocolate on a Stick recipe
Want to read more from HuffPost Taste? Follow us on Twitter, Facebook, Pinterest and Tumblr.
Check out these other hot drink recipes you can make at home.
1

Honey-Pomegranate Mulled Wine

James Ransom/Food52

Turntable Kitchen

Sarah Shatz/Food52

Spicy Ice Cream

James Ransom/Food52

Taste Food

7

Brown Butter Spiced Ale

James Ransom/Food52

8

Gingersnap Cafe Au Lait

uTry.it

The Indolent Cook

Arctic Garden Studio

A Spicy Perspective

12

Sriracha Hot Toddy With Honey And Lemon

Bev Cooks

13

Mulled White Wine With Pear Brandy

Merrill Stubbs/Food52

14

Slow Cooker Cider Wassail

A Spicy Perspective

15

Peppermint Hot Chocolate

Pastry Affair

Five and Spice

17

Spiced Pomegranate Apple Cider

Good Life Eats

18

Vegan Salted Mexican Hot Chocolate

Gabby's Gluten-Free

Chocolate Moosey

A Sweet Simple Life
YOU MAY LIKE
CONVERSATIONS
FOLLOW HUFFPOST