Psy may already be in the Guinness Book of World Records, but the South Korean singer recently joined an arguably more illustrious group when he conducted his first Reddit Q&A last week.
We learned many things from the hour-long chat: Psy writes his own music, he's contemplating a Taylor Swift Halloween costume, and contrary to popular belief, his monster hit Gangnam Style is not meant as a social critique. In the process of transmitting these and other details, some truly incredible new aphorisms were born.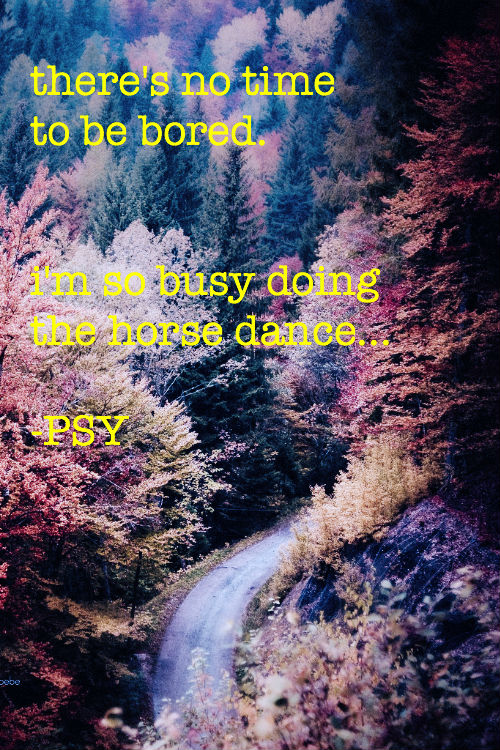 From Imgur via Reddit user elvesandems



We've picked our favorite such Psy bon mots from Friday's "IAmA" session and set them to images starring the Korean superstar. Scroll through the slideshow below for Psy's take on toilet paper etiquette, Carly Rae Jepsen, and thoughts on meeting with the UN Secretary General.
For more great quotes from the Reddit chat, check out the slideshow below, or head to Reddit for the full haul.
Highlights From Psy's Reddit Chat
ao6238: How do you always manage to keep such a straight face when dancing? Psy_Oppa: Because I'm serious about my dancing.

jreacher: Can I come and hang out with you in Seoul? Psy_Oppa: call me maybe

FahCough: Why were you so mad at that girl's ass? Psy_Oppa: because her ass was so mad

OrlandoFurioso: Is Gangnam style intended to be a social critique, or is it just supposed to be fun? Psy_Oppa: GS is not a critique, just FUN! scott1990: That is the sound of thousands of redditers crying out in rage.

meatb4ll: What is your favorite place in the world and why? Also do you crumple or fold your toilet paper? Psy_Oppa: seoul, korea. it is my home. i fold first

Chippoke: What has been the best part of your new international fame? Psy_Oppa: achieving a larger fame than before

ImpulseControl: What's your favorite brand of Soju Psy_Oppa: Chamisul. I'm a model for Chamisul aldirector: Appreciate the full disclosure.

almestra: What's your favourite thing to eat for breakfast? Psy_Oppa: korean food youngchul: Or as we koreans call it, food.

andrewleetzor: Who is your inspiration Psy_Oppa: freddie mercury

faithful_sta11ion: Did you ever get bored doing the gangnam-style dance? Psy_Oppa: there's no time to be bored. i'm so busy doing the horse dance...

rey3100: What is the weirdest thing you've ever seen a fan do? Psy_Oppa: i feel weird about all the fans because they are so worldwide. i cannot really believe it yet. undercover_apple: I like this reply because he didn't even answer the question.