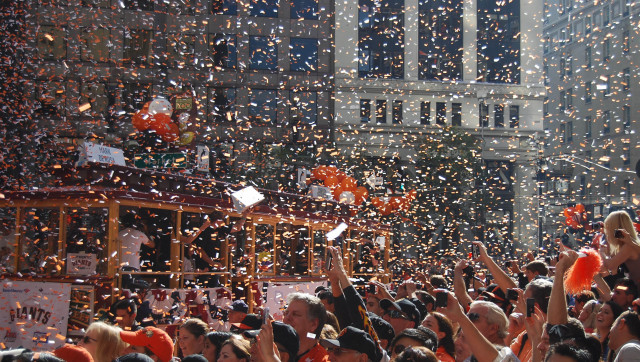 Flickr: NicoleAbalde
It's a good time to be a San Franciscan.
Not only did our San Francisco Giants sweep the 108th World Series, securing the second championship in three years after a historic comeback, but the city planned the celebratory ticker tape parade on Wednesday.
That's right. It will be raining black and orange in the streets on Halloween.
Surely some of you remember the 2010 victory parade: tens of thousands of fans descending upon Market Street, cable cars carrying the boys in black and orange through the Financial District, Brian Wilson stopping to howl into the air, Aubrey Huff extracting his red rally thong from deep in his jeans in front of thousands of children--all the stuff that baseball is truly made of.
Get pumped for with our slideshow of photos from the 2010 victory parade. See you Wednesday!
San Francisco Giants World Series Parade 2010
FOLLOW HUFFPOST