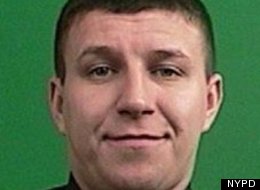 As stories of heroism are revealed in the aftermath of Sandy, the sacrifice of off-duty NYPD cop Artur Kasprzak will likely not be forgotten.
Kasprzak, 28, drowned Monday night after rescuing seven members of his family, including his 15-month-old son, from the raging flood waters filling the basement of his Staten Island home, CBS New York reports.
After ushering them into the attic, Kasprzak said he was going to check the basement one more time, according to an NYPD release. He never returned.
The family's 911 call spurred the NYPD to dispatch scuba divers in Zodiac boats and jet skis to the home, but they couldn't reach it because of downed power lines snaking through the water, according to multiple reports.
A search party finally entered the home around 7 a.m. Tuesday, finding Kasprzak's body in the basement. Kasprzak's father and girlfriend were among those he saved, according to reports. He was a 6-year veteran of the NYPD.
"He was a brave guy," friend Tommy Krol told the New York Daily News. "He loved being a cop."
Kasprzak's commanding officer, Deputy Inspector Edward Winski, told the Daily News: "He was really a great guy, well-liked, very professional and hard working. It was very difficult this morning when I had to tell everyone. It's heart-breaking, to be honest with you."
Click through the slideshow below to read more inspiring stories of Hurricane Sandy heroes.
SLIDESHOW:
The Heroes of Hurricane Sandy
New York Mayor Bloomberg took all the major precautions to keep New Yorkers safe. He ordered 3,750,000 people to vacate the low-lying areas across the five boroughs and ordered a complete shutdown of the mass transit system well before the storm even hit. According to the New York Times, he even calmly dealt with a huge crane poised to collapse over a luxury skyscraper.

While most people were advised to evacuate from Sandy's path of destruction, power workers knowingly went into the thick of things. According to the Daily Beast, more than 500 power workers came up from Alabama to assist in recovery efforts, and at least 150 came from the West Coast to help restore power in New York.

Newark Mayor Booker deployed a team in Newark to ensure that the homeless were able to find shelter at an emergency base on Sussex Avenue.

The crew of the HMS Bounty was forced to abandon ship as Hurricane Sandy slowly claimed the vessel. According to the Huffington Post, "by the time the first rescue helicopter arrived, all that was visible of the replica 18th-century sailing vessel was a strobe light atop the ship's submerged masts." The Coast Guard rescued 14 crew members by helicopter Monday.

Maryand Gov. O'Malley was determined not to let his state lose power. He preemptively told his state's utility providers to get help before the storm hits so they can be prepared. More than 3,000 emergency workers from other states have flooded in to help Pepco, the power company which serves both D.C. and Maryland. According to First Coast News, O'Malley also declared a state of emergency even before the storm hit allowing the state the ability to activate the Maryland National Guard and provide assistance to local emergency centers.

As the East coast scrambled to prepare and respond to the destruction from Sandy, a crew of Indiana residents began a pilgrimage eastward to help. According to the Daily Beast, American Red Cross volunteers based in Indiana journeyed late last week to Harrisburg, Penn., where they began staging rescue efforts for the storm that was to come in the next few days.

After getting hit by a rogue wave on Monmouth Beach, New Jersey, this poor deer got swept out to sea in the turbulent currents caused by Hurricane Sandy. A man who was also on the beach at the time of the wave was able to rescue the deer from the water, reported KXAN. It's suffering a broken leg, but is expected to recover in the custody of animal control.

A Republican running for the General Assembly, Eighme, spent much of Sunday walking door to door handing out campaign flashlights in preparation for Hurricane Sandy. A resident of Griswold, Conn., told the Norwich Bulletin that he focused on back roads that could possible lose power within the 45th District, which includes Griswold, Lisbon, Plainfield, Sterling and Voluntown.

According to Curbed, one good samaritan New York cab driver was "ferrying refugees all over the place," including several from the Parker Meridien where a crane dangled precariously over the building forcing residents to evacuate.

According to the Atlantic Wire, when the power failed at New York University's Langone Medical Center, "approximately 1,000 hospital staffers (doctors, nurses, residents, and medical students), along with firefighters and police officers, carried 260 patients down 15 flights of stairs, in the dark, with flashlights, to ambulances that transported them to other area hospitals."

According to the Huffington Post, the 70-year-old Utah man has been volunteering with his American Red Cross chapter for three years and was deployed Monday to help a small portion of some 50 million people who could be affected by the storm.

According to the Huffington Post, a huge fire destroyed 80 to 100 houses in a flooded beachfront neighborhood in New York on Tuesday. More than 190 firefighters were able to contain the blaze but were still putting out pockets of fire more than nine hours after it began. According to HuffPost, "Firefighters said that the water was chest high on the street, and they had to use a boat to make rescues. They said in one apartment home, about 25 people were trapped in an upstairs unit, and the two-story home next door was ablaze and setting fire to the apartment's roof. Firefighters climbed an awning to get to the trapped people and took them downstairs to a boat in the street."

According to NewJersey.com, thousands of Little Ferry and Moonachie residents were rescued from flooded homes this morning. While most residents were rescued by the National Guard, sisters Lori Turner and Sharon Cardia along with their families were rescued by an anonymous good samaritan dump truck driver.

Diane Sawyer talks to Terrance Sullivan about the incredible scuba response team.

According to Patch, a Flatbush, New York man walked more than a mile in the face of Hurricane Sandy to save a litter of newborn kittens from the storm. As the rain began to fall and the wind picked up speed, Service and his roommate headed downstairs, intending to shelter the fledgling feline family under a cardboard box. Service, however, didn't feel he had done enough to help the soaked kittens. He grabbed a cat carrier from his apartment, lined the bottom with t-shirts, and prepared to embark on the trek to a rescue facility, nearly two miles away from his Flatbush home, where he delivered the kittens unharmed. Note: this is not an actual photograph of the cats.