Hurricane Sandy has killed at least 24 New Yorkers, including an off-duty police officer who drowned rescuing his family, a 13-year-old Staten Island girl who was crushed by debris, and an elderly woman whose oxygen machine lost power, the Associated Press reports.
Officials say they fear the number of lives lost will continue to increase as recovery efforts continue.
In New York City, stories of heroism and tragedy are beginning to emerge.
Kasprzak, who had been assigned to the 1st Precinct in Manhattan and is a six-year veteran of the NYPD, has been hailed a hero. His sacrifice, reads an earlier Huffington Post report, will "likely not be forgotten."
"She was a really nice girl," said schoolmate Christian Palumbo, who described Dresch as a "sweetheart." "One of the nicest kids you could meet."
In Brooklyn, a young couple were reportedly hit by a tree while walking their dog. Jessie Streich-Kest and Jacob Vogelman, both in their early 20s, had been walking in Ditmas Park when they died. Their dog, Max, survived and is being treated at an emergency veterinarian hospital.
In Queens, a 23-year-old woman named Lauren Abraham was electrocuted after stepping in water near a live wire, the Associated Press reports. She had reportedly been taking photos of a power line that had caught fire with her cell phone at the time.
The newspaper adds that there are several people still reported missing, including two toddlers -- aged 2 and 4 -- who were separated from their mother when her car was submerged on Staten Island.
11/04/2012 12:26 AM EDT
PHOTO: A Marathon Wedding Proposal, Minus The Marathon
HuffPost's Katie Bindley reports:
Like all the competitors who trained for the 2012 NYC Marathon, Hannah Vahaba will not be running the race this year. But she also will never forget her moment at the finish line. After traveling in from Atlanta, Vahaba picked up a marriage proposal in Central Park on Saturday without having to traverse the 26.2-mile course.
"This is my fiance," said Vahaba, 31, who had tears running down her face as she stood in Central Park where the race would have ended, just moments after Martin O'Donoghue had proposed.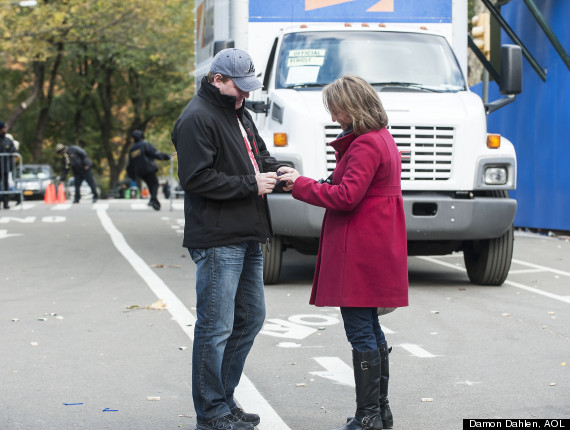 Photo by Damon Scheleur
SUBSCRIBE TO & FOLLOW THE MORNING EMAIL
The Morning Email helps you start your workday with everything you need to know: breaking news, entertainment and a dash of fun. Learn more