Robin Hood-Themed Tourist Attraction Proposed For Sherwood Forest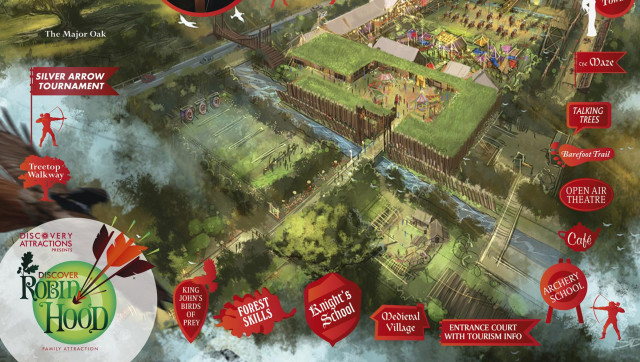 Nottinghamshire County Council / PA
It seems that Robin Hood and his band of merry men are finally getting the tribute they deserve: a theme park!
According to a post on the Nottinghamshire County Council website, the county will be working with Discovery Attractions on a "world class visitor attraction celebrating the Forest and life and times of Robin Hood, [which] will be located by his spiritual home at Sherwood Forest."
"The county council is committed to raising the profile of Robin and Sherwood locally, nationally and internationally, whilst at the same time protecting ancient Sherwood Forest for future generations," John Cottee, chairman of Nottinghamshire County Council's culture committee, said to the BBC.
The 40-acre Discover Robin Hood attraction will include a medieval fortress, dungeons, a jousting field and maze with talking trees, reports the Mirror. Visitors will be able to experience medieval activities like firing arrows, wild food cookery demonstrations, and dressing up in armor.
Phase one of the project, which includes a new visitor center, café and shop would open in summer 2014, while Discover Robin Hood would open in spring 2015, reports the Telegraph.
Despite the 100 jobs it's hoped the project will produce, there are concerns about the project. It's been posited that the Discover Robin Hood attraction would vie for visitors with the city's historic castle, Nottingham, which is slated for refurbishment, according to the BBC.
Though, Ted Cantle, chairman of the Nottingham Castle project, told the news agency: "These schemes will be complementary because Sherwood Forest will be much more 'Legend of Robin Hood' but our scheme in the castle, while bringing in Robin Hood, is going to be a much more serious, historical exposition."
Robin Hood is not Europe's only legendary figure to get his own themed park. A Napoleon-themed amusement park is being planned by the French that might rival Disneyland Paris.
In Italy, Rome's Mayor Gianni Alemanno has hopes to see a theme park built outside the city that will recreate ancient Rome.
CORRECTION: A previous version of this story stated that plans for the attraction were being made by the Nottingham City Council. They are in fact being made by the Nottinghamshire County Council. We apologize for the error.